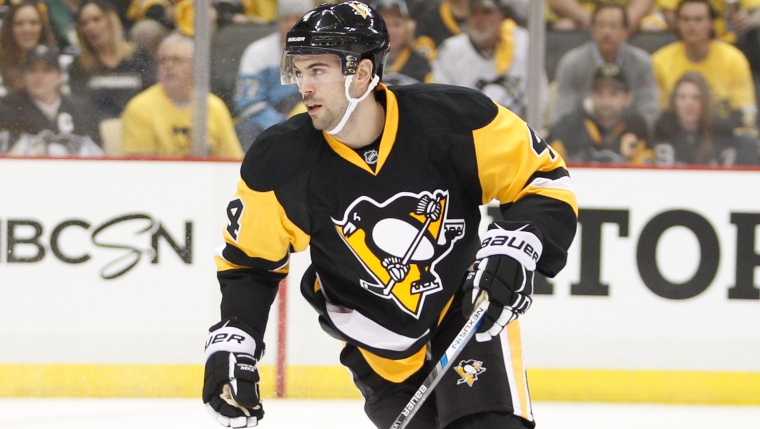 The 16 most interesting players who weren't tendered qualifying offers Tuesday…
This is a very different offseason than most. In 2017 the NHL will be expanding to Las Vegas and so the current 30 organizations are beginning their scramble as they prepare their rosters for an expansion draft. You can find all the rules for the expansion draft here, so I won't get into them. But you're finding that teams are being very particular about how they structure their contracts – and to which players. All we know for certain are the players who are the best on the team are getting treated status quo (i.e. they're treated like the best).
But the second tier of players, the lesser guys, are seeing changes in their negotiations. Two-year contracts, when usually just the one year would be given, are becoming more common. No-Move Clauses? They're pretty much going bye-bye. Teams don't want to be forced into protecting a player. The salary cap, which has been an issue for a decade now, is becoming more of one. Teams are becoming more selective as to which contracts they keep. And the one-year qualifying offers aren't quite as automatic as they used to be. Now teams are either letting a player walk away for free and thus freeing up a contract (each team gets 50), or they're hoping to re-structure a contract for less than the qualifying offer (cap reasons).
And the expansion draft is providing another reason. In the case of a goalie, as you saw earlier in the week with Michael Hutchinson, they're hoping to sign a player for two seasons so that he can meet the requirement of "minimum one goaltender under contract or will be a restricted free agent immediately prior to 2017-18 must be made available in the expansion draft". In the case of a defenseman, at least one defenseman made available in next year's expansion draft. For forwards, the number is two. General managers may already have an idea as to who they want to lose, and will be offering contracts that help them manipulate the system.
Here are the 16 most interesting names made available this week. Some may just re-sign with their team. Some will move on.
16. Andrey Makarov, Buffalo Sabres – A promising prospect goaltender is returning to the KHL, frustrated by the lack of opportunity. I'm surprised the Sabres chose not to maintain control of the player, as he could return in a couple of summers and sign with any team now. The KHL has turned around goalie careers before. See Ramo, Karri.
15. Michael Bournival, Montreal Canadiens – No fantasy value, but Bournival could help a team as a two-way checker. He just needs a full and healthy AHL season first. Concussion symptoms has eaten much of the last two key development years.
14. Jeremy Morin, San Jose Sharks – As with most of the players on this list, we wonder what went wrong. Hindsight is 20-20 and you could point to weaknesses in his game now, but five years ago Morin seemed like the perfect prospect. He puts up big points and plays a hardnosed, physical game. He even had 11 points in 24 games back in 2013-14 with Chicago and had a fairly lengthy run of nearly a point-per-game when the Blackhawks were decimated by injuries.
13. Brandon Gormley, Colorado Avalanche – The 13th overall pick in 2010 took several years to iron out his game at the AHL level but in the NHL you're usually not given that kind of time.
12. Kevin Connauton, Arizona Coyotes – Connauton, who is only 26, lost a key development year thanks to waiver rules. Because he couldn't be sent down, he was given minimal ice time back in 2013-14 in the mere 36 games that Dallas actually let him in the lineup. Can a career be salvaged as a 35-point, secondary PP defenseman?
11. Adam Clendening, Edmonton Oilers – Clendening is in the same situation as Connauton, except two years earlier. He had four points in the seven games last season in which he played at least 17 minutes. Can the flaws in his game be overlooked if he's productive? Will he get a chance to show it?
10. Cody Hodgson, Nashville Predators – Last year Hodgson would have been second on this list. His career is moving in the wrong direction. He had 119 points in 203 games prior up until he was 24 years old. Fantastic numbers for a forward that age on the upswing. But the bottom fell out, inexplicably – 21 points in his last 117 games.
9. Patrick Wiercioch, Ottawa Senators – The 25-year-old is just two seasons removed from 23 points in 53 games. In fact, he had 42 points in his first 95 games. Another unexplainable case of the bottom dropping out for no reason. His ice time actually increased the last two years, but he managed just 18 points in 108 games.
8. Devante Smith-Pelly, New Jersey Devils – The Devils couldn't have been trying to negotiate him lower, as Smith-Pelly only made $800,000 last year. Set career highs in goals (14), points (25) despite less ice time.
7. Joni Ortio, Calgary Flames – After March 4th, the 25-year-old was 7-3-3, 2.45 GAA and 0.910 SV%. Given that the Flames need to make a goaltender available and signing him for two years would solve that problem, they really have given up on him.
6. Jon Merrill, New Jersey Devils – Only 24 and with plenty of upside, the Devils would be taking a risk if they plan to sign him for less than his $920,000 qualifying offer. Other teams will be interested.
5. Beau Bennett, New Jersey Devils – This one is dumb. Bennett can be qualified at $990,000 and the Devils gave up a third-round pick for him. So they plan to offer him $600,000 and save a few bucks? Meanwhile, he becomes an unrestricted free agent. The Penguins could just offer him $850,000 and get him back! Then they save a bit on his salary, and they get the third rounder to boot.
4. Brett Connolly, Boston Bruins – Connolly may be 24 and has played three NHL seasons (not counting five- and 11-game seasons), but last year was his first truly complete NHL season. It was the first year he was in the NHL for the full season without missing extended time with an injury. He got 25 points in about 13 minutes of average ice time. Seems like a lot of untapped potential.
3. Joe Colborne, Calgary Flames – When was the last time you saw a player enter his prime (he's 26) and finish the season with 22 points in 22 games…and then not get a qualifying offer? A 44-point career best and Colborne was unworthy of an offer of about $1.4 million. He'll get that elsewhere. Just a weird move by the Flames, even if it was influenced by a desire to avoid his taking them to arbitation. If the latter was truly a motive, then the organization feels that they can sign Colborne for a cheaper salary on the open market than they would in front of an arbitrator – and I'm not buying that.
2. Brandon Pirri, Anaheim Ducks – The Ducks gave up a fifth rounder for him and Pirri picked up five points in nine games once he returned from an upper-body injury. He didn't get into a playoff game. In his NHL career, the 25-year-old has 49 goals and 80 points in 166 games. Not worth an approximate $1 million qualifying offer?
1. Justin Schultz, Pittsburgh Penguins – This one is understandable and not a surprise. Schultz is worth another contract, but only at half of the $3.675 million that he was making. The Penguins may circle back to him.
Note – I missed a name: Linden Vey. This, after going through the RFA's tendered vs. not tendered about five times. I would have had Vey in at number 11, for what it's worth. He's a talent, but has understandably had some personal issues to sift through and may never put things right.