Ramblings: Mantha returning; Jones, Atkinson injured; Zucker traded; Marino surgery; Horvat – February 11
Michael Clifford
2020-02-11
Anthony Mantha should be returning Tuesday night for Detroit. That is going to be a big boost to their lineup.
This is obviously an offensive boost but we shouldn't overlook Mantha's defensive impacts. He's been the most valuable forward Detroit has, defensively speaking, over the last two seasons. If he doesn't start with Dylan Larkin – they had been using Mantha often on the second line post-October – it should be a defensive boost to the second line. This is still a very bad team, but Mantha is a considerable top-6 upgrade over someone like Justin Abdelkader, and that is important for matchups.
*
Seth Jones hit the IR for the Columbus Blue Jackets with an ankle injury. No timeline has been given other than indefinite, which doesn't sound good.
Cam Atkinson did not play on Monday night, either. Beat writers were pondering if he's re-aggravated his high-ankle sprain, which would be really bad news.
*
Penguins defenceman John Marino underwent facial surgery to take care of his fractures. Coach Mike Sullivan did not expand further, so we don't know what the surgery entailed or what the timeframe for return will be.
They also acquired winger Jason Zucker in a trade with Minnesota. Dobber has his thoughts on that here.
All I'll say is that I completely agree with Dobber on his take with Zucker. He becomes a high-end option immediately if he can find any chemistry with Crosby. He's shown the ability to put up a hit per game when he's playing 17-18 minutes a night, which makes him even more valuable in banger leagues. I mean, what if he just takes Guentzel's minutes, both at 5-on-5 and the power play, and plays 19-20 a night? He still has to click with Crosby, but if he does, he's going to have a huge final two months.
*
Robert Thomas looks to be back on the third line for the Blues, ending his top-line experiment. This was always going to be the route once Vladimir Tarasenko returned, it's just surprising to see the plug pulled this early. With the team having lost four games out of their last five, though, maybe changing things up early is necessary at the moment. Sammy Blais should take the spot alongside Schenn.
*
Ilya Mikheyev was skating before practice on Monday, an indication that he's starting to get ready to return. It still seems he's a ways away as he's just skating for now, but that he's even on the ice is nice to see.
Also, it seems Frederik Andersen may be ready for Tuesday night as he went through a full practice on Monday.
*
The Islanders' second line had a field day against the Capitals as Brock Nelson and Josh Bailey both had a trio of assists while Anthony Beauvillier scored a pair of goals. They were the driving force behind the team's 5-3 win over Washington.
John Carlson kept his Norris-calibre season humming along with a goal and an assist. That was his ninth game this year with a goal and an assist, tied for the fourth-most in a single season by a defenceman since the 2013 lockout. The top-4 are all Brent Burns (lol).
*
Oliver Ekman-Larsson returned for Arizona on Monday night though it wasn't reported it until he showed up on the game sheet four minutes before lineups locked.
A late goal from Jakob Chychrun, his 12th (!) of the season, lifted the Coyotes to a 3-2 win over Montreal. On the bright side for the Habs, Jake Evans scored his first career goal. On the downside, they blew a 2-0 lead.
Darcy Kuemper was scratched but Antti Raanta stopped 26 of 28 in the win.
Just an FYI: Jeff Petry played over 27 minutes for the third straight game sans Shea Weber. He's going to be a monster for fantasy, particularly in multi-cat leagues, as long as Weber remains out of the lineup.
*
Carter Hart returned to the cage for the Philadelphia Flyers and stopped 30 of 31 shots faced to help his team to a 4-1 win over Florida. Ivan Provorov scored his 10th goal of the season in the victory, reaching double-digits for the second time in his career. Some more luck with assists and he'd be having a huge fantasy season.
James van Riemsdyk had a goal and an assist, giving him eight points in his last eight games. Hopefully he's finally starting to heat up. His fantasy owners could use it. Though, skating on the third line might make things tough.
*
How about the season Neal Pionk is having? I still have concerns about his defensive effectiveness at 5-on-5, but fantasy-wise, the guy has been a monster.
Even without the significant PP role, there would still be enough shots and hits to make for a valuable fantasy defenceman; if it were Josh Morrissey on the top PP unit, Pionk would still be capable of something close to Jake Muzzin's 2018-19 season, and he was around a top-20 fantasy defenceman in banger leagues. Pionk has been good.
That's basically why, if I were a Pionk owner in keeper/dynasty leagues, I would be holding on to him. Let's say that next year, Ville Heinola is given the top PP role. If Pionk can maintain close to his hit/shot rates from this year, he'll still be a valuable fantasy defenceman. If no one takes the PP role from him, being a top-10 fantasy option on the blue line is well within reach for him (as he's been this year.)
Again, I still have concerns here, but the Jets have a depleted blue line which means his role should be fairly safe. It's nice to see him bouncing back well after the debacle in New York.
*
When discussing the Canucks, the conversation naturally gravitates to either Elias Pettersson or Quinn Hughes; at least when discussing the top players. But can we take a minute to appreciate what Bo Horvat is doing?
As we sit on Monday afternoon, Horvat is on pace for a career-high 66 points. If he maintains anywhere close to, or exceeding, this current pace, he would put up his fifth straight year of an increasing points-per-game rate. He's done that, mind you, while largely playing with none of Pettersson, Brock Boeser, or J.T. Miller. In fact, he has more minutes at 5-on-5 with Tanner Pearson (540), Loui Eriksson (236), Josh Leivo (187), and/or Jake Virtanen (158) than he does with any of the Big Three on the other top line (Miller is closest at 152). Horvat is being asked to carry third/fourth liners and he's done so admirably.
(I wanted to note there are small discrepancies in 5-on-5 ice time between those linked from Hockey Viz and those from Natural Stat Trick. It may be how empty-net situations are calculated for each site. Regardless, each player named still had more minutes with Horvat than Miller. I just wanted to be transparent in case someone had different numbers in their data.)
What's noteworthy about all this is that it's likely Horvat is getting fairly unlucky this year. At 5-on-5, he's only shooting 6.2 percent, which would be a career-low for him by a considerable margin (8.9 percent in 2015-16). Just shooting his three-year average would add four goals to his current total, and put him on pace for 31 goals. A low shooting percentage could easily be linked to a lack of top-end line mates.
On top of that, the team is shooting just 7.4 percent with him on the ice at 5-on-5, another career-low for him, and another issue that could easily be linked to a lack of top-end line mates. His three-year on-ice shooting percentage is 8.85 percent, just for comparison's sake.
All told, a centre who can score 25 goals, put up 65 points, manage over 200 shots, and contribute to PPPs is a solid fantasy centre. Horvat is filling his role on the Canucks admirably, as the team's expected goals rate with him on the ice is nearly 50 percent, which is solid in the context that he's used often in a checking role with less-talented line mates, and the team as a whole is under 48 percent. (This isn't to knock guys like Virtanen and Pearson. I've written in prior Ramblings that both are probably undervalued, but they're also nowhere near the same level as guys like Miller and Boeser.)
In summary, from Hockey Viz, this is his impact offensively and defensively, independent of line mates and competition: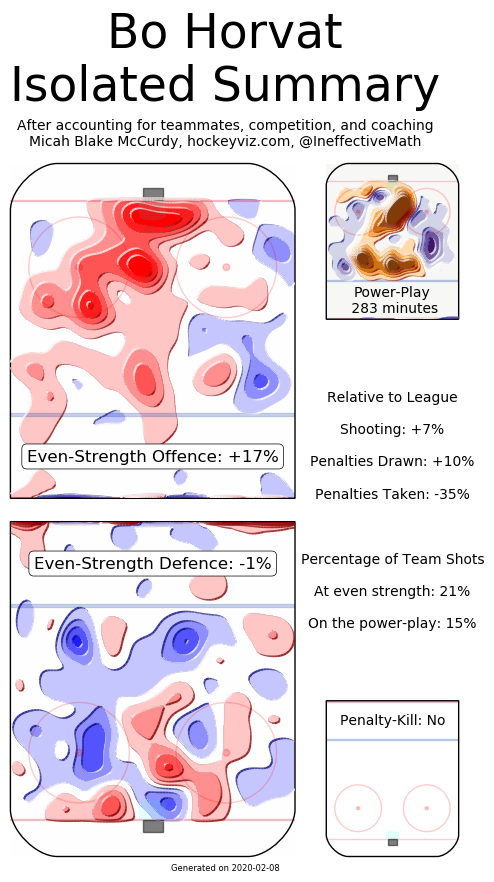 Horvat has a long enough track record at this point to believe in his offensive impacts, and that point should have been driven home with his performance this year. Fantasy-wise, he'll remain a solid contributor, but he has a lot more upside to offer. The question is whether he'll ever get the support to do it, and whether it's even in the team's best interest to break up their other lines to do so.
*
I was asked a question on Twitter about a week ago, and it revolved around dropping Jeff Skinner. At the time, I said he was a hold, but now, almost certainly not. Everything came to its boiling point over the weekend as Skinner was not given a single second of ice time in overtime on Thursday night against Detroit in a shootout loss to the worst team in the league, while playing a season-low 10:20 on Friday night. With Ralph Krueger's refusal to use him on the top line, the lack of scoring elsewhere in the lineup, and Skinner's precipitous ice time drop, he's obviously droppable now (if he hasn't been already).
In this instance, I just happen to believe that Skinner deserves more ice time at 5-on-5 than Johan Larsson, which he's not getting. It shouldn't be controversial that a guy with four 30-goal seasons, who scored 40 last year, should get more ice time than a guy with 37 career goals in 380 games.
I guess the question is this: is the ice time decline deserved?
Remember that Skinner missed a month with an upper-body injury. When he returned on January 28th, he played 18:33, and followed that up with 20:08 in ice time a couple nights later. But it's been low minutes ever since, averaging under 15 minutes a night since that game of 20:08. Does Krueger see something with Skinner? Maybe he's not fully recovered?
Over those five games where Skinner's ice time tanked, he led the team in individual expected goals per 60 minutes and tied for the lead in shots. Whatever Krueger sees in Skinner's game, it's not a function of not getting his looks or opportunities. Maybe it's a lack of finishing, but that's something that pervades the entire lineup, and the scoring winger has a lengthy history of being able to score in bunches. Why single out Skinner in this regard? One argument could be that he's being made an example of for the young players. Whatever the case, it's not going well for the winger.
The conundrum here is that Skinner obviously has no real fantasy value right now, but he's one lineup change away from being a top-50 commodity. Whether Krueger actually makes that lineup change or not is up in the air. I find it hard to believe he'll continue to let this team flounder without playing their two best forwards together, but I've also been saying that about Skinner regardless of his coach for most of the last decade.