Ramblings: Weber due back; Updates on Boeser, Ferland; Canucks land Toffoli; Barzal; Pacioretty – February 18
Michael Clifford
2020-02-18
Shea Weber was at Montreal practice on Monday morning, a good sign that he's recovering well from his recent ankle injury. After practice, he would say that he's not 100 percent but that until Montreal is eliminated from playoff contention, he feels it's his duty to return and help. So, expect him back in the lineup Tuesday in Detroit.
Paul Byron is also a possibility for the game tonight as well.
*
Ottawa claimed forward Jayce Hawryluk off waivers from the Florida Panthers.  Even Dobber was somewhat incredulous:
What the hell was Dale Tallon thinking? Jayce Hawryluk a solid prospect who brings grit, some leadership, some offensive upside and when played he's done a solid job. Poorly managed player, the @Sens got a steal.

32nd overall pick in 2014https://t.co/9278Ccfr96

— Dobber (@DobberHockey) February 17, 2020
This should serve as a reminder that Dale Tallon is the worst general manager in hockey.
Not sure Hawryluk has fantasy value right now, but once the Sens start trading players heading into the deadline, he could see a significant role over the final month of the season. He's a guy who can really rack up hits, so keep an eye on his usage.
*
A good Viktor Arvidsson article over at The Athletic where he discusses his struggles this year. It certainly doesn't seem like good news for his fantasy owners.
*
Vancouver acquired Tyler Toffoli from Los Angeles for Tim Schaller, prospect Tyler Madden, and a second-round pick this year. Los Angeles gets a fourth-round pick next year if Toffoli re-signs with the Canucks.
Dobber offered his thoughts here.
One thing I will say is that when everyone is healthy (a note on that coming up), there may not be a spot on the top PP unit for Toffoli. That was the one thing that really hampered his value with the Kings (aside from the general badness of the team over the last few years). This trade is an improvement for him, but if Brock Boeser is back for H2H playoffs, Toffoli could be relegated to the second PP unit. Just something to keep in mind.
*
We got updates on both Brock Boeser and Michael Ferland from the Canucks. The former will be out there more weeks with fractured rib cartilage while the latter will be out for the rest of the season with his concussion issues.
I feel for Ferland here. He's a good player and hasn't really gotten the chance to show what he can do in Vancouver. Concussions are very scary so I just hope he comes out of this okay on the other end.
*
Anaheim choked a game away to Calgary, leading 3-1 in the third period but losing 6-4, though, honestly, the team should be losing as many games as possible.
Regardless, Calgary's second line did almost all the damage as Andrew Mangiapane tallied his first career NHL hat trick, adding an assist, while Matthew Tkachuk went one and one with eight shots. Unluckily, centre Mikael Backlund failed to register a point on any of the four goals.
Adam Henrique scored his 21st of the season, putting him nine away from his career-high of 30 goals, set in 2015-16 with New Jersey. He's had a nice fantasy season to date.
*
Antti Suomela was injured in San Jose's 5-3 loss to Florida, and that led to Barclay Goodrow playing over 22 minutes. Something to monitor in case Suomela's injury ends up being serious (they don't think it is).
Brent Burns had a pair of assists, five shots, and two blocks in the loss, playing over 27 minutes. He now has eight points in seven games this month, with 28 shots and 14 blocks, playing over 27 minutes a night. Is the old Burns back? Doubtful given all the Sharks injuries, but he absolutely has to step up for them so maybe he'll be his usual self for six weeks.
*
Antti Raanta stopped 28 of 29 in Arizona's 2-1 win over the New York Islanders. That gives him a .943 save percentage for the month of February. The funny thing is, in those seven games, the Coyotes have just one more win (4) than loss (3). Can't afford to give away points with a goalie playing this well. At least they got two here.
*
I think sometimes we can get accustomed to greatness. Sometimes, we see a player regularly do amazing things and we just kind of take it for granted just how special it is. I think this applies to Mat Barzal.
It almost feels like he's a grizzled veteran at this point, but it's easy to forget he's just 22 years old, just coming into his prime offensively. He's played to a 0.89 points/game pace thus far (going into Monday's game), which translates roughly to 73 points every 82 games. Here's how good that is: since the 1994 lockout, only 22 forwards have managed at least 0.85 points per game in their age 20-22 seasons (minimum of 200 games played). Of those 22 forwards, Barzal is tied in points per game with Nathan MacKinnon and Jonathan Toews, just ahead of Tyler Seguin (0.88) and Brayden Point (0.86, another tremendous young talent), and just behind Anze Kopitar, Joe Thornton, and Mikko Rantanen (all at 0.91). The entire list is littered with future Hall of Famers, current superstars, and Martin Havlat. (I will say, Havlat was very good early in his career before all the injuries hit. He averaged 65 points every 82 games with Ottawa, his age 19-24 seasons.)
There are some fair questions to ask about just how valuable he can be in fantasy, though.
So far for his career, Barzal has managed 2.18 shots per game, and even this year it's 2.41, a career high. That works out to 197 shots over a full season. If he maintains that rate moving forward, he needs to shoot 15 percent every year to flirt with 30 goals. If his shot rate declines any, well, then his shooting percentage only needs to go up. When looking at the list of players with similar point/game marks as Barzal, four guys currently in the league stick out as similar in terms of production and shots at that age: Jonathan Toews, Nicklas Backstrom, Mikko Rantanen, and Leon Draisaitl. Now, Draisaitl has started scoring a lot more over his last couple seasons, but that's also been done in two ways: shooting a lot more often and shooting over 20 percent. Relying on Barzal to have a similar turnaround is asking a lot, especially with Draisaitl playing over 22 minutes a night.
Another thing Barzal doesn't do is hit a lot. He does take his fair share of penalties, so exactly what kind of league people are in will matter. He's going to hurt in leagues counting hits, help in leagues counting PIMs, and fall somewhere between in leagues counting both.
More than anything, the problem is the power play and his usage. He's managed 4.72 points per 60 minutes on the power play over the last three years. Even just with his regular minutes, if he were on an elite power play, we could add anywhere from 20-25 points to his total in those seasons in aggregate. With those points, he'd be very close to a point-per-game for his career, and in the neighbourhood of guys like Jack Eichel, Patrick Kane, and John Tavares in terms of points/game mark in their age 20-22 seasons. On an elite PP unit with a lot more minutes (say, Wheeler/Stamkos/McDavid levels), we could add 35-40 points to his totals over the last three years
We can play the "what if" game for a while, and we do have to judge him on his actual production, I just wanted to point out what the difference between a middling power play with good minutes and an elite power play with top-end minutes can mean.
So let's talk about what he's actually done.
From CJ Turtoro's viz, here's how Barzal stacked up from 2017-19 against Connor McDavid in things like zone entries with control, zone exits with control, and shot assists (passes leading to shot):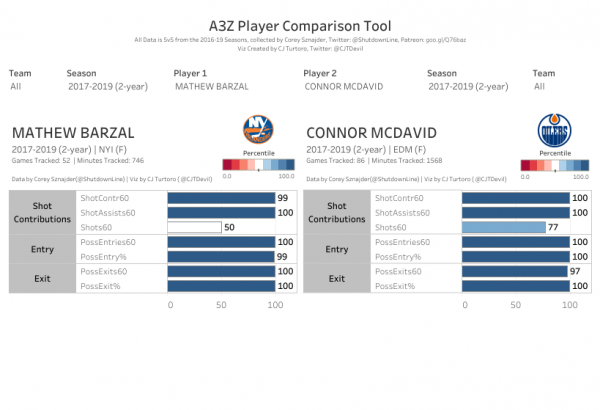 And here's where Barzal ranks league-wide among players with at least 110 minutes tracked so far this season in entries/exits with possession per 60 minutes: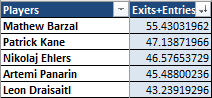 Of course, a small sample this year doesn't prove anything, but that we have two years of Barzal being one of the best playmakers in the league, and he's continued to do so this year, probably means we're not far off.
What's hurt Barzal is that Barry Trotz has come in and made defence a priority. As I've mentioned in prior Ramblings, this has obviously been good for the team in terms of winning games post-Tavares, but it hasn't been great for anyone's fantasy value. Now, I don't think it has been as extreme as some make it out to be, but a lack of shooting combined with a low-offence environment is a recipe for under-performance fantasy-wise.
Barzal seems to be on the cusp of being an elite offensive force in the league, if he isn't already. It's just that he's a bit handcuffed, both by external forces and a lack of shooting in his player profile. He has the upside of being the next Nicklas Backstrom, just don't expect elite fantasy seasons annually. At least not right now.
(Data from Corey Sznajder's game tracking Patreon.)
*
You know who we don't hear a lot about? Max Pacioretty. And that's funny, considering he's a top-10 player in standard Yahoo! leagues.
The craziest part has to be his shooting. So far, he's landed 4.44 shots per game, by far a career high thus far (3.78 in 2014-15). That level of shooting is rarified air, reserved typically for Alex Ovechkin, or maybe once in a while for guys like Evgeni Malkin or Nathan MacKinnon. It's why he's on pace for 36 goals despite shooting under 10 percent.
Playing with Mark Stone obviously helps, but it's a general reminder of what could have been in Montreal. Rather, what had been and what could have continued to be. It's not to say they shouldn't have traded him – that trade has worked out rather well for both sides, in fact – but that he had reached some sort of peak of his career and was going to fall off was a bit too soon. I get the sentiment – shooters in their 30s tend to fade faster than playmakers – but I just enjoy seeing players have a resurgence in their career. I hope he can get a Cup.
*
When I was going through that list of players by zone entries/exits per 60 minutes, I was struck by some of the names in the 90th percentile. Here are some of the names (remember, it's a minimum of 110 minutes tracked, which means some elite players may fall short, but that some lower-end players may be propped up by a small sample):
Of those names, Schwartz, Subban, and Hinostroza have a track record to match this kind of performance. That leaves Danault, Labanc, Hayes, Dubois, and Virtanen. Some quick thoughts on each.
Danault
I think Claude Julien has been great for his fantasy relevance, giving him more minutes and more power-play responsibility all while playing a system that focuses on retaining possession. He's still just 26 years old, so he could have more good years like these last two ahead of him, especially as the Habs' young forwards mature.
Labanc
Labanc is having a tough season, at least judging by his performance last year. That the Sharks as a whole have gone through a downturn, combined with Erik Karlsson's injury, doesn't bode well for a rebound over the final seven weeks.
Hayes
He's put up good zone entry/exit numbers before but never great ones, and this year he's been great. Ironically, in what could be seen as Hayes' best playmaking season in the last few years is also the year where his on-ice shooting percentage (the rate the team scores when he's on the ice) is by far a career-low, which is why his point totals are suffering. Hockey is weird, man.
Dubois
That there was an exodus of talent, and a highly-touted prospect is stepping up, isn't a huge surprise. All the same, it's nice to actually see that talent take that step up. There is still offensive potency lacking through the roster but once they figure out that power play, 70-point seasons are in the future.
Virtanen
This is the one I'm least sure on. He has put up good numbers before but never great ones like this year (not in aggregate, anyway). But his skating and ability to transition the puck is in full effect this year. Whether it holds up to a full-season sample is TBD, but Virtanen is finally starting to prove himself as a middle-six winger. That's valuable to the team, and Virtanen's hits will help give him value in banger leagues.