Ramblings: Johnsson update; Martinez to Vegas; Malgin to Toronto; Athanasiou; Terry – February 20
Michael Clifford
2020-02-20
The Leafs announced winger Andreas Johnsson will be out for the rest of the season with a knee surgery. The timeline is officially six months, so I guess if the Leafs were somehow to get to the Cup Final and Johnsson were a few weeks ahead of schedule, maybe he comes back. In all likelihood, this is it for him until September.
This changes things for Toronto. They likely need to add another top-9 forward, lest they continue using Frederik Gauthier on the third line. They probably also need to add another defenseman. It all depends on what Dubas wants to do with the roster from here on out. They may be busier at the deadline than they expected to be.
*
Staying with the Leafs, they did trade for Florida's Denis Malgin on Wednesday. Mason Marchment went the other way.
Now, what you think of Malgin may vary. He certainly didn't get an extended look in Florida, though that could have been because of the depth of their forwards. Malgin could slot as the third-line centre for the Leafs, or be moved to the wing. He's versatile like that.
It's probably a good trade for the Leafs. It immediately improves their roster, at least defensively, without sacrificing anything from the roster itself.
*
Alec Martinez's long-rumoured trade to Vegas finally came to fruition. You can read Cam's take on the trade here.
When he's rolling, Martinez is a guy who can put up a couple blocks and a hit per game. If he can get some run on the second PP unit, he'll have fantasy value in almost every format. If he can't, he'll be relegated to multi-cat league usage.
*
In Blake Coleman's first practice with the Lightning, he was on the third line with Tyler Johnson and Yanni Gourde, while Steven Stamkos moved back to centre (though Brayden Point took a maintenance day, so take that with a grain of salt the size of a boulder).
*
The Red Wings said Filip Hronek will be out at least for the rest of this week, leaving Trevor Daley to run their top PP unit.
*
Jamie Benn was given five and a game for this hit on Oliver Ekman-Larsson last night:
Benn's hit on Ekman-Larsson that led to ejection pic.twitter.com/2Agw1uLiY0

— Sean Shapiro (@seanshapiro) February 20, 2020
Not sure we'll see further suspension than the game here but we'll see what DoPS has to say (they'll probably give Benn a reward).
*
Julien Gauthier got in the lineup for the Rangers on Wednesday night – I'm surprised he's made it there already given the depth on right wing – and though I didn't catch the whole game, I did make it a point to catch a few of his shifts. Even on the fourth line, you can tell he has the power, speed, and skill to create goals on his own. Impressive.
*
Dominik Kubalik scored his 24th and 25th goals of the season in Chicago's loss to the Rangers on Wednesday night. He's been a revelation for the team and if that blue line can be fixed over the summer, this is a deep forward group now.
By the way, his ice time in the month of February (16:08 heading into Wednesday night) is considerably than what he was managing up to that point (13:30).
*
Interesting stuff on Troy Terry and Sam Steel from Ducks beat writer Eric Stephens.
Terry is the guy I'm interested in for fantasy. In a small sample last year, he had good micro stats like entries/exits with possession. That trend has continued in a small sample this year. Now, just combining two small samples from two different years doesn't prove anything, but it does show that Terry is capable of the things we need to see for him to have fantasy value.
I think Terry has the skills to be a top-end playmaker in the league, but the Ducks are just lacking so much talent up front, especially with the constant injuries (in particular to Ondrej Kase), that it's hard to see him having a breakout season soon. I would be looking to acquire him for cheap in dynasty with the understanding that it could be a couple years before he has any real impact on my fantasy roster.
*
In the wake of the injury to Oscar Klefbom, the Oilers have recalled prospect defenceman Evan Bouchard. I would like to see him there full-time but my guess is this is a stop-gap measure until they go grab a defenceman at the deadline.
My hope is that they actually do give him some run. He didn't play Wednesday night but it sure sounded like he'll get a game soon.
*
Columbus announced injured goalie Joonas Korpisalo is heading to the AHL on a conditioning stint. As mentioned in that linked article, Columbus's AHL team has a pair of games this weekend on a B2B, meaning he'll get in one of those. He'll probably get another one in early next week and then it's back to the big club. He should be in the lineup before March rolls around, were I to guess.
*
A really fun read from Chris Peters over at ESPN. He went back and manually tracked the Miracle On Ice game between Team USA and the USSR back at the Olympics in 1980. Basically, he went through and counted more modern metrics as well as reviewed coaching tactics. It includes interviews from those who either played or witnessed the game at the time. Not related to fantasy hockey, obviously, but I thought it was a fun way to honour the 40th anniversary of one of the most important hockey games of all time.
*
This is my last Ramblings until the trade deadline on Monday so I wanted to give some readers a heads up on how exactly we cover it. Returning readers will be familiar, so this is more for new readers that we may have picked up over the last year.
Basically, the entire Dobber editing team – myself, Ian, Cam, and of course Dobber – are going to be around during Deadline Day. When fantasy-relevant trades occur, one of us will be breaking it down in an article here on the site, usually within an hour. Sometimes, if there is a flurry of trades in a small window, it can take a few hours (especially if there are a bunch that come in right at the deadline), but that's something that occurs with infrequency. By and large, we have articles out with a quick turnaround time.
Now, what exactly constitutes a "fantasy-relevant" trade is obviously subjective. We just try to use our best judgment because there can be a lot of swaps that occur and not everyone from the editing team is available all day long (a national holiday would be nice). Last year, for example, we had Cliff Pu traded for futures, Adam McQuaid for a couple late-round picks, Michael Chaput for Jordan Weal, and so on. Those aren't types of trades that will appear with analysis on the site. Tanner Pearson for Erik Gudbranson? Yes. Kevin Hayes to the Jets? Of course. Mikael Granlund for Kevin Fiala? Absolutely. Sorry to all of you dynasty leaguers with 1200 players rostered: we're not going to be breaking down a trade of an AHL forward for an ECHL goalie.
Beyond that, there is sometimes more than one opinion breaking down trades. When a big trade happens – say, Mark Stone to Vegas – the editors are usually fighting over who gets to write about it. (Not actually fight; Ian could pound the hell out of me, I'm certain.) And then the email chain will start with some input from around the group. While people will see one name as the author of every trade breakdown, sometimes it is a collaborative effort to try and get the best/most relevant information to the readers.
We like to think we do a good job of breaking down everything fantasy owners need to know about Deadline Day. So be sure to check back frequently, especially in the few hours leading up to the deadline itself when trades really get rolling in.
*
One name on the trade bait board that really intrigues me is Andreas Athanasiou. The reason is he's an interesting player.
He's having a bad year, of that there is no doubt. But there are reasons for that. First is his shooting percentage. On the year, he's shooting 7.6 percent at 5-on-5. Over the prior three seasons, he shot 12.2 percent. Shooting his normal conversion rate, just at 5-on-5, would add four goals to his current total. That would put him on a 26-goal/82-game pace for the year.
He's also seen his shot rate decline, but that's been the case for many Red Wings; each of Dylan Larkin, Anthony Mantha, and Tyler Bertuzzi are enduring three-year lows by individual shot attempts per 60 minutes. So, yes, Athanasiou is shooting less, but I think there's good reason to believe that's largely a function of his environment.
The plus/minus is what obviously stands out the most, sitting at minus-43. I'm not going to sit here an absolve Athanasiou of his sins; his defensive metrics are very, very bad. All the same, he's undoubtedly been suffering from awful goaltending behind him as the Wings have an .862 save percentage at 5-on-5 with Athanasiou on the ice. For reference on how bad that is: out of 131 forwards with 1000 minutes at 5-on-5 last year, the lowest on-ice save percentage belonged to Tomas Hertl at .876. No other forward was under .880. Yes, Athanasiou is bad defensively; no, his plus/minus isn't all his fault. It's weird I have to go over this in 2020 but I still see plus/minus referenced on broadcasts so the beatings will continue until morale improves.
I like the quirky things about hockey and AA is definitely a quirky player. He's not a puck-possession-type of player. Actually, let me back-track that a bit. He's a guy who is very good in transition, so he could be a puck-possession-type of player, he just chooses not to be; he had incredible exits/entries with possession numbers, but his shot assists (shots leading to passes), are very bad (this is from 2016-2019, from CJ Turtoro's viz):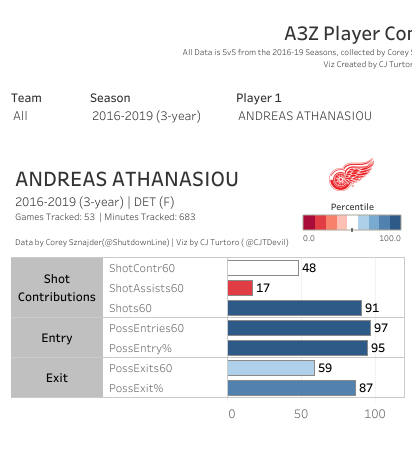 It's a really weird mix of play styles, and that's what makes him so fascinating. He plays off the rush, and that can mean quick turnovers and low assist rates.
I think AA can do very well but it has to be in the right circumstances. Like, I'm not sure he's a player who can play 18-19 minutes a night on the top line tasked with defensive responsibility. On the third line in a sheltered role with actual NHL line mates who can get him the puck? He could do a lot of damage. It'll be interesting to see what Detroit decides to do here.