Vancouver signs Billy Sweatt
Jeff Angus
2010-08-20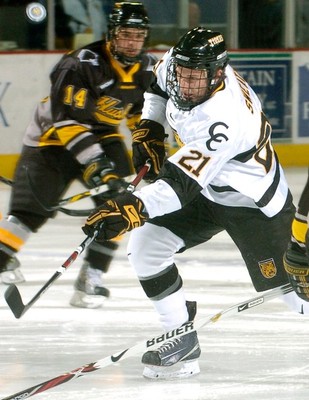 The Canucks have inked free agent winger Billy Sweatt to an entry-level contract.
The Canucks get: A speedy prospect with some upside. Sweatt, drafted by Chicago in the 2nd round of the 2007 NHL Entry Draft, was unable to come to terms on a rookie contract with Chicago, so the Blackhawks dealt him to Toronto along with Kris Versteeg. He didn't sign with the Leafs either. Vancouver signed his brother Lee out of Finland earlier this summer, so perhaps a family reunion was the deciding factor.
Sweatt led Colorado College in scoring last season with 15 goals and 33 points in 39 games. He has the potential to develop into an elite checking winger who can kill penalties and score the odd goal. He doesn't have great hands or offensive instincts, but he is incredibly fast (think Matthew Lombardi).
Fantasy Players Impacted: Sweatt probably needs some time in the AHL, but Vancouver's bottom six after Manny Malhotra and Cody Hodgson is wide open right now. With a strong camp Sweatt could earn a roster spot.
Players this helps, in order:
1. Sweatt
Players this hurts, in order:
Can't think of any right now.