Philadelphia lands Kris Versteeg
Dobber Sports
2011-02-14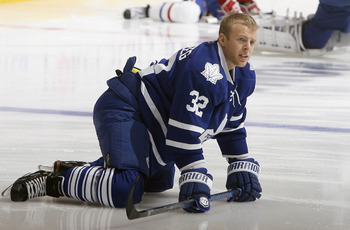 Fantasy Impact: The Toronto Maples Leafs have traded forward Kris Versteeg to the Philadelphia Flyers for a first and a third-round draft pick, both in 2011.
The Leafs get: that prescious first rounder that they have been dying to recapture ever since the Phil Kessel trade. Over the past week, they have added a first and a third round pick this summer, plus a conditional fourth for a future year.
The Flyers get: an energetic, hard-working second liner who really steps it up in the playoffs. In Versteeg, we haven't seen his best yet. This is a player who could put the team over the top in the playoffs, judging by what he did in several games for the Blackhawks last spring.
Fantasy Players Impacted: Versteeg gets to play with either Claude Giroux, Jeff Carter, Mike Richards, or Daniel Briere. All of whom are upgrades on Tyler Bozak or Tim Brent. As noted in my Deadline Day breakdown for this division (his picture was even the headline!), Nazem Kadri stands to possibly see another promotion. The Flyers almost have to trade Nik Zherdev now. Not only is his contract up this summer, and not only have they said that they won't be re-signing him, but he was getting scratched even before they brought in this extra body. This will also eat into Andreas Nodl's ice time and, like it or not, it will probably hurt Ville Leino and James van Riemsdyk as well.
Fantasy Players this helps, in order:
1. Versteeg
2. Joffrey Lupul
3. Kadri
4. Fabian Brunnstrom (perhaps a recall is on the way?)
Fantasy Players this hurts, in order:
1. Zherdev
2. Nodl
3. van Riemsdyk
4. Leino