Ray Emery Signs with Philadelphia Flyers
Dobber Sports
2013-07-05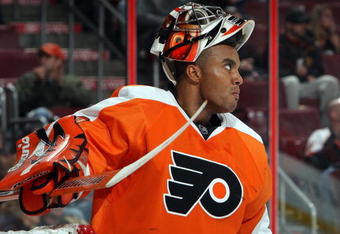 Fantasy Impact: The Philadelphia Flyers have locked up goaltender Ray Emery for one year at $1.65 million, a deal that has underrated fantasy implications.
The Flyers get: one of the most competitive goales in the NHL who is still having to prove that he has come back from his terrible hip ailment of a couple of years ago. Ray Emery is coming off of a season in which he was 17-1-0. Find his Frozen Pool profile here.
Fantasy Players Impacted: Emery will make more in salary ($1.65 million) than the other goalie in Philadelphia, Steve Mason ($1.5 million). And while Mason's decline has stabalized and he has perhaps bounced back a tiny bit – the fact remains that he is a shadow of the goalie he was in his rookie season. Combine that with the salary and with Emery's fiery competitiveness, and what you will have is Ray Emery starting 35 of the last 40 games in 2013-14. Sure, the two might split time in the first half, but we all know where this will end up by January.
And the Flyers are up to the cap. There is no room for another signing or a big trade. This is it. Maybe things shift around in December, but heading into the season, this is probably your duo. Just in case someone falters (ahem – Mason), GM Paul Holmgren signed Yann Danis, who is one of the best No.3 goaltenders in the league and represents excellent, experienced depth.
Fantasy Players this helps, in order:
1. Emery
Fantasy Players this hurts, in order:
1. Mason