Flames Acquire Alex Chiasson
Dobber
2016-06-27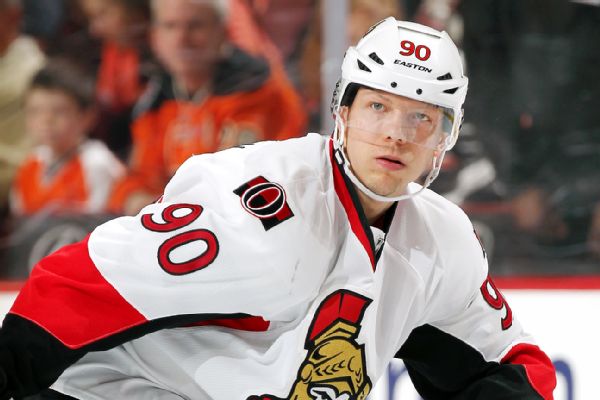 Fantasy Impact: The Calgary Flames have acquired Alex Chiasson from the Ottawa Senators for prospect defenseman Patrick Sieloff.
The Flames get: a 25-year-old forward who was thought to have scoring-line upside, but has been unable to find his footing in that regard. At the end of the lockout-shortened season in 2012-13, Chiasson was called up by the Dallas Stars and he promptly posted seven points in seven games. His coach at the time? Glen Gulutzan, who is now coach of the Calgary Flames and who no doubt had a hand in this. He may know how to get the most out of the 25-year-old Chiasson, so there is reason to have (slim) hope.
Chiasson started 2013-14 with nine points in nine games, meaning his NHL career began with 16 points in 16 games. In 223 games since then, Chiasson has managed just 67 points (i.e. 25 points in 82 games, average).
The Senators get: a physical, stay-at-home defenseman who plays bigger than his 6-1, 205-pound size. Sieloff has a reasonable chance of making the squad in a depth capacity and he has upside in the hits and PIM categories.
Fantasy Players Impacted: Obviously Chiasson's value improves. He was a dropsy in pretty much all fantasy formats. Now there are some deep keeper leagues in which he is worth holding onto, just in the off chance that Gulutzan has magic in a bottle. I didn't think that Matthew Tkachuk would make the team this year regardless (perhaps a nine-game trial at best), but another body on the wing ahead of him would certainly close that door a little further. The Flames could load up on free agents this summer and change the dynamic entirely, but as things stand now they need a couple of their prospects to make the team. Adding Chiasson reduces that need. Which is for the best, because prospects such as Emile Poirier and Hunter Shinkaruk are far from ready. Daniel Pribyl is a prospect signed out of Europe who could get a long look in camp, and having Chiasson around would hurt.
Moving Chiasson out of the lineup for Ottawa helps the odds of prospects such as Nick Paul and Ryan Dzingel. All the prospects mentioned here are profiled extensively in the Fantasy Prospects Report, and are also profiled over at DobberProspects.
Fantasy Players This Helps, In Order:
1. Chiasson (profile here)
2. Dzingel (fantasy scouting report here)
3. Paul (fantasy scouting report here)
Fantasy Players This Hurts, In Order:
1. Calgary prospect wingers