Looking Ahead: February 14-26
Adam Daly-Frey
2020-02-14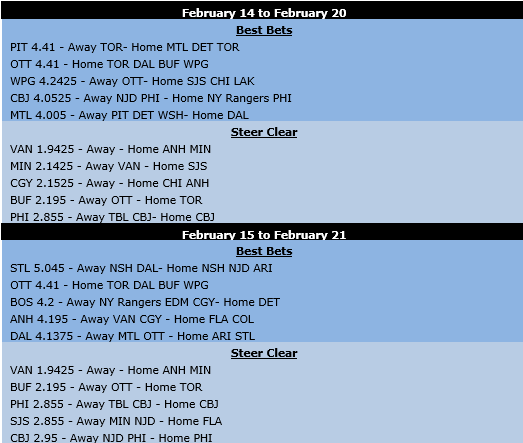 All fantasy owners need help in the short term AND the long term. The Looking Ahead feature identifies one player to plug into lineups in the short term, a second to invest in for the long term, a third to bench for the coming week, and a fourth who will struggle to meet expectations for some time. All players discussed are selected based on their upcoming schedule. Happy Valentine's Day, lovers.
Stats updated through Wednesday, February 12th
The Immediate Fix (Grab this guy and use him for the next several days)
Kailer Yamamoto, W, Edmonton Oilers (Available in 77 percent of Yahoo! Leagues) – Although he's not one of the "big names" out of Edmonton, Yamamoto has been having a tremendous season since finally getting the call-up this year: 7G-7A in 15 games played, and although he's shooting an unsustainably-high 28 percent, Yamamoto is getting top minutes alongside Ryan Nugent-Hopkins and Leon Draisaitl at 5v5. That was a plum assignment in the first place, but with the recent injury to Connor McDavid, Yamamoto has also moved up to the top power play for the Oilers – which has a league-best 29.9 percent conversion rate. That'll obviously dip without McDavid, but Draisaitl and RNH are no slouches on the man advantage, so Yamamoto's value gets driven up quite a bit with the new role.
The 22nd-overall pick in 2017, Yamamoto got thrust into the NHL too early by half, playing nine games in 2017-18 and 17 games in 2018-19, and scored only 1G-4A in that time. Time marinating in the AHL was kind to him – he put up 18G-16A in 50 games – and with the proper top-6 role in Edmonton he's definitely fantasy-viable. The Oilers have a plum schedule coming up (see below) and Yamamoto is available in enough leagues to be a difference-maker over the next few weeks.
The Building Block (Buy now, sit back and enjoy the production)
Igor Shesterkin, G, New York Rangers (Available in 62 percent of Yahoo! Leagues) – Even in a "three-headed monster" situation in net, battling for playing time with Alexandar Georgiev and Henrik Lundqvist, Shesterkin is an incredible add for the rest of the season; Rangers coach Dan Quinn recently anointed Shesterkin the starter (although the rookie goalie is now day-to-day with an ankle injury) and in Igor's six starts he's given up all of 14 goals on 210 shots – winning five of the six games.
Those five wins are even more impressive given the strength of the team in front of him – the Rags have allowed the most shots against per game – and the advanced metrics bear out Shesterkin's true talent even in a small sample; Shesterkin's Goals Saved Above expected on the season is ninth-best in the league at 4.42, but as a rate stat based on minutes played, he'd rank first by a large margin. He's had four Quality Starts (save percentage above league average) already as well, and should pick up a chunk of starts the rest of the way.
The Rangers' schedule isn't anything special this period, but the team had only played 55 games as of February 12th, which is tied for the lowest in the league and they're behind the pace in terms of games played. Shesterkin could be the best possible pick-up for the fantasy playoffs, so get him now while he's still mostly available.
The Odd Man Out (His short-term value is cause for concern)
Bo Horvat, C, Vancouver Canucks (Owned in 70 percent of Yahoo! Leagues) – This is more a function of the Canucks' poor upcoming schedule, but Horvat's been struggling to find the scoresheet recently, with 2G-3A in his past ten games. Part of that is Horvat's role on the team as a shutdown/two-way center, which typically doesn't translate well to offense, but the other reason is that Horvat – who was playing 20+ minutes in November and December – has seen his ice time slip in January, only topping 20 minutes once. That time has been on the uptick over the past two weeks due to some recent injuries (Brock Boeser,Elias Pettersson), but even with the added ice time Horvat has struggled to score.
On the season, Horvat is having a fine year statistically (18G-28A in 58 games, with 150 shots on goal), but expectations this month need to be tempered. He contributes to a small degree in peripherals – just under two combined HIT/BLK per game, just under three shots on goal per game – but is a minus player who doesn't take PIMs. He can be thrown on the bench for now.
The Anchors (They'll do nothing but disappoint even over the long haul)
Anthony Duclair, W, Ottawa (Owned in 33 percent of Yahoo! Leagues) – 33 percent is pretty low, but we've hit that time of the season where (most) poolies have tight rosters or have given up completely, which means either writing up P.K. Subban for the third time or lowering the threshold a little on who can be dropped. And Anthony Duclair can definitely be dropped.
The All-Star was off to a fine season through his first 20 games (7G, 3A) but wasn't really on fantasy radars, and then he exploded for 11G-5A in 13 games in December which is the sole reason he went to St. Louis to represent the Sens this year. Unfortunately, January and now February have been as bad to Duclair as December was good, as The Duke hasn't scored since December 21st and has only four assists in the 17 games since.
Duclair was shooting at an unsustainable rate earlier in the year, but the key to his goal-scoring was that unlike prior years, he was getting       top-line minutes (with Brady Tkachuk and Jean-Gabriel Pageau) and hitting career-highs in ice time. That's since cratered, with Duclair spending most of his minutes with Artem Anisimov in third-line role; those minutes are also few-and-far-between, as Duclair has crested 16 minutes in only one of his last five/three of his last ten.
Love 'Em (These squads are sure to pay dividends in the coming days)
Columbus – The Blue Jackets don't exactly score in bunches – their last five games have seen them score a total of nine goals combined – and losing Cam Atkinson and Seth Jones won't help that, but the Jackets have such a great schedule that owners should still feel able to rely on Pierre-Luc Dubois, Zach Werenski, and so on. Columbus gets to play the Rangers, Devils, Flyers (twice), Nashville and Ottawa which are all A+ matchups, as well as a game against Minnesota.
Pittsburgh – The Penguins also have a killer schedule this period (Feb. 14th to 26th), playing seven games with four coming at home and only one back-to-back. Pittsburgh also plays on off-days (Friday/Sunday/Sunday) which is appealing for h2h matchups; the Pens will play Montreal, Detroit, Toronto and Buffalo at home (pretty good games!) and Toronto, Washington and Los Angeles on the road.
Edmonton – In their first game without Connor McDavid, the Oilers managed to score five goals – bringing the total over their last five games to 19 (which includes getting shutout once) – and even though it came against the lowly Blackhawks, it was a nice sign. Edmonton will also play the maximum seven games this period, with road games against the Ducks, Kings, Knights, Panthers and Hurricanes, and home games against the Wild and Bruins.
Leave 'Em (These squads will leave fantasy owners sorely disappointed in the short term)
Vancouver – Nobody has a worse schedule than the Canucks between Valentine's Day and the 26th, as Vancouver only plays four times. They'll face the defensive-minded Bruins and Wild at home as well as a home game against the Ducks, before travelling out east to kick off a road trip in Montreal. The saving grace for Canucks owners is that two games come on off-days (Sunday, Wednesday), but in general try to avoid Vancouver.
Philadelphia – Philadelphia has been tearing it up in the goal department over the past two weeks and while that could easily continue against the Jets (on the 22nd) and Sharks (on the 25th) – both home games – the Flyers will be in tough with their three remaining games: at Tampa Bay, home to Columbus, and at Columbus. Playing the Blue Jackets twice is a big ask, given Columbus has only allowed seven goals in their past five games.
Minnesota – The Wild have been a tough team to figure out this year, and don't have many fantasy-viable players anyway outside of a couple d-men (Ryan Suter and Jared Spurgeon) and a couple of forwards (Kevin Fiala and…Zach Parise? maybe?), so most poolies probably have lowered expectations with the Wild in the first place. Minnesota's schedule won't do anyone any favours, as the Wild play only five times, against the Sharks, Oilers, Canucks, Blues and Blue Jackets. There are some tough matchups on that list.