In this week's Eastern Edge, we'll focus on fantasy playoff schedules. I created a few tables to help you visualize your fantasy lineup over the next few weeks. In addition, I tried to share some advice on who to target and who to drop as you prepare for your championship run.
In this first table, I've done a weekly breakdown of each Eastern team's remaining schedule. From what I've heard, most fantasy leagues end before the final week of the NHL's regular season (March 30th to April 5th), so I didn't include that week in the table. In case you were interested, the Rangers, Islanders and Capitals play four games during that week, while the rest of the Conference plays three.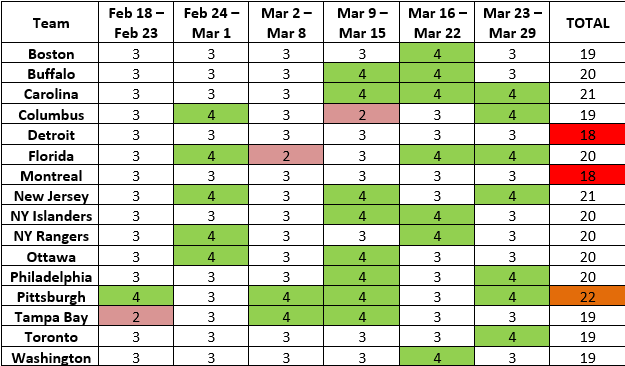 In this second table, I've highlighted off-days over the next few weeks. 'Off-days' are days when most teams aren't playing. In most fantasy formats, you can only start a certain number of players each day, meaning some players have to stay on your bench. By targeting teams that play on off-days, you can maximize your starts and avoid having to bench active players on days with heavier schedules.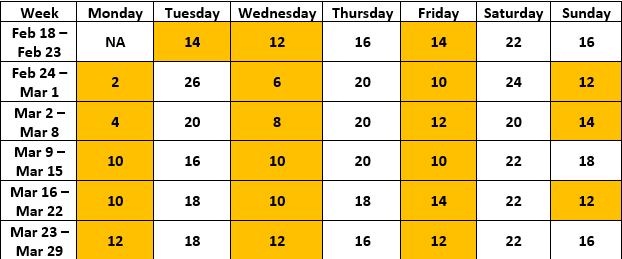 In this third table, I've broken down each Eastern team's remaining schedule based on the off-days we identified in Table 2.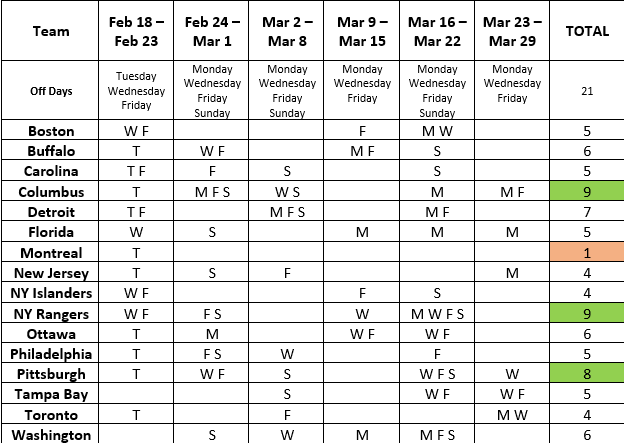 Cutting the Canadiens
If you're rostering any Habs in your fantasy hockey leagues, you may want to consider offloading them. Montreal plays just 18 games over the next six weeks and only one of those games will be played on an 'off-day'. Now, I'm not saying to drop everyone from the team, but if you're in a one-year league and you can trade a member of the Canadiens for a player with a more favourable schedule – perhaps one of the Penguins – then I recommend you pull the trigger.
Picking up Penguins
Speaking of Penguins, they happen to have the most games left between now and the end of the season. There are a number of solid options in Pittsburgh that shouldn't cost a lot to acquire in your fantasy hockey league. For starters, Jason Zucker has put up three points in three games since being traded to the Pens. He's playing beside Sidney Crosby at even strength and is still available in 46-percent of Yahoo formats. Patric Hornqvist is also available in roughly 50-percent of Yahoo leagues, he has 15 points in 20 games since returning from a lower-body injury in late-December. While Bryan Rust hasn't registered a point in his last six games, he's still playing in the top-six beside Evgeni Malkin and remains on the team's top power-play unit. Considering Rust doesn't have a history of elite offensive output, I don't think it'll be too hard to pry him away from other fantasy teams.
Rostering the Rangers
Another team with a really favourable schedule over the next few weeks is the New York Rangers. They're the only Eastern team that plays on four off-days in a single fantasy week (March 16th to March 22nd). Depending on your league's settings, that could be the final and most important week of your fantasy hockey season. Considering how good Artemi Panarin and Mika Zibanejad have been this year, you'll have a hard time acquiring them for a reasonable price. Guys like Chris Kreider and Ryan Strome are much more realistic trade targets and they're also capable of putting up points. Strome has 50 points in 58 games and has been averaging 19 and a half minutes of ice-time this – a four-minute increase from last year! He had been a 30-point player over the last four seasons, so he won't be valued as highly as more proven players. Then there's Chris Kreider, who has been on fire over the past few months, maintain a point-per-game pace through his last 29 contests. However, if you're acquiring Kreider because of the Rangers off-day schedule, keep in mind that he's in the final year of his current contract and could very well be moved prior to the NHL's trade deadline on February 24th. While Kreider may be productive on another team, it could be harder to incorporate him into your fantasy hockey lineup, depending on that team's schedule. If you want to avoid the uncertainty surrounding Kreider's future in New York, you can target one of his linemates instead. Pavel Buchnevich is available in 84-percent of Yahoo leagues and has 10 points in his last 11 games.
Don't Discount Detroit
Okay, the Red Wings are the worst team in the league and it's not even close. They're 15 points behind the Los Angeles Kings who currently have the league's second-worst record. Detroit has allowed 106 more goals than they've scored. That's right, they have a goal differential of minus-106. That is next-level horrendous. To give you some perspective, Ottawa has the second-worst goal differential and they're only at minus-44. Now if your league counts plus/minus as a stat, I can understand if you want to steer clear of the Red Wings. However, keep in mind that plus/minus is just one category that's difficult to predict over the course of the season and almost impossible to predict over the span of a few games. We've reached a point of the fantasy hockey campaign where the results of one week can make or break your run at the championship. So now more than ever, you'd be wise to make decisions based on offensive production, which is usually easier to project than plus/minus. So don't be afraid to take a chance on players like Dylan Larkin, Anthony Mantha, Tyler Bertuzzi and Filip Hronek, especially during the week of March 2nd to March 8th when the Red Wings have three off-day games.
If you find yourself desperate for a goalie start during the fantasy hockey playoffs, don't rule out Detroit as an option. I mean, you can probably rule out Jimmy Howard as an option, considering he's put up a 4.08 GAA and .886 save percentage, with just two wins in 26 appearances. However, Jonathan Bernier has actually been pretty good considering the quality of the team in front of him, he has a .909 save percentage, 2.88 GAA and 12-17-2 record.