Ramblings: Muzzin and Mete injured; Hellebuyck's Hart case; Foegele dive – February 27
Michael Clifford
2020-02-27
The Toronto Maple Leafs announced Jake Muzzin will miss close to month with a broken hand. With Morgan Rielly already out of the lineup, there are a lot of significant minutes up for grabs.
Calle Rosen was called up to fill the roster hole.
In the game Muzzin was injured, Justin Holl played over 25 minutes while Tyson Barrie was over 24 minutes with Travis Dermott over 22. It seems those are the three guys to key in on, and I think Dermott could start playing very well in multi-cat leagues. He's a guy who has put up decent hit rates in his career playing 16-17 minutes a night. If he starts playing 21-22 minutes, we could see him very close to two hits per game if his rates remain constant. Something to keep in mind if you're looking for depth help as we head into H2H playoffs (if they haven't started already).
*
Another Eastern Conference defenceman will be out for a while – likely the rest of the season – as Victor Mete has a broken foot. He has looked good to the eye test as far as things like puck-moving and vision go, but I think he still has some work to do elsewhere in his game. Habs fans should be excited for him in the future, just not right now, it seems.
*
Staying with Eastern defencemen, Filip Hronek was skating in practice with his teammates yesterday. He is getting closer to returning but he was still in a non-contact jersey, so maybe next week.
*
Going to the West, Jay Bouwmeester announced he won't be returning this year, postseason or not. He had that cardiac incident a few weeks back and hasn't played since. Obviously, his health is the highest priority here, so it's good to see him take time to make the decision. Regardless of what happens, he may be one of the most unheralded defencemen this century.
*
It really does seem as though Vladimir Tarasenko is on the verge of returning. He's been skating with the team for a couple weeks now, and that included an optional practice yesterday. He'll be walking into a team that is 7th since the calendar turned to 2020 by expected goal share but whose goalies are starting to let them down. If that goalie rotation can fix itself, and Tarasenko joins this team that is rounding into playoff form, they're a considerable threat in the largely vapid Western Conference.
*
There's obviously been a lot of chatter about Hart Trophy nominees. I mean, this chatter usually starts in November for some reason, which is why we were inundated with Enough Talk About The Norris; What About The Hart? articles about John Carlson before Christmas. Haven't seen too many of them over the last couple months. (It's almost as if it's content for the sake at content, and not an attempt at a coherent and useful argument. Anyway.)
Now that there's less than a quarter of the season left, one guy I don't see getting a lot of love for the Hart Trophy is Connor Hellebuyck, and he absolutely should be.
Whether readers put stock into WAR numbers in the NHL is up to them, but I do, and as of today he's tied for 5th in the NHL in WAR among all players, and has accumulated nearly 17 percent more WAR than the next-closest goalie (all per Evolving Hockey).
When we look specifically at goalies, he doesn't come out looking great by traditional (read: bad) metrics:
20th in goals against average
9th in save percentage
Of course, we know GAA is a terrible, terrible way to evaluate any goalie, and save percentage lacks too much context. Let's add some context.
Expected fenwick save percentage (xFsv%) essentially indicates to us the expected save percentage of unblocked shots at 5-on-5. Having an xFsv% over .940 isn't uncommon; among 61 goalies with 500 fenwick attempts faced, there are 13 with an xFsv% over .940. By this measurement, Hellebuyck ranked 41st, meaning his team is giving up a lot of shots and a lot of expected goals. His actual Fsv%, though, is 13th in the league, meaning he's grossly outperforming his expectations. Similarly, Goals Saved Above Average (GSAA) tells us who has saved the most goals (or the fewest goals) for the teams compared to shot volume and the league average save percentage. In this regard, Hellebuyck is sixth. However, among the top-10 goalies in GSAA, Hellebuyck has the lowest Fsv% at .935, with only Jacob Markstrom among the top-10 but also under .940. All this is to say that despite playing behind arguably the worst defensive team in the league, Hellebuyck is putting up numbers as if he plays for Pittsburgh or Dallas.
I don't imagine fantasy owners care about all this as long as Hellebuyck keeps playing the way he does. He's been one of the most valuable goalies in fantasy despite playing for a bad offensive team – remember, they give up so many shots and so many quality shots that despite Hellebuyck likely being the top performing goaltender in the league this year, the team is firmly mid-pack by goals against at 5-on-5 – and unless he falls on his face in the next six weeks, he'll likely finish the year as a second-round value, and that's great.
The problem arises when he performs as just a good goalie and not a Vezina-calibre one, like, say, in 2018-19 when he wasn't a top-10 fantasy goalie. I think there are valid concerns about his fantasy value moving forward until that blue line is fixed.
All that said, to the original point, it's hard to deny Hellebuyck's impact this year. That the team is anywhere close to a playoff spot is largely because of him, and if that's not worthy of MVP consideration, I'm not sure what is.
*
The trade of Vincent Trocheck came out of left field and took a lot of people by surprise. One guy I thought might be on the move when I saw that Trocheck was going to Carolina was Warren Foegele, though it ended up being Lucas Wallmark instead. It did make me take a bit of a deeper dive into Foegele's season, though, and what he can bring in the future.
This season is technically Foegele's third season, even if he only played a pair of games in 2017-18. Regardless, over the last three years, among 323 forwards with at least 1600 minutes at 5-on-5, Foegele is tied for 95th in goals per 60 minutes at 0.81. He's tied with guys like Sam Reinhart and Jonathan Marchessault, with other names like Tkachuk, Zibanejad, Giroux, Kopitar, Toews, Hertl, and Barkov in very close proximity to this. The reason he's able to score at a reasonable clip is ability to get in tight for his shots; in the same time frame mentioned above, he's top-10 league-wide by individual expected goals per 60 minutes. From Hockey Viz, here is his shot heat map from this season: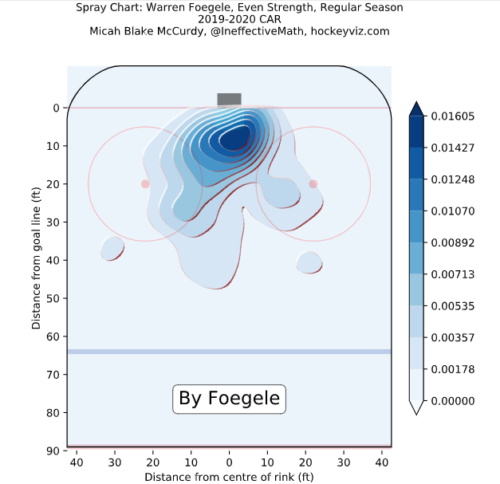 And for comparison, here is his shot heat map from his rookie 2018-19 campaign: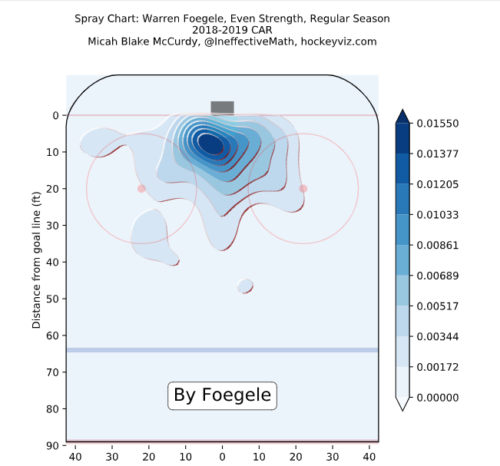 Now, the intervening factor here is that he's played a lot of time with Jordan Staal. While Staal, I don't think, is a good producer, he is good at driving the play both offensively and defensively. However, that didn't translate to actual goals as Carolina scored more often (2.5 per 60 minutes at 5-on-5) with Foegele on the ice without Staal than with him (2.1 per 60). The team was also worse defensively when he was on the ice without Staal, which also makes sense.
It's fair to wonder how much Foegele needed Staal and how much he doesn't. From Evolving Hockey, here are Foegele's isolated impacts independent of teammates and opponents: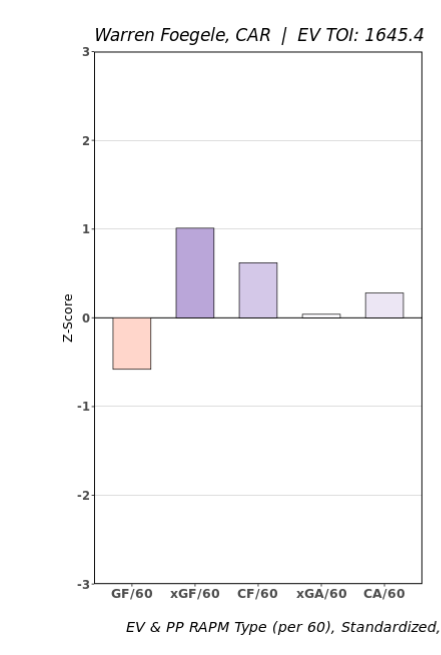 Foegele does seem to do well on offence and can even help a bit on the defensive side of things. Again, it's worth noting this is just his second full season in the league. There is still a bit of growth to do here.
Here is an extremely interesting fantasy player because he's an outlier. As mentioned at the top of this section, he has a good goal scoring rate but an elite individual expected goals rate. Of all the guys in the top-25 by ixG (he's ninth, remember), Foegele has the second-lowest scoring rate next to Tyler Toffoli. It makes sense that these guys haven't scored nearly as much as the others when you consider that most of the guys on the list are either elite players or play with elite players. The few exceptions are guys like Nick Bjugstad, Blake Coleman, Brandon Saad, and Craig Smith. But even then, those are still good players who've had good fantasy seasons. The worst fantasy player on that list (in multi-cat leagues) is probably Saad, and even he has four 20-goal seasons (on the verge of a fifth as he has 19 this year) with a 30-goal season mixed in there. And Foegele possesses one thing Saad does not: the ability to play the body, as Foegele has 188 hits in 141 career games.
What really worries me for Foegele's fantasy value is ice time. He's averaging under 14 minutes a game this year and hasn't reached 18 minutes in a single contest. Then we consider the depth up front: Aho, Svechnikov, Teravainen, Niederreiter, Necas, Trocheck, and Staal are (likely) all ahead of him on the roster chart and will be for the foreseeable future. In that sense, if his upside is playing 15 minutes a night, it'll be very hard to have a lot of fantasy relevance. All the same, I think there's a good fantasy player in here somewhere waiting to break out, he just needs the opportunity.