Ramblings: Letang's dual season; Hudon and Norris recalled; Perron; Kempe – February 28
Michael Clifford
2020-02-28
Bad news for Columbus forward Josh Anderson as it appears his season is over as he heads under the knife for shoulder surgery. Nothing is confirmed yet but this is the report coming out from TSN's Darren Dreger, with the report somewhat confirmed by Jackets beat writer Aaron Portzline.
Anderson is legitimately one of my favourite players in the league to watch. He's a true power forward in every sense of the word and has 30-goal seasons in his future if he can stay healthy. We'll wait on further prognosis for now, but I just hope he's ready for 2020-21 at this point.
*
Josh Norris was recalled by Ottawa for Thursday night's game. I had speculated post-Pageau that he could be a beneficiary and the team immediately demoted him to the AHL. Hopefully this time he lasts longer than one game.
*
Charles Hudon was recalled by the Habs as well with a couple injuries lingering through the team. Hudon is having a very good year in the AHL with 27 goals in 46 games, averaging exactly 3.5 shots on goal per game.
Hudon is someone I was high on in the past but it just hasn't worked out. He's obviously talented, averaging 40 goals/82 games over his last three AHL seasons, but he hasn't been able to put it all together. If he can get regular minutes, two shots and two hits per game are well within reach for him. The question will be whether he can get regular minutes – given his history, I have my doubts.
*
Pavel Buchnevich was held out of the lineup again following his car accident with Igor Shesterkin earlier this week. Coach Quinn did say that they expect him on the ice soon, he's just not quite ready to return yet. Filip Chytil remains on the top line for now.
*
Ondrej Kase made his Boston Bruins debut on Thursday night, skating on the second line with Nick Ritchie and David Krejci.
I have high expectations for Kase in Beantown, but he needs to stay in the lineup. It's as simple as that.
*
One guy that interests me from the Kings is Adrian Kempe. The first-round pick from 2014 has had a tough time getting out of the gates, given he has failed to reach 20 goals or 40 points in any of his three seasons (unlikely he gets there this year). Tyler Toffoli's immediate success in Vancouver is giving me ideas, though.
It's not to say that I think Toffoli at the age of 24 is the same as Kempe at that age (Kempe is 24 in September). At the age of 23, Toffoli already had a 20-goal season plus that solid playoff performance in the 2014 playoffs as part of That 70s Line. At the age of 24, he managed a 30-goal season. It's hard seeing Kempe get there next year.
One big reason it's hard to see him get there is just the talent on the team. I feel safe saying that the poor offensive environment put a damper on Toffoli's numbers, so by extension, it would likely mean the same for Kempe. As it stands on the year, is two most-common line mates have been Blake Lizotte, an undrafted rookie, and Austin Wagner, a second-year, fourth-round pick with 31 career points. It's not to say that I don't think Wagner or Lizotte are NHLers, it's that if you even have to consider that question, then maybe Kempe isn't being put in the best position to succeed offensively.
There are some upsides to Kempe's game – entry/exit numbers with possession are stellar – and he is shooting more this year. To that end, that he's shooting just 4.8 percent at 5-on-5, considerably lower than his 11.9 percent heading into this season, is unfortunate because shooting just his career average would add six goals to his total, tying his career-high of 16. He'd be nearly assured of his first 20-goal, 40-point season with just normal shooting percentages.
And that's why I think there's something to give here, fantasy-wise. Kempe passes the eye test and he has very, very good shot impacts (from Hockey Viz):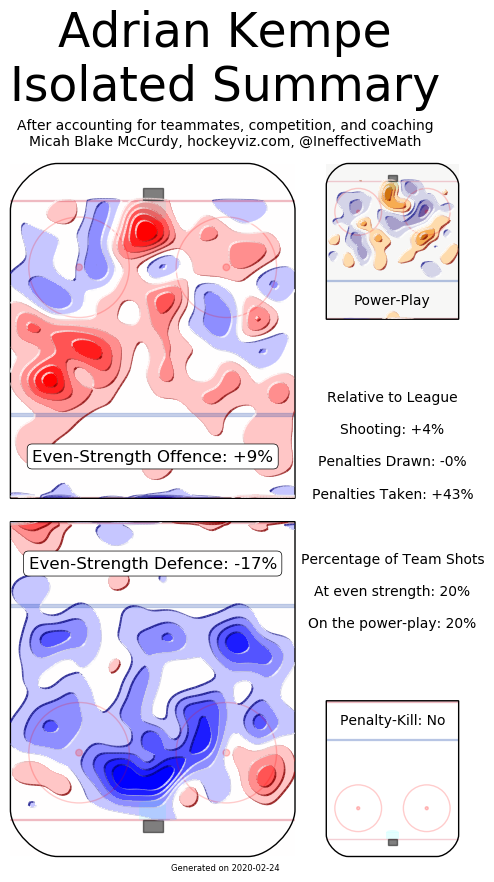 Combined with the fact that he could very easily be on his way to his first 20-goal season in one of the worst scoring environments in the NHL while playing largely with complete unknowns, it should be obvious why I am kind of excited for Kempe's future. Add in that he can bring a good level of hits and PIMs, and I think there's a solid fantasy contributor in the wings here.
The problem, of course, is his team. As of right now, if you're not on the top line with Anze Kopitar, you have little hope of fantasy relevance. Gabe Vilardi could be a nice piece, but we all know his injury history and as of right now he's still just a prospect. Ditto for Rasmus Kupari. If those guys come along and live up to their expectations, maybe Kempe has more fantasy value in the coming years. Until he gets more minutes with better line mates, though, he'll just continue spinning his wheels in the fantasy game.
*
Can we get some love for David Perron's season? He was voted into the All-Star Game, sure, but I feel if it wasn't in St. Louis, it may not have happened like that. All the same, in standard Yahoo! leagues, he went into Thursday night as a top-25 skater. He already has his highest goal total (24) since the 2013-14 season (28), and needs seven points from now to the end of the season to set a career-high. A lot of this is on the back of his 27 power-play points, by far a career-best for him (18 in 2017-18 with Vegas).
This isn't just a one-off, either. His points per game going back three years are tied for 33rd among all forwards (tied with Mika Zibanejad and Nicklas Backstrom). What's more is that his points per game mark makes him one of just 13 wingers with at least 0.9 PPG in that span.
This is also a cautionary tale for fantasy owners and injuries. It's pretty easy to forget that Perron had significant concussion issues earlier in his career, and we were wondering what his future might look like. Assuming he stays relatively healthy the rest of the way this year, he'll have played at least 70 games in every season post-lockout save for one, averaging 72 games a season. That's not perfect health by any means, but I think if you were to ask fantasy owners 10 years ago whether they thought Perron would get to a point where he'd average 65 points a season, I don't think they'd be very optimistic.
Is there a reason I'm mentioning this on the same day that Ondrej Kase, a young player with a lengthy injury history but solid production rates, returned to the lineup? No, what would make you think that?
*
Just as an aside for a general hockey question: how much longer can the Penguins keep playing Jack Johnson on the top pair? He's so bad that he's dragging Kris Letang – a guy who could be (have been?) a perennial Norris candidate if he could stay healthy – to AHL-level numbers on a great Pittsburgh team. That's not hyperbole: Letang's expected goal share when on the ice with Johnson is 45.6 percent, and without Johnson, Letang's on-ice expected goal share is over 57 percent. It's night and day.
It reminds me of something a person on Hockey Twitter said years ago: I'd much rather teams play players who might be bad (e.g. rookies, AHLers, depth guys who've never had much of a chance) than players we know are for sure bad (e.g. Jack Johnson).
Anyway, this is completely tanking Letang's value: From the start of the year through New Year's, Letang had 26 points in 31 games (0.84 points/game), playing less than one-quarter of his TOI with Johnson in that span. Since January 1st, Letang has played 82 percent of his 5-on-5 ice time with Johnson, and his points/game has declined to 0.65 per game. That's still not a bad mark by any means, but it's a giant chasm from 53 points per 82 games to 69 points per 82 games.
It's frustrating for fantasy owners (as someone who owns Letang in a cap league) because Letang has been largely healthy this year but his fantasy value his being tanked by his own coach because their GM signed arguably the worst defenceman in the league to an insane contract.
All I ask is for this madness to end before my H2H playoffs start. Is that too much to ask?