Ramblings: The Rocket Race, Saros Rolls On, Malkin, Shesterkin, Lundkvist, & Covid-19 (March 11)
Cam Robinson
2020-03-11
Morgan Rielly returned to action on Tuesday night to face the Lightning after a lengthy lay off. It was a welcomed sight for fantasy owners as he could provide an immediate impact on playoff lineups. He may even help the Leafs too. I guess.

Rielly skated 21 minutes while seeing time on PP2. Tyson Barrie held his spot on PP1 seeing 4:21 on PPTOI on the night.
It was the power play that was the difference in this one with both goals coming on the man-advantage.
The Leafs managed to hold off Tampa Bay 2-1 and secure a crucial two points in the standings. Mitch Marner grabbed a couple of assists after taking a hit in the media for going pointless in… three games?

God damn, it's not easy playing in TO, eh?
**
Auston Matthews tallied the game-winner, his 47th of the season. He's just one behind Pasta and Ovi in the race for the Rocket.
I've got pre-season cash on Pastrnak so those other two can cool it any time now.
**
After posting the rare shutout loss last week, Freddie Andersen was good again in this one. Its a welcomed surprise seeing as TBay has absolutely owned him in previous matchups.
Andersen playing at his best down the stretch would be all the difference for those who drafted him to be a top-three tendy.
**
Kaapo Kakko grabbed two goals as the Rangers dumped the Stars 4-2. It was the 9th and 10th goals of the year for the rookie – and he sure needed them. Kakko had just two goals since the calendar flipped to 2020.

It hasn't been the freshman season many people expected from the 2019 second-overall selection – myself included. But fret not, he's a legitimate star in the making. Next year will be a big jump. 2021-22 will be when things get really interesting.
Go on and see if you can buy-low on this kid in the summer. Sell the owner on him not living up to the hype or some other nonsense.
**
Do you know who is having a souped-up rookie year? Igor Shesterkin.

After suffering his first real test of adversity by giving up five to the Devils in his first game back after a car wreck fractured his ribs, the first-year netminder was back between the pipes and stopped 31 of 33 for his 10th win in 12 games.
Nine of those games have seen him stop 30 or more shots. His .932 SV% is oh-so-sweet.
This kid has Vezina trophy upside written all over him.
**
Miro Heiskanen had a couple of assists in the loss. That brings him up to 35 points in 68 games – a new career-high. It's easy to forget about the 20-year-old a bit with so many electric young blueliners putting up gaudy totals. But this guy has a huge upside and hasn't yet taken the juicy minutes.
If he can ever pry John Klingberg off of PP1, watch out.
**
The Preds grabbed two very important points with a 4-2 victory over Montreal. They were led by Filip Forsberg who has been a pretty darn disappointing asset this season. Forsberg nabbed two goals and an assist in this one – his first three-point affair of the season.
Yes, it was Juuse Saros grabbing yet another win. That's three in a row. Since February 22nd, the 24-year-old has been lights out posting a 6-2 record with a .948 save percentage and two shutouts.
The net is his and he appears ready to drag the Preds into the playoffs.
**
Roman Josi kept building on his career-season by adding two assists on Tuesday. Make it 65 points in 69 games for the soon-to-be 30-year-old. Methinks this offseason would be the puuuurfect time to look to sell high on the should-be Norris winner (if it weren't for the nutso season John Carlson is having).
**
Geno Malkin grabbed two goals and an assist as the Pens beat up on the Devils 5-2. Malkin has continued to drive the bus in Pittsburgh even with Crosby long returned. Malkin is riding a five-game, 11-point streak and has 30 points in 23 games since Crosby returned from injury.
At 33 years old, Malkin's 1.35 points-per-game this season are the third-highest of his career.
**
Mathew Barzal just dropped the mother of all dimes. pic.twitter.com/XSpYjDLtbl

— /Cam Robinson/ (@Hockey_Robinson) March 11, 2020
Now, I'm not 100 percent sure that Mat Barzal was meaning to do this. But if he was, it was incredible. The finish by Jordan Eberle wasn't bad either.
**
J.T. Miller grabbed another assist in this one. The 26-year-old has been beyond good for the Canucks and for fantasy teams. If you were one of the people who drafted him in hopes of sneaking 55 or 60 points then you're already swimming in gravy.
He's up to 72 points in 70 games – tops on the Canucks and just chilling amongst the top-15 in the entire league.
**
Nils Lundkvist needs to be on your dynasty radar. The 19-year-old has been absolutely torching the SHL from the backend this season. Tuesday saw him record his 10th goal and 30th points in 44 SHL contests for Lulea.
Nils Lundkvist rifles a one-timer for his 10th goal of the season. #NYR pic.twitter.com/zWKDhSoJxw

— Alex Nunn (@aj_ranger) March 10, 2020
That mark leads all U20 defenders in SHL HISTORY. It also sits as the 9th most productive season by a U20 skater in the last 20 SHL seasons. Not just defenders. All skaters.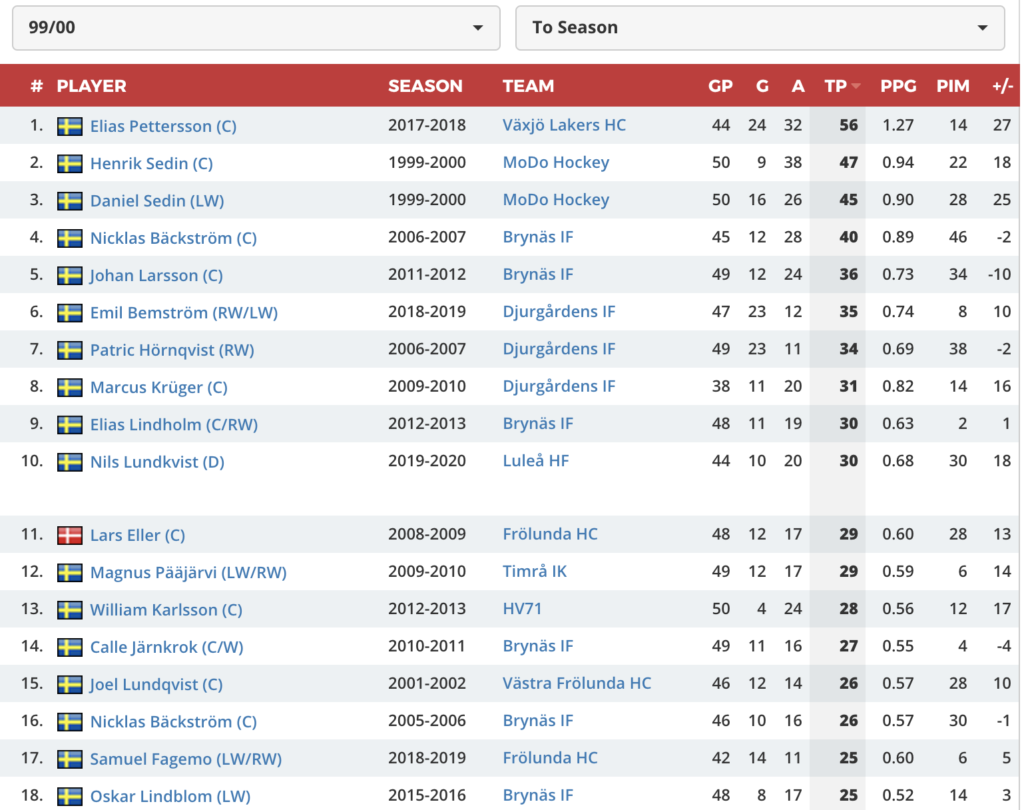 There are some bangers on that list too.
NYR boasts one of the deepest blueline pipelines in the game. There's a chance Lundkvist becomes the best all-around guy from the lot.
**
Another prospect who you need to be licking your chops over is Marco Rossi. He leads the CHL in scoring with 120 points in 56 games. Yup, ahead of Alexis Lafreniere.
The 2020-eligible skater is hanging with some elite company.
Back-to-back 4 point nights for Marco Rossi (1+3)

He's up 120 points in just 56 OHL games.

He's now tied Connor McDavid for the 6th most points by an OHL draft-eligible skater in the last 25 years.

— /Cam Robinson/ (@Hockey_Robinson) March 11, 2020

**
Earlier this week we saw the NHL take steps to protect its players from the growing concern over the Covid-19 virus. The step was to eliminate media access to the dressing rooms. It was met with some angst from a few members of the media who will now be forced to do their Q&A with players on a podium. They've lost the intimate availability that leads to so many terrific, humanizing pieces.
Yet, it's totally worth it.
Tuesday saw several leagues follow suit – including the OHL who recommended the removal of media from the room, eliminate player handshakes, autographs for fans, sharing water bottles/towels, etc.

In Germany, they took it even further. The DEL – Germany's top professional league and home to three potential top-60 picks this June in Tim Stutzle, John-Jason Peterka, and Lukas Reichel ended their season early.
DEL cancelling their playoffs this year.

Difficult decisions are being made but it's all with a lens of supporting and protecting public health.

These types of moves should be applauded. https://t.co/rVoVuNDZfz

— /Cam Robinson/ (@Hockey_Robinson) March 10, 2020
There will be no playoffs. There will be no champion.

Reports out of Russia are that major cities are banning events with more than 2000 people attending. Early speculation is that this mandate will affect the KHL playoffs – which are already underway.
The moral of the story here is that we all need to be preparing for what could possibly be a premature finish to the NHL season without a champion being crowned. Or perhaps we have a playoff round or two played in front of empty seats.

If this level of decision is made, it should be met with applause, not indignation. The lens here needs to be squarely focused on public safety. You may be a young and healthy person, but we're all responsible for protecting the elderly and those with underlying health issues.
Sports are great. Public safety is more important.
Now go wash your hands like you just chopped jalapenos for some delicious nachos and need to change your contact lenses.
**
Follow me on Twitter @Hockey_Robinson
**