Wild West: Risers and Fallers 2019-20
Grant Campbell
2020-03-16
The Wild West – Risers and Fallers
By Grant Campbell on March 16th, 2020
Weekly Western Leaders (to March 11th, 2020)
Goals – 43 – Leon Draisaitl – Edmonton
Assists – 67 – Leon Draisaitl – Edmonton
Points – 110 – Leon Draisaitl -Edmonton
PPP – 44 – Leon Draisaitl – Edmonton
Shots on Goal – 318 – Nathan Mackinnon – Colorado
Shooting % (min 100 SOG) – 19.7 – Leon Draisaitl – Edmonton
PIM – 122 – Evander Kane – San Jose
Best plus/minus – plus 40 – Ryan Graves – Colorado
Worst plus/minus – minus 45 – Andreas Athanasiou – Edmonton
Hits – 316 – Ryan Reaves – Vegas
Blocked shots – 180 – Oscar Klefbom – Edmonton
FOW – 880 – Ryan O'Reilly – St. Louis
FOL – 685 – Mark Scheifele – Winnipeg
FO% (min 500 FO) – 59.2 – J.T. Miller – Vancouver
Giveaways – 91 – Leon Draisaitl – Edmonton
Takeaways – 78 – Mark Stone – Vegas
Team 5 on 5 SH% (min 40 GP) – 12.0 – Elias Pettersson – Vancouver
Highest CF% (min 40 GP) – 58.9 – Max Pacioretty – Vegas
Lowest CF% (min 40 GP) – 37.6 – Jay Beagle – Vancouver
Highest PDO (min 40 GP) – 105.6 – Nazem Kadri – Colorado
Lowest PDO (min 40 GP) – 92.3 – Andreas Athanasiou – Edmonton
Goalie wins – 30 – Jordan Binnington – St. Louis, Connor Hellebuyck – Winnipeg
Save percentage (min 25 starts) – 93.0 – Anton Khudobin – Dallas
Quality starts – 35 – Connor Hellebuyck – Winnipeg
Quality start % (min 25 starts) – 75.9 – Darcy Kuemper – Arizona
Shutouts – 6 – Connor Hellebuyck – Winnipeg
We will look at the biggest risers and fallers in terms of points per game between this season and last in the NHL.
Starting with the fallers, if you are in a pool or keeper pool and had many of these players below, there is a good chance you're not in 1st place. I'm not that surprised to see the players over 30 years of age on this list as regression hits hard eventually, it's the players in their prime that concern me.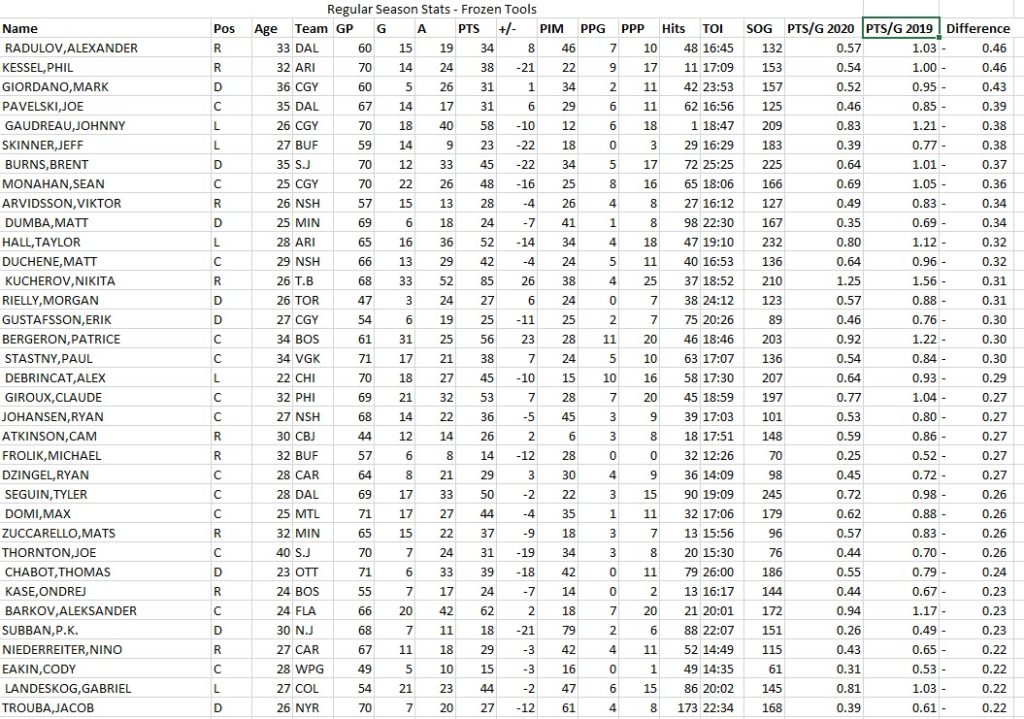 We will focus on some of the most concerning fallers from the West:
Alexander Radulov (0.46 pts/game drop), Phil Kessel (0.46), Mark Giordano (0.43), Joe Pavelski (0.39), and Brent Burns (0.37) are all 32 years old or older and are all in the bottom seven of pts/game drop off from last season. Radulov and Kessel went from over a point per game to 0.57 and 0.54 respectively, which is very significant and very concerning for their future production.
For the younger players, Johnny Gaudreau (0.38) had the biggest drop from last season, followed fairly closely by his teammate Sean Monahan (0.36). Other notables are Viktor Arvidsson, Matt Dumba, Taylor Hall, Matt Duchene, Alex Debrincat, Ryan Johansen and Tyler Seguin to watch closely going forward.
The most disturbing factor for the players on this list is the money still owed to them or what some will sign for as free agents. There are not many good contracts here.
For the risers, the Eastern Conference seems to be dominating this list, much like the West dominated the faller list. Bryan Rust had a staggering 0.53 pts/game increase from last season and at 27 years of age, this is probably an anomaly based on his PDO (102.9) and 17.9 shooting percentage.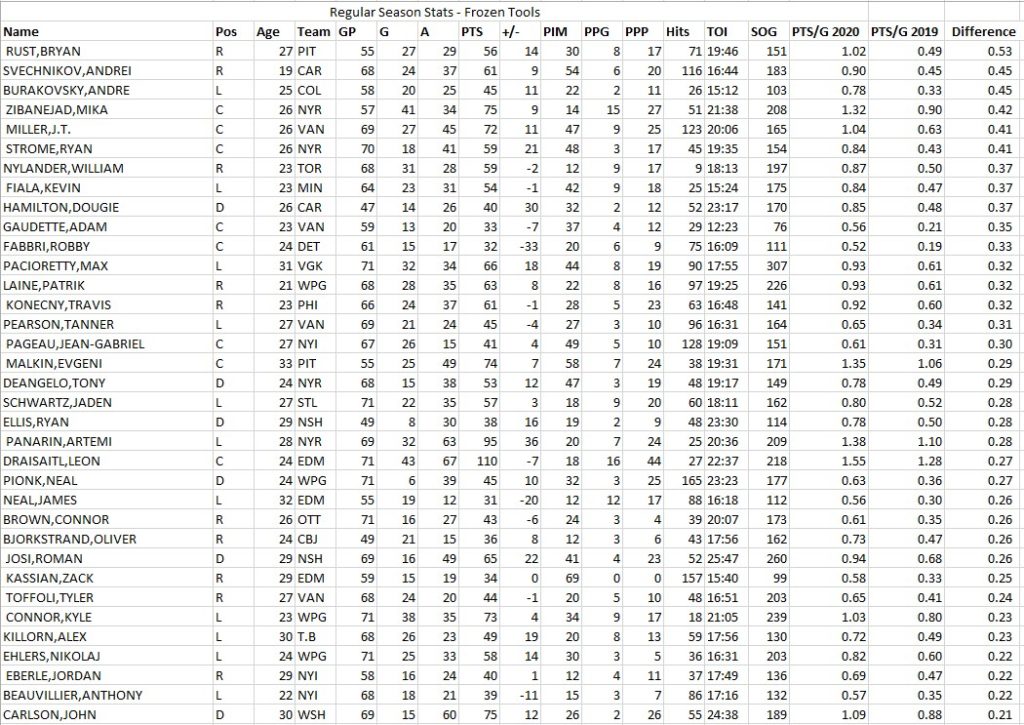 In the West, Vancouver alone has four players on this list with J.T. Miller (0.41), Adam Gaudette (0.35), Tanner Pearson (0.31) and Tyler Toffoli (0.24), but Toffoli is a UFA and unlikely to re-sign.
Andre Burakovsky has been the biggest riser in the West with an increase of 0.45 pts/game and the change of scenery from Washington to Colorado and increased opportunity has paid off. He is followed by J.T. Miller (0.41) and Kevin Fiala (0.37) and both of these players are certainly capable of maintaining their new level of production. Other notables that have had very good seasons and can certainly keep it up are Max Pacioretty, Patrick Laine, Jaden Schwartz, Leon Draisaitl, Neal Pionk, Roman Josi, Kyle Connor and Nikolaj Ehlers.
Players I would sell high on from both conferences and anticipate a reversion next season are Bryan Rust, Tanner Pearson, Jean-Gabriel Pageau, Ryan Ellis, James Neal, Connor Brown, Zack Kassian, Alex Killorn and John Carlson.
Conversely, there are quite a few good contracts here.
With the obvious uncertainty for the next while, we will continue to post columns that I hope will be interesting and somewhat informative.
Thanks for reading and if you have any comments or suggestions, please let me know below and/or follow me on Twitter @gampbler15.