Geek of the Week: Miller Time
Michael Halbany
2020-03-22
With so much up in the air as it relates to the resumption of play in the NHL, it's safe to say we will be without game action at least for the foreseeable future. There are many different scenarios in play when it comes to resuming the 2019-2020 campaign. However, for the purposes of the exercise, let's work with the assumption that the regular season is likely over.
For this exercise, I was curious to see which players contributed the most in each of the Standard Y! Categories (G, A, +/-, Power Play Points, SOG, Hits). Using Frozen Pool, I pulled the multi-category stats report and eliminated all skaters that didn't play at least 10 games. Using Excel, the 50th, 75th, 80th, 85th, and 90th percentiles were calculated for each of the categories and the results yielded the following numbers:

This means a player scoring 17+ goals would fall into the 85th percentile or better for goals. Likewise, a player who scored 10+ PPP would fall into the 80th percentile or better for PPP. Another way to read this chart is if a player recorded at least 15 G, 24 A, +7 Plus/Minus, 10 PPP, 141 SOG, and 93 hits, his production fell into the 80th percentile or better among skaters in Y! Standard Scoring.
With that said here are the skaters fell into the 75th percentile or better bucket:

Taking this another step forward here are the skaters whose production fell into the 85th percentile or better bucket:

Yup, that's right, only J.T. Miller and Andrei Svechnikov finished in the 85th percentile or better for all Y! Standard Scoring Categories. Miller bested him in 5 of the 6 categories and per Fantasy Hockey Geek and ranks 16th in value (70) vs Svech's 22nd rank in value (55). Svechnikov was superb in his sophomore season and he's deserving of his own breakdown later. But, for this week, let's focus on J.T. Miller.
What makes Miller's season special is that last year (myself included) pegged him as a trendy sleeper pick in drafts as a member of Tampa Bay. He disappointed with 47 points in 75 games. This year, his ADP tumbled to 203 via Fantasy Pros (not ranked on Y! or CBS). If you drafted him late or added him on the wire, you were handsomely rewarded with the 16th ranked skater in Fantasy Hockey Geek value, based on a Y! Standard Scoring League.
After a disappointing year with the Lightning, Miller had the most goals of his career in his first season as a Canuck. His 27 G and 45 A in 69 games translates to a 32G, 53A, 85-point pace in an 82-game season. His most common linemates this year at 5v5 have been Elias Petterson and Brock Boeser. An improvement compared to last year when he was pushed down the depth chart on a stacked Bolts team and his most common line mates were Steven Stamkos and Anthony Cirelli. Taking a closer look at his underlying metrics from this season and years past, here are his yearly stats from Natural Stat Trick (All stats are at 5v5, unless noted).

His usage at 5v5 and on the power play are critical. He received the most amount of time-on-ice per game this year at all strengths, 5v5 and on the power play. Granted he's received power play time in years past, but not to the tune of nearly 4 minutes per game in 2019-2020. Without the increase in ice time and those added juicy power-play minutes, we likely wouldn't have seen him as a multi-category stud he was this season.
To show why those extra power play minutes are important, among all forwards who received at least 200 PP minutes this season, all of them are on pace for over 50+ points in an 82-game season (with the exception of Phil Kessel). (Data is courtesy of Natural Stat Trick.)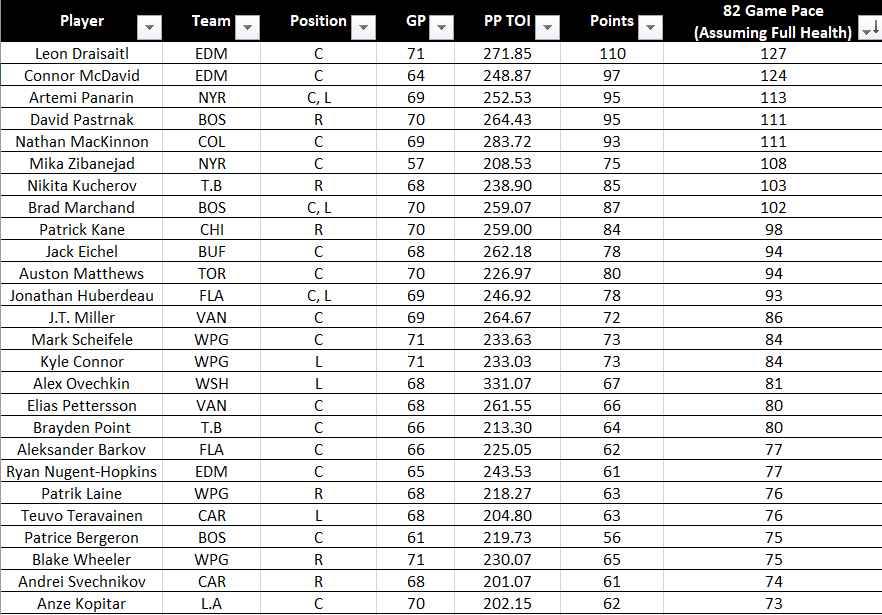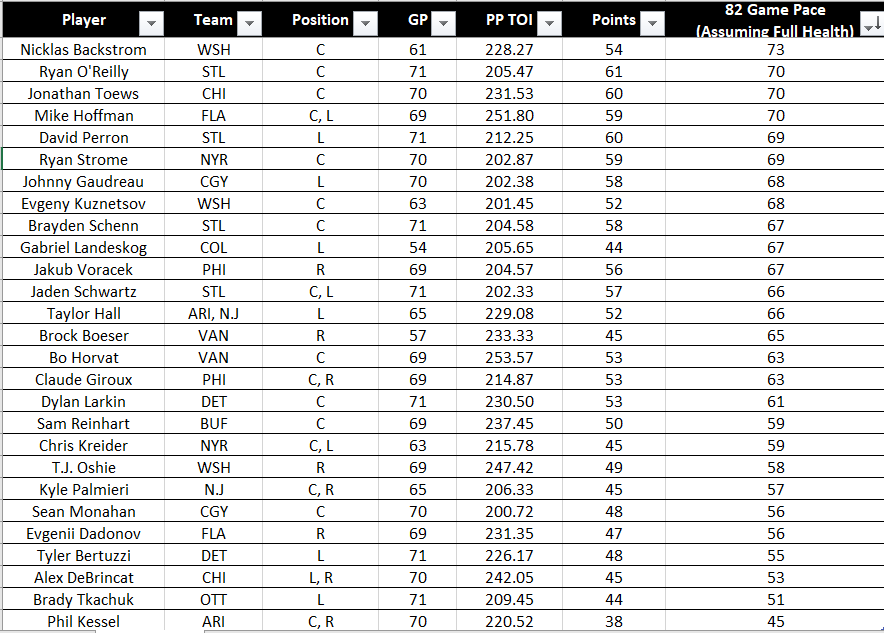 Using an 82-game pace adjusts for the shortened season and what we would normally expect for a player's point total, given a full 82-game slate.
What can we expect for 2020-2021? With the Canucks hellbent on making the playoffs this season, free agent signings have them up against the cap. Which means barring a trade or something unforeseen, Miller should find himself in the top-6 next season and receiving prime deployment on the power play. Miller's individual shooting percentage this year is elevated, but in line with previous seasons. Detractors might point to the fact that he has the highest on-ice shooting percentage at 5v5 of his career (10.44%) or the percentage at which a goal is scored with him on the ice at 5v5. But, even if he gives back a few points next season, he should still be a multi-category stud.