Ramblings: Looking for more potential Hall of Fame players
Michael Clifford
2020-05-12
Last week, I wrote a Ramblings dedicated to guys that are currently active whom we might see in the Hall of Fame someday. They were guys that were not among the mortal locks to get there currently – guys like Crosby, Ovechkin, Karlsson, and the like. I also wanted to avoid the younger guys who'll probably get there in 20 years like McDavid, Matthews, or McAvoy. Rather, it was looking at guys in the next tier of players. We're looking for guys that have holes in their resumés, whether it be individual trophies, even consideration for those trophies, longevity, or any other subjective criteria.
Last week, most of the guys I picked were centres. I wanted to focus on the other positions. Most stats from Hockey Reference. Here we go.
Sometimes, it's all about situation. Wheeler finished his career at the University of Minnesota, meaning he didn't get to the NHL until the age of 22. For the next two years, he was largely stuck on Boston's third line (sometimes moving to the second line). That means it wasn't until age-25 that Wheeler became a true first liner when he got traded to then-Atlanta. We have to wonder how many points that cost him.
All the same, we can only judge him for what he's done. For the decade of the 2010's, this is how he fared: fourth among wingers in points, behind Kane, Ovechkin, and Kessel. That's more than Hall, or Voracek, or Perry, or Marchand. Out of the eight guys listed, including Wheeler, there are probably four Hall of Famers listed. Do I hear five?
The lack of individual trophies, or any real consideration for them, is going to be a big issue. He has numerous All-Star nominations, but as for actual trophies, one top-10 finish for the Selke is as good as it gets. Granted, the Hall of Fame committee is not the same as the people who vote on Hart or Selke Trophies, but that lack of hardware is going to hurt. Double that with little playoff/international success, and, well, the picture looks grim.
Again, we have to wonder about his path. What if Wheeler is in the NHL at 19 and a first liner by 21 or 22, rather than in the NHL at 22 and a first liner by 25? I don't think there's much doubt he's been one of the best wingers of the last 10 years, but he hasn't been the best, and without the individual or team accomplishments, it may not be enough.
So, we have to talk about Taylor Hall.
There has generally been a divide in the hockey community on Hall's value, or at least his perceived value. Remember, it was just four years ago he was traded for Adam Larsson. It was a bad trade at the time and has only worsened since. So, when I say there was a divide, it wasn't long ago that there was at least one NHL general manager who thought Hall was worth a young stay-at-home defenceman.
Like Wheeler, we have to wonder about the situation here. Edmonton, for basically the entire decade of the 2010s, was an absolute trainwreck. Under three different GMs, they made the playoffs once, and never with Hall around. No one knew how to value players and it led to disaster contract after disaster contract. They eventually got rid of Hall and Jordan Eberle. The team is now starting to round into form under Ken Holland, but there's still work to be done.
Anyway, aside from that, Hall hasn't been able to hook on to some very good teams. That's why when we look at on-ice goals per 60 minutes relative to teammates for the decade, Hall is near the top of the list. For the 2010s, there were 263 forwards with at least 5000 minutes played at even strength. Of those 263 forwards, Hall was tied with Nikita Kucherov for ninth in goals-for relative to his teammates, ahead of names like Marchand, Tarasenko, Malkin, and MacKinnon. Here's the top-25 from Evolving Hockey: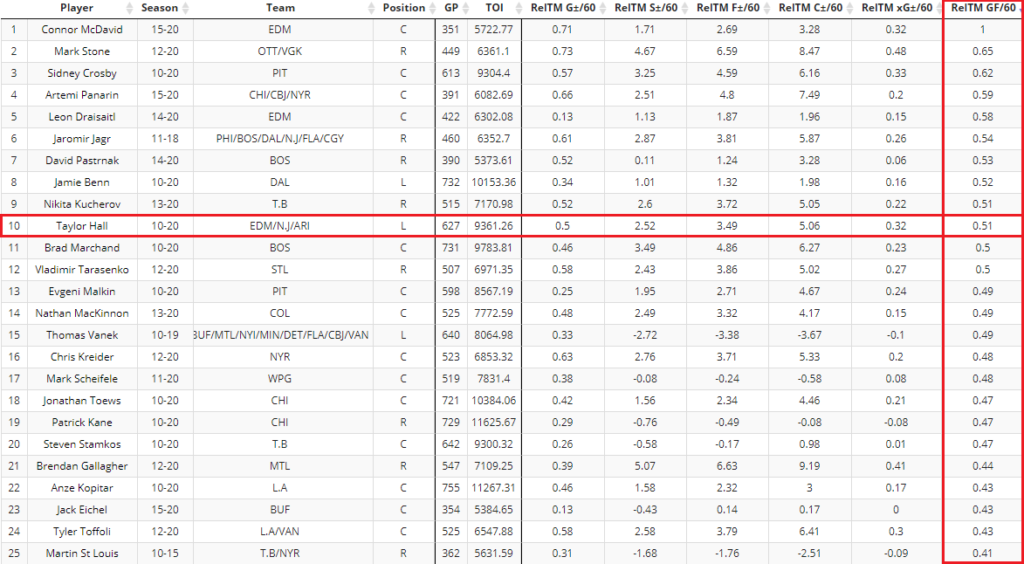 Beyond being an obviously impactful forward, Hall does have trophies to his name. First and foremost, he has the Hart Trophy. When looking at Hart Trophy winners over, say, the last 40 years, the only names that stand out to me as potential non-Hall of Famers are Corey Perry and Jose Theodore. And even then, I think Perry gets in. It's extremely difficult to be the MVP of the league and not be a future Hall of Famer.
Hall has been underrated his whole life, or at least since he reached the NHL. Does that carry over to his post-career accolades? I hope not.
A lot of jokes get made at Giroux's expense, whether it be the time one of the Flyers beat writers said the baton had been passed from Crosby to Giroux, or when Giroux got arrested. The fact of the matter is he's quietly been one of the best producers the NHL has seen in recent memory.
Over his career, Giroux has amassed 0.92 points per game. Since 2000, there have been just 17 forwards to have played 800 games and manage at least 0.9 points per game, one of them being Giroux. His mark of 0.92 points per game is right around guys John Tavares (0.94), Ryan Getzlaf (0.92), and Marian Hossa (0.9). If we remove Giroux's early seasons and look at just the 2010s, he looks even better. Among all players of the 2010s, Giroux is fourth in points (741), just eight behind Ovechkin and 16 behind Crosby (yes, Crosby has far fewer games played). In that decade, Giroux missed just 10 games total, playing the full schedule six times.
Giroux doesn't have hardware, per se, but he does have three top-5 Hart Trophy finishes, so at the least he's been considered among the elite for some time now. It seems he'll reach 1000 points if we can get some normalcy, seeing as he just turned 32 earlier this year and needs just 185 to get there; he can do it in three decent seasons. The question is if he gets to the Hall. I would put him in, but I'm not sure the HOF committee will.
I saw a Twitter poll the other day asking about future HOFers that are playing or have played for the Wild. I was pretty surprised to see little support for Suter. Do… do people realize he's been one of the best defencemen in the league nearly 15 years? Again from Evolving Hockey, he's fourth in WAR among defencemen since the 2007 season, trailing only Zdeno Chara, Mark Giordano, and Victor Hedman. (As an aside, I was going to write about Hedman in this column, but it seems like he's a mortal lock for the HOF when his time comes. He has a Norris Trophy, two other top-3 finishes, two other top-10 finishes, is putting up 50-point seasons like clockwork, will be skating for an elite team for the foreseeable future, and just turned 29 in December. He'll be in). Beyond that, Suter finished top-20 in Norris voting for 10 years straight, including three top-5 finishes. Since entering the league, he has more points than both Chara and Shea Weber, and he's never played fewer than 70 games in any season.
He never put up monster point totals, hitting 51 points twice in 15 years but never more, but Suter was a reliable number-1 defenceman for over a decade, playing monster minutes along the way. I think I would put him in but I'm not sure others would.
I was thinking of goalies and which might get in. I imagine Roberto Luongo and Henrik Lundqvist both get there. Carey Price has fallen off in recent seasons but he had a very, very high peak, which included a lot of hardware, plus he has the international gold medals, so I think he gets there too. Does anyone else?
Had Rinne not won that Vezina a couple years ago, I may not have included him here. But now, Rinne has a Vezina Trophy to his name, plus three other top-3 finishes, including runner-up in 2011 and 2015. Since entering the league, he's second in wins and tied for seventh by save percentage. Other stats are less flattering, as he posted a lower goals saved above average mark than Tomas Vokoun, and Vokoun had more than 400 fewer games played than Rinne. GSAA is a cumulative stat, so it really goes to show how much volume Rinne needed to shine.
All the same, I think voters are coming around to the idea of how random goaltending can be. When they see a goalie with a Vezina and a couple runner-up finishes, maybe they give him the call. Maybe not. Like goalies, the HOF committee can be unpredictable.
What do you guys think of the players named? Let us know in the comments.
*
This has absolutely nothing to do with hockey, but Jerry Stiller, the on-screen father of George Costanza from 'Seinfeld' and Doug Heffernan from 'King of Queens', and real-life father of actor Ben Stiller, passed away yesterday. He was a guy who could absolutely steal a scene and would always make the other people around him laugh. This outtake from 'Seinfeld' where the other actors cannot stop laughing at him should provide some perspective. 'Seinfeld' is a big favourite around here at Dobber, so I only thought it an appropriate tribute:
RIP Jerry Stiller, this outtake remains the funniest thing I've ever seen pic.twitter.com/YXRGgIrwxL

— Martin James – Comedian Facebook Page (@_martinjames) May 11, 2020
Thanks for all the laughs, Jerry. They were gold.