Ramblings: Looking at the major awards – June 2
Michael Clifford
2020-06-02
Sunday night I was able to hop on the Steve Laidlaw Podcast with, you guessed it, Steve Laidlaw. More recent readers may not remember him, but he was an associate editor here at Dobber for many years, and with the recent, let's say, downtime we've been experiencing, he started his own podcast.
We talked about hockey, of course. The NHL's Return to Play plan was huge news in the hockey world, as we finally got some direction as to when and how the NHL will return. We also talked the major trophies and who might win (Steve came fully prepared here, I just listed off some names). We discussed how we've been passing the time for the last 2 ½ months, as well as some book and documentary recommendations. A little bit of something for everyone in this one. Hope the readers will enjoy. I'll post it in a future Ramblings once he posts it.
*
The trophy discussion was probably my favourite part of the podcast, if only to get back to the usual dumb arguments that we, as hockey fans, would have under normal circumstances. I wanted to expand my thinking on some of the players and give a little more reasoning for my selections. I know I've discussed these before but I think this is a little more in depth than earlier Ramblings. Let's take a look. I'm going to skip the Vezina for now.
Calder Trophy
While I would normally try to look for a different name than the ones bandied about like Dominik Kubalik or Victor Olofsson, it just isn't possible to do it with a straight cursor. It seems very likely that the three finalists are Adam Fox, Quinn Hughes, and Cale Makar. I haven't gone through the history of the Calder Trophy, but I can't imagine another year where we've had all three finalists be defencemen. It's rare enough to have a d-man win the thing – just three have won it this century – so to have all three as the nominees has to be a first.
In my mind, all three are incredible defencemen and I wouldn't bat an eye at any of them winning the trophy. In that sense, let's start splitting some hairs. Stats from Hockey Reference or Evolving Hockey. A glossary of terms used below can be read here. Zone starts from Dobber Tools.
Points per game? Makar.
Points/60 minutes at 5-on-5? Makar by a landslide.
Both primary and secondary assists per 60 at 5-on-5? Both Makar.
TOI? Hughes.
Expected impact both offensive and defensively per 60 at 5-on-5? Both Fox.
Shot share driving? Fox in a landslide.
Defensive zone start percentage? Fox again. This chart is from our Frozen Tools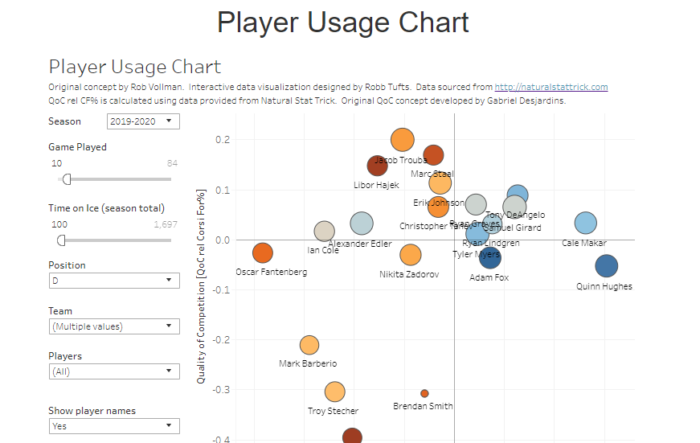 I hate to say it, but other than raw point totals, there's not a lot here for Hughes. I imagine there'll be some Vancouver fans reading this who will take that as a slight, which couldn't be further from the truth. Hughes is a wonderful defenceman, but at this stage, we're comparing three guys who look every bit the part of future number-1, cornerstone defencemen. The one tick in Hughes's favour is that he played considerably more minutes than Fox and a bit more than Makar, but that's about it.
Now that it's all laid out, my voting would go Makar-Fox-Hughes, but realistically, if those three finish in any order for the Calder, I would be pretty much fine with it.
The NHL is blessed with loads of young, superstar defencemen. Let's just enjoy it.
Norris Trophy
The three on my ballot for the Norris are John Carlson, Roman Josi, and Alex Pietrangelo. I'll go briefly through the arguments for each.
Carlson
If we look at the more advanced stats – Steve mentioned GSVA on the pod, and the explanation for that can be read here – Carlson doesn't look great. Despite the 75 points, Steve mentioned that Carlson comes in at 10th by GSVA and he's way down the list by WAR/60. A lot of this is driven by defensive issues, which brings the counter-balance to all the production.
The thing is, he still has 75 points. That's 10 more than the next-closest defenceman, and 20 more than third-place Victor Hedman. It's a lot of points. When it comes to awards, I do try to look at things other than points, especially for defencemen. But it's still a lot of points. Sorry, but defencemen over a point-per-game with three weeks left in the season make my Norris ballot.
Josi
Do the Predators get to the play-ins without Josi? Maybe, maybe not. But the guy was second in the league for points among defencemen with 65 and no forward on his team cracked 50. This must be what Oliver Ekman-Larsson felt like for half a decade.
For one, Josi's transition metrics are absurd. They're not off the chart, they fill the chart:
Top 4 Forwards and Top 4 Defenders in average percentile (min 100 minutes) pic.twitter.com/jcCaRE5dQe

— CJ Turtoro (@CJTDevil) May 27, 2020
His puck-moving in 2019-20 was otherworldly, which puts his forwards' struggles under an even bigger microscope. Josi turned around, pointed to his back, and said "hop on." That's not the criteria for the Norris, but he was an absolute monster this year. He's a nominee.
Pietrangelo
Pietrangelo doesn't rank at the top of things like expected goal share/60 or WAR/60, but he doesn't rank very highly, and Pietrangelo plays a lot of minutes. He also plays in all three phases. In that sense, if I have a guy who can be top-15 at his position by some advanced metrics, and he was the anchor for a top-3 power play in the league and played heavy minutes for an average penalty kill, well, that's a lot of contributions.
In talking with Steve on the pod, I said that, anecdotally, the 2019-20 season was the best season I had seen from Pietrangelo. Now, I don't imagine I can specifically remember how Pietrangelo played in each season – I do not remember, specifically, how good he was in 2014-15, for example – but it just seemed he took charge of the blue line and was being more aggressive than normal.
I'm sure people will have other takes here (Hedman, Makar, Theodore) but Pietrangelo probably would have set a career-high in points this year if the season had finished, and they played almost the whole year without Vladimir Tarasenko.
Hart Trophy
Oh man. Not looking forward to this.
Like Josi, sometimes a player puts up too many points to deny him his rewards. Draisaitl hit 115 points this year and no other player cracked 100. That's an immediate huge checkmark on his resumé.
I've often derided Draisaitl in my Ramblings because I was not of the belief that he was a top-10 player in the NHL (or thereabouts) like some others had said. I'm still not sure of that, but I will say that he's much better offensively than I ever gave him credit for, so I'll take a mea culpa there.
Anyway, we could point to things like his insane PPP total or defensive issues, but at the end of the day, the Oilers would be nowhere near a playoff spot without this performance from him, and again, he had 115 points. He's in.
When we look at the injuries the Avalance had to sustain this year, it's little wonder why MacKinnon would be included:
Landeskog missed 23 percent of the season, Rantanen 40 percent, Makar 19 percent, Kadri 27 percent, and MacKinnon was still fifth in the league in scoring while the team was tied for third in the league (with Tampa Bay) by points percentage. What MacKinnon did was pretty much inhuman.
I could go on about MacKinnon's more advanced stats, but they all paint the same picture: he was among the very best in the league this year. With the context that he was missing significant pieces of his supporting cast for significant chunks of the season, and, yeah, he's one of the finalists.
By total wins above replacement, Hellebuyck led all goalies in the NHL this year at 4.8. The next-closest goalie was Tuukka Rask at 3.5. In other words, by WAR, Hellebuyck was 37 percent more valuable in 2019-20 than the next-best goalie. That is astounding. (One reason I didn't want to discuss the Vezina is if I have Hellebuyck on my Hart Trophy list, he'll be on the Vezina, and assuredly my winner.)
By WAR/60 minutes, Hellebuyck falls to third, behind Darcy Kuemper and a shade behind Tuukka Rask. The thing is, Hellebuyck played 17 more games than Rask and double the games of Kuemper. I don't doubt either goalie is great, but whether they would have kept up the play for nearly 60 games is an entirely different matter than 40 or 50, had the season finished.
When play was suspended, the Jets were in the first wild card spot by two points, and they had more games played. Points percentage tells us that the Jets were 20th in the league this year. Had Hellebuyck not been supernova basically all year, are they anywhere close to playoffs? I doubt it. This was a bad defensive team kept afloat by a superstar goalie. Plain and simple.
I would give the trophy to MacKinnon, but I fully understand that this is Draisaitl's to lose.
What about your trophy winners? Sound off in the comments.