Capped: Checking handedness for centres and production for wingers
Alexander MacLean
2020-08-20
Welcome back to another Thursday Capped article. I hope you've been finding some ways to enjoy yourself this summer. As you're reading this, I'm up at a cottage probably sitting on the beach, unable to check the hockey scores. There are pros and cons to having hockey during the cottage months.
****
One of the discussions on the forums recently about the New York Rangers had one point brought up about the handedness of the centre. The idea centred around Alex Lafrenière possibly shifting to right wing to get into the top six around Chris Kreider and Artemi Panarin, and whether he could thrive despite the Rangers' top two centres shooting right and potentially favouring to pass on their forehands. I wasn't too impressed by the initial premise, as all NHL players can pass well on their forehand or backhand, and a lot of players play off-wings to allow for better passing/shooting angles.
However, if handedness was to come into play, it would be from the centre of the ice, and from the centreman feeling pucks up to the wingers on the rush. If there was something here – even a small edge – then it becomes something worth looking into, as every edge is important, especially in cap leagues where cheaper players slotted in on a centre's strong side could suddenly see an uptick in production. I decided to take a casual look into it, and using the FrozenTools Line Production Tool I was able to go through each team's most productive line combination at even strength, review the centre's handedness, and then track whether the strong side or the weak side winger was getting more points.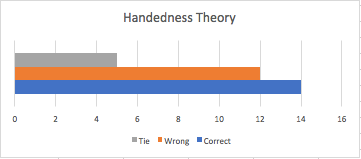 Of the