Ramblings: Introducing Matvei Michkov, OEL on the Block, Brodin, Dumba & Hedman (Sept 16)
Cam Robinson
2020-09-16
The Isles and Bolts went to the wall in Game 5 on Tuesday. During these strange bubble times, it had been posited that elimination games were a bit easier to close out with teams more readily able to fold and go see their families for the first time in weeks. However, New York wasn't going down without a fight.
Ryan Pulock got them on the board first, but Victor Hedman tallied a second-period marker to knot things up at one. We then had two more scoreless periods before heading into double overtime. It was there that Jordan Eberle played hero.
We always knew Eberle would come up clutch in a playoff game on Edmonton ice. Right?
We'll have a Game 6 in the East while the Stars rest up and prepare.
**
This is damn impressive.
I had a Patreon member express a lot of concern with Mikhail Sergachev stealing PPTOI from Hedman – and it was a situation to keep a close eye on. Hedman has seen just 43 percent of Tampa's power-play action this postseason. However, he has at least 60 percent in each of the last three games. It's helped that Brayden Point was out for two of those games, so both defenders have been able to work together on the top unit.
Hedman remains a player that I value in a big way in keeper leagues despite inching closer to that dreaded 30th birthday. If Sergachev does overthrow him on PP1 long term – which I doubt in the short term, then that will obviously change.
**
The Wild signed Jonas Brodin to a seven-year deal worth 6M per season on Tuesday. The 27-year-old is an elite shot-suppressing defender. I'm not just talking about 'pretty good' or 'hey, that's not bad'. I'm talking about the cream of the crop good.

Just take a look at his RAPM from Evolving-Hockey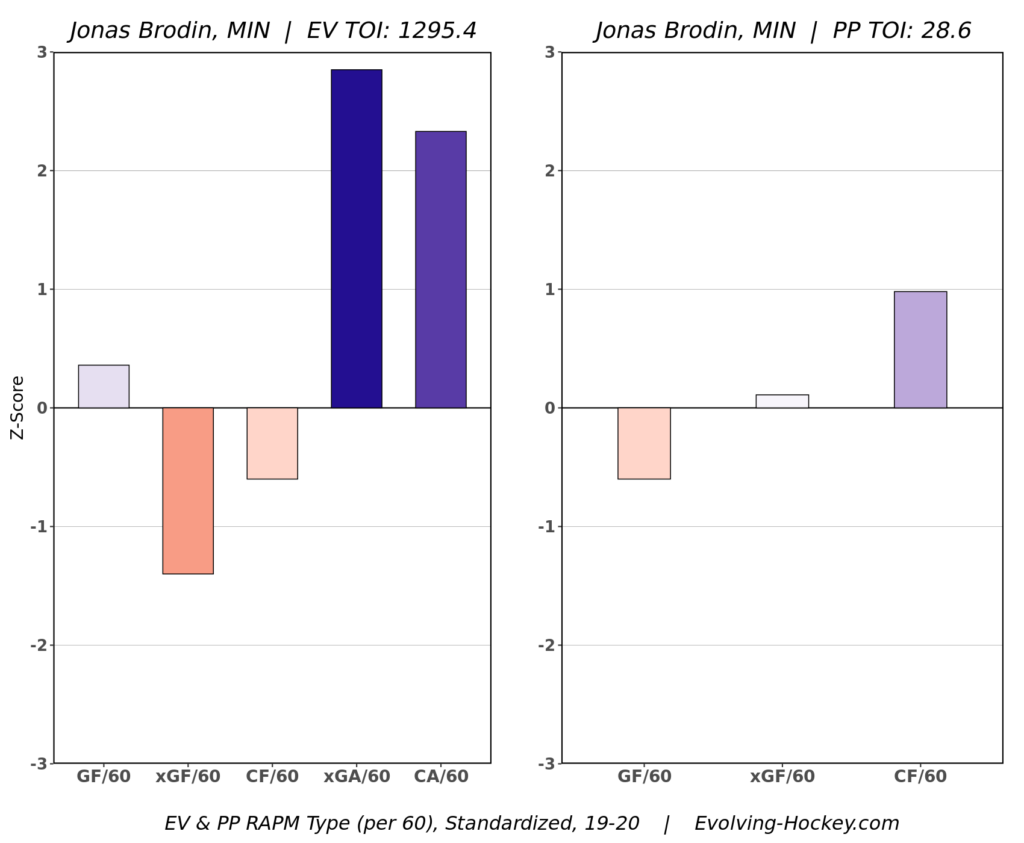 The left-shot defender won't bring a ton to the table offensively, or in fantasy circles. However, he is coming off a career-best 33-point pace. He's usually good for 50 or 60 hits and 130 or so blocks. Not bad for the multicat depth piece.

In real-life, his brand of defensive play may lead to further injuries and a slowing of the body. Fortunately, he can skate like the wind, so he should have a bit of a leg up. The contract will probably be too rich in a few years, but you've got to pay to play. 
**
The Coyotes signed goaltender, Adin Hill to a one-year, one-way deal for 800K ahead of the 2020-21 season. The 24-year-old has proven a very capable #3 for AZ. This gives the team three goaltenders on the books for next season, but just Darcy Kuemper for 2021-22. The team will need to figure that out ahead of the Seattle expansion draft.
**

Further news coming from the desert is that the team is actively trying to move OEL. That's not going to be an easy sell for any GM who has been watching closely the past three seasons.

There was a stretch of time between 2013 and 2017 where OEL was an exceptional two-way defender. Those days are over now.

He makes 8.25M for another 7 seasons.

If a team pays up, they're paying for past production and/or hope of refound glory. In a 29 year old.

Risky risky. https://t.co/f8Tsj5U4kx

— /Cam Robinson/ (@Hockey_Robinson) September 15, 2020
Here's a look at the three-year output between 2013-16: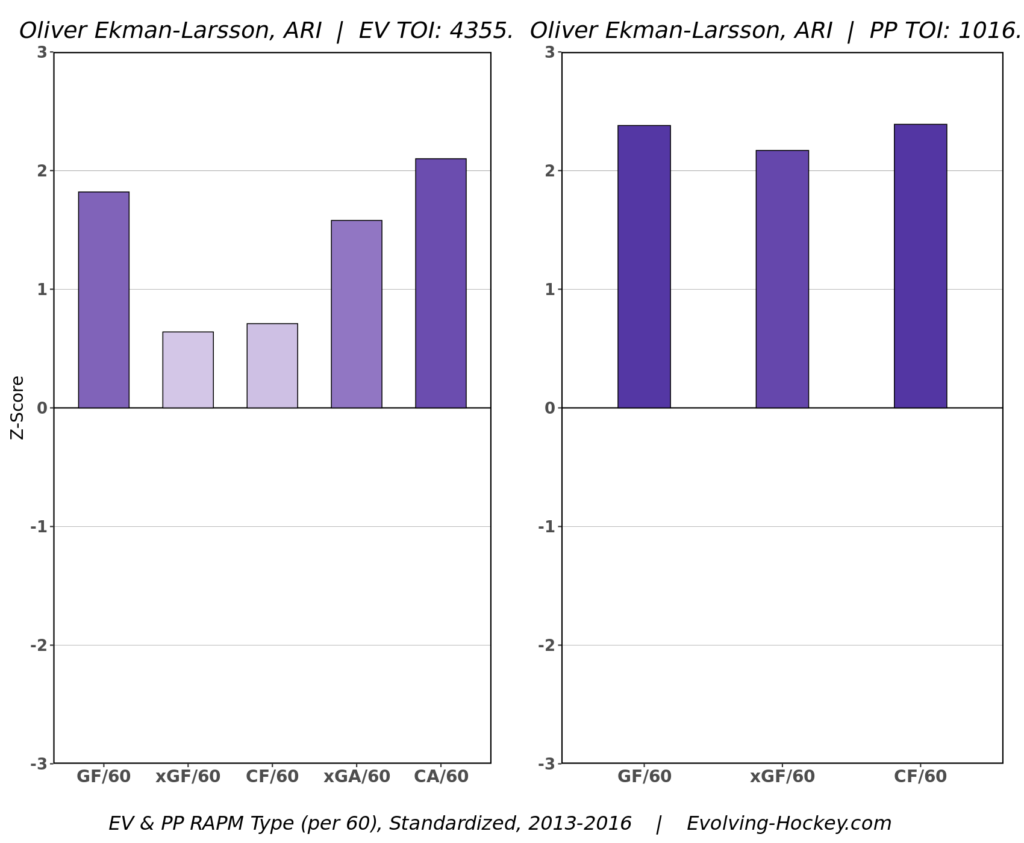 Now here is a look at his results from 2017-20: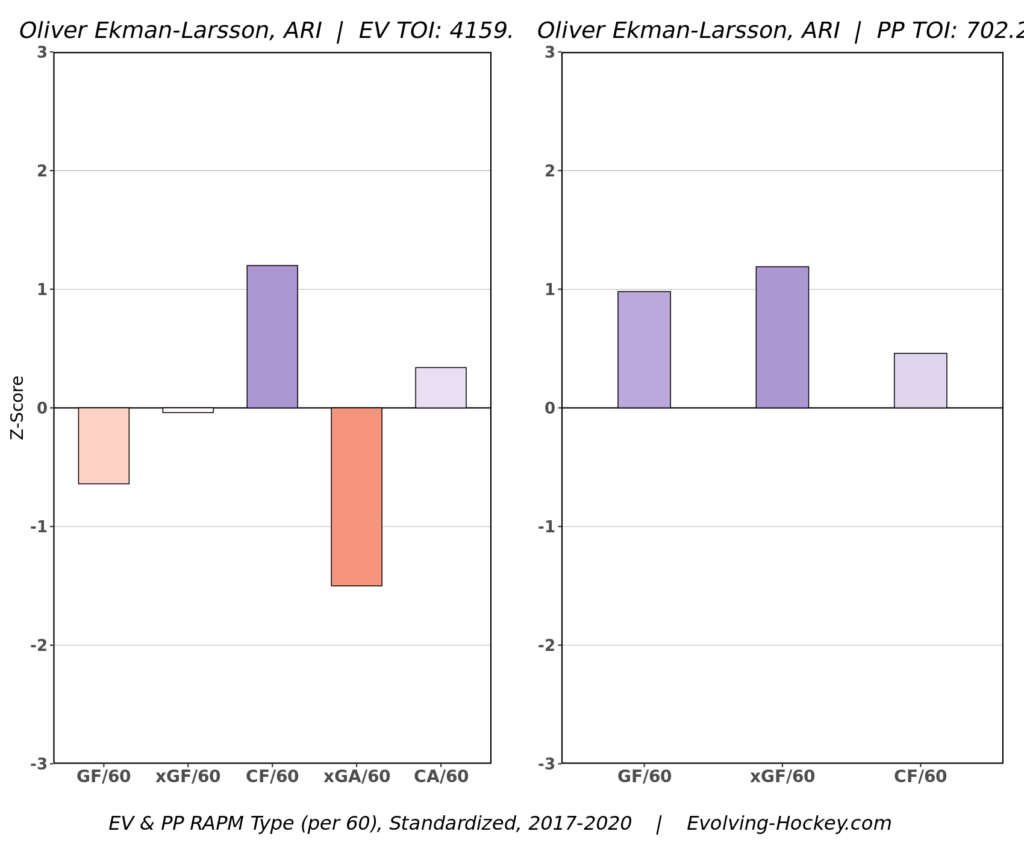 From a fantasy lens, it would be beneficial for a quality team to trade for and subsequently deploy Ekman-Larsson as a top PP option. But the odds of that happening aren't very high. How many good teams are lacking a top unit defender? Let's be generous and say the number is four.
Winnipeg
NYI
Calgary
Edmonton
The Jets could afford OEL and have a spot for him on the top unit. That's one plausible spot. Calgary could use an immediate heir to Mark Giordano and in theory have space. That's a lot of LHD though.
Edmonton can't afford his cap hit and are banking heavily that one of Philip Broberg or Evan Bouchard can be that guy. The Islanders have Pulock now and Noah Dobson waiting to usurp at a fraction of the cost. A team like Boston won't let Torey Krug walk just to trade for OEL. Ditto for STL and Alex Pietrangelo.
So, if Winnipeg or Calgary trades for him, perhaps his value goes up in fantasy. Otherwise, I continue to stay away.
**
This just bothers me
**
Okay, I think it's about time the world knew about Matvei Michkov.  
The 5'9 157lbs right-winger has been making waves behind the Iron Curtain for some time now – posting a ridiculous 70 goals and 109 points in just 26 Russia U16 games during the 2019-20 season. 
No, you did not read that wrong. As a 14-year-old for most of the season, he scored nearly three goals per game. For comparison, Andrei Svechnikov – who turned 16 at the end of his U16 season (while Michkov turned 15) produced 31 goals and 53 points in 13 games. 
The Russian phenom is in a bit of a weird spot as far as his birthday and the leagues he plays in. His birthdate – December 6th, 2004 means he was 14 years old for the majority of his U16 campaign last season. Now, as a 15-year-old, he technically remains as a U17 player in the MHL. In practicality, he's the first U16 player to suit up in that league.
He's skating with SKA-1946 in the MHL – Russia's equivalent to the CHL. 1946 is the premier club in that league and has surrounded their young star with strong talent. Through the first six games of the season, he's suited up on the top line next to likely top-40 2020 pick, Marat Khusnutdinov, and 2019 Sharks' fourth-rounder, Yegor Spirodonov. 
The trio has been clicking quickly. Through six games, the youngster has five goals and six points.
Quite frankly, Michkov is a superb offensive player. He profiles as a Nikita Kucherov-type of offensive weapon – who owns better finishing ability at the same age. It'll take him some time before he's blistering wristers from out high against competition four years his senior, but that won't slow him down. The ability to work in traffic with exquisite hands allows him to get into those high-danger scoring areas. When he's there, he doesn't miss often.

Take a look at these hands. *chef kiss*
Anywho, I just thought I'd let you know that if you're in a keeper or dynasty setup, adding lotto picks for the 2023 draft wouldn't be a poor idea. This kid is coming and he's going to be scary good. 
**