Fantasy Impact: Edmonton Oilers Sign Kyle Turris
Dobber
2020-10-09
The Edmonton Oilers signed forward Kyle Turris to a two-year contract ($1.65M AAV).
The Oilers Get: a former top-six center who never seemed to take that step and become a legit first-liner, and who has faded dramatically over the last two seasons.
Fantasy Players Impacted: Turris will slot into the Oilers' lineup as the third-line center, and that's a fitting spot. He can also play on the wing and occasionally get looks on the second line in that capacity. Despite the declining production (just 54 points in his last 117 games after getting 51 in 76 the year prior), Turris is still pretty effective on the power play in a secondary capacity. It's a good, cheap fit.
Adding another center pushes either Ryan Nugent-Hopkins or Leon Draisaitl to the wing. It will likely be RNH more often than not, but we all know that Draisaitl will be moved to the wing at times throughout the year so that he can play with Connor McDavid. Either way, it upgrades Edmonton's top six through the domino effect. Since Draisaitl can't get any better than he was last year, this helps Nugent-Hopkins the most.
Turris himself joins a freewheeling team that should help his numbers rebound. Just keep expectations tempered. He's a 40-point player now who may now get boosted to 45 or even 50 with the right PP usage. In the usage chart below, Turris did see protected minutes (offensive zone starts, slightly below-average quality of competition) and he did okay with them in terms of relative possession. So he's not a drag on driving possession and should actually help.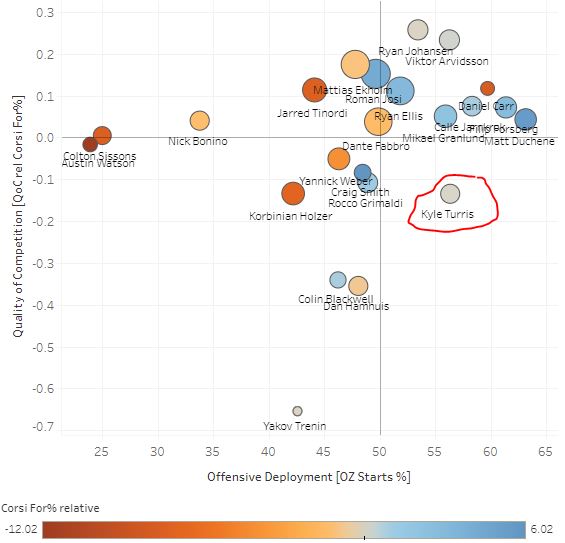 Fantasy Players this helps, in order:
📢 adverti