Fantasy Take: Dadonov is Dadon-off to Ottawa
Michael Clifford
2020-10-15
After a flurry of moves over the first 3-4 days, free agency has slowed down the last couple of nights, though there were still big names left available. We can scratch one of those names off the list as Evgenii Dadonov is taking his talents from South Beach to Ottawa, to the tune of $5M a year for three years.
Before digging into Dadonov himself, this needs to be said: in the short-term, this could be the worst landing spot for any winger in the league. The reason being that of all positions the Senators have begun building the last couple years, centre is definitely not one of them. There are a lot of prospects/unproven players like Colin White, Josh Norris, and Logan Brown, and bottom-6 vets like Chris Tierney (RFA still) and Artem Anisimov, but that's it. Bottom-6 vets and lottery tickets doesn't really speak to a great situation for Dadonov. The upside is that he's instantly their top right wing, so he'll get a lot of minutes with Brady Tkachuk and the top PP unit, but going from Barkov and Florida's PP to Colin White and Ottawa's PP is a, let's say, step down.
What Ottawa gets
Dadonov is a good play-driving winger who can play a 200-foot game. Those superlatives get thrown around far too often, but it applies in this case. Below is from HockeyViz, and gives an outline of Dadonov's impacts. Positive on offence is good, and negative on defence is good. He provides a good amount of both, along with finishing ability: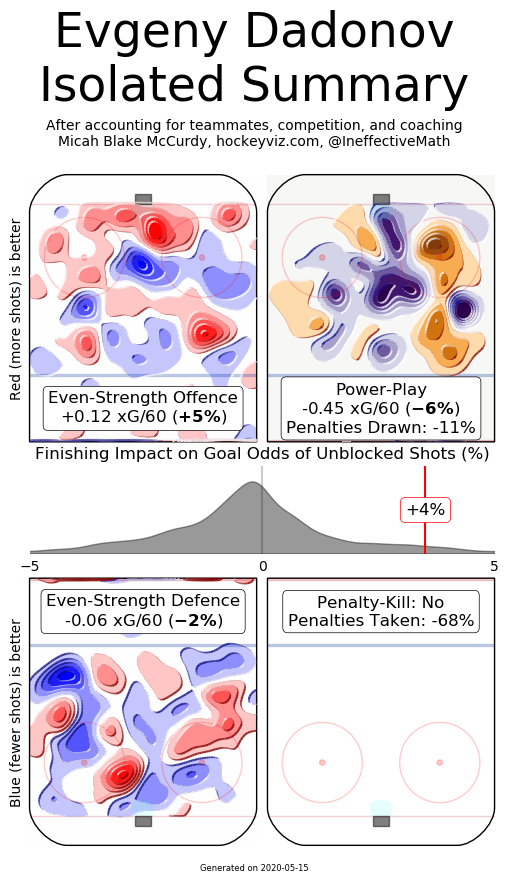 Those are the kinds of tools every team should covet. On an average team, Dadonov is a first liner and no worse than a second liner on a true Cup contender (Boston, Tampa, Vegas, Colorado etc.). That he signed for what he did where he did, considering the cap space left for a lot of playoff teams, is a bit surprising, even with the flat cap.
Regardless, the Sens get a very good winger to help them get to the cap floor. He instantly makes their team better, but this is a downgrade for him fantasy-wise. He should get more minutes than the 17:06 per game he played in 2019-20, but it would be preferable for 17 minutes a game with Barkov on Florida's top PP than 19 minutes a game with Logan Brown on Ottawa's top PP. A 25-goal, 60-point season should be seen as a wildly successful campaign. Be wary, multi-cat owners: Dadonov brings nothing for PIMs/hits/blocks. All his value is derived from points and shots, and going to Ottawa is not going to help his point production.
This is a big upgrade for whoever will end up Ottawa's first-line centre (my guess for now is White). With Tkachuk on one side and Dadonov on the other, the presumptive top-line pivot will get two bona fide top-line wingers. That is about as good as it's going to get in Ottawa for that lucky person. It does mean a big roadblock for Drake Batherson, though, and that's bad news for him and his dynasty owners.
Who this helps
Who this hurts