Lining Up: Top Even Strength Line Combinations and What It Means For Next Year
Peter Ryell
2022-04-26
Welcome back to Lining Up. Hopefully you are resting on your laurels for a job well done or locking down the championship during the few remaining days. This week will examine some notable top even strength lines from the season and dig into a few players that have exceeded expectations in their current deployment. It will also curate some honourable mentions and short thoughts on how continued deployment next year will provide extra value on draft day.
Let's dive in.
Top 20 Forward EV lines this season: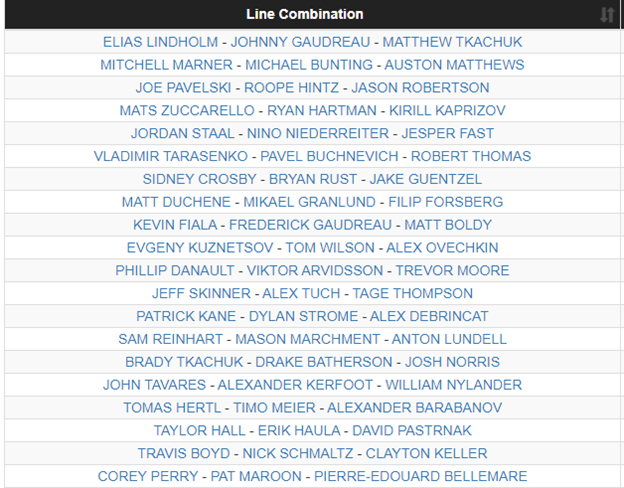 Elias Lindholm – Johnny Gaudreau – Matthew Tkachuk
No doubt one of the bigger surprises of the season is Johnny Gaudreau and Matthew Tkachuk getting to over 100 points each. The trio have played for over 75% of the season together at even strength and subsequently blown the second highest scoring line out of the water by nearly 20 more GF. It has been a unique combination where all three players remained healthy for the season and were seldom separated. For his part, Gaudreau nearly doubled his point output from the previous two seasons where he only paced for 70 last year and 68 the year prior. In Yahoo leagues, his ADP was 54 and he was selected well after names like such as Alex Debrincat, Mark Scheifele, Sebastian Aho, John Tavares and Elias Pettersson. All players he vastly outperformed. Additionally, his current point total is only comprised of 25 power play points. When considering this and the amount of time spent with Lindholm and Tkachuk, Gaudreau recorded nearly three quarters of this years' insane point total while playing on this line.
Tkachuk and Lindholm also saw their stock rise. In the previous two seasons they averaged a 67- and 66-point pace before now pacing for 105 and 83 points respectively. Lindholm for his part was taken around the 82 pick in Yahoo leagues and even he was able to outperform some the bigger star names noted above. Line mates have clearly made an impact and so long as they remain together next season expect a dominant performance fr