Ramblings: Valuing Defencemen While Discussing Dobson, Krug, and Provorov – August 25
Michael Clifford
2022-08-25
The Islanders signed, or re-signed, a slew of players earlier this week, of both the NHL and AHL variety. The big name that was secured was defenceman Noah Dobson, who signed a three-year deal with a $4M average annual value. For a 22-year-old coming off a 51-point season, not a bad deal for the team as they work through their apparent Cup window.
From a fantasy perspective, what we want to know is if he can repeat, or improve upon, his breakout 2021-22 season. The 12th overall pick from 2018 was always marked to be a good defenceman, but can he be a top-end producer from the backend? Let's dig into that a bit. We will use data from our Frozen Tools as well as Natural Stat Trick. Other sources will be credited as we move along.
First, it is worth noting that he does appear to have improved every season he's been in the NHL, having just finished his third year. His goal scoring rates, shot rates, point rates, and ice time at 5-on-5 have increased each season thus far. It is one thing to be thrust into a role he hasn't really earned, but it doesn't seem to be the case here, at least by his production numbers.
What makes Dobson a bit different, though, is that his playmaking as a blue liner was obvious from the moment he stepped into the big leagues. From CJ Turtoro's viz, the PEI native's rookie season saw him with very good transition numbers, as well as stellar shot and shot assist rates (passes leading to shots):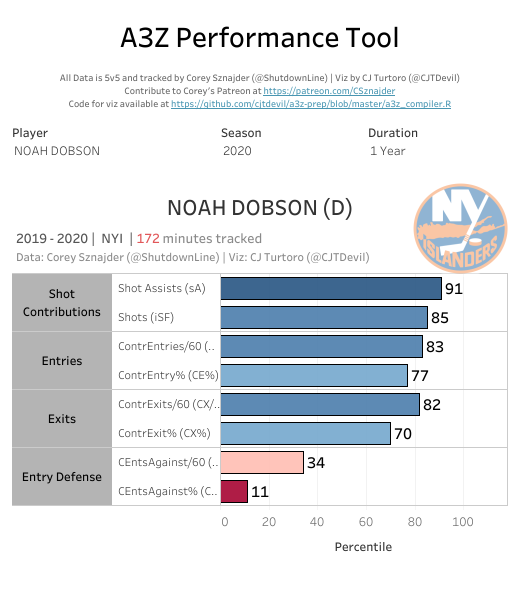 That maintained itself through the COVID 2021 campaign, where he led regular Islanders blue li