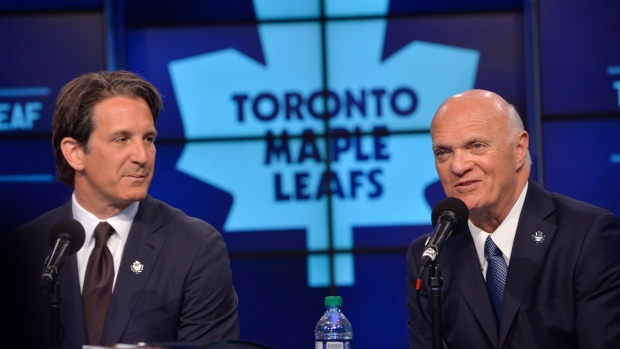 Fantasy Impact: No fantasy impact on the Roman Polak/Nick Spaling trade to San Jose, but the Leafs have a game plan and I'll tell you all about it.
First of all, the deal. Toronto trades defenseman Roman Polak and forward Nick Spaling to San Jose for Raffi Torres' contract, plus a second-round draft pick in each of 2017 and 2018.
The Last (Failed) Plan
Toronto is rebuilding. Properly this time. Brian Burke, former GM of the Maple Leafs, recognized the impatience in the city among fans and thought he could do a quick semi-rebuild. He didn't do a horrible job, given the tools at his disposal. He started off with the worst group of assets in Toronto's history, and possible the NHL's history. He had few draft picks thanks to the prior regime, a horrible group of prospects, and the best players on his pro roster were, in no particular order – Matt Stajan, Nik Antropov and Tomas Kaberle. He managed to take chicken shit and make chicken salad. Not great salad mind you, but it was edible. All of his trades were good ones. What he got for Kaberle, Jason Blake and Stajan were highway robberies (and yes, I'm sorry, even the Phil Kessel trade was a reasonable one – it just turned out bad). But fans couldn't wait longer than the four years (and one month) they gave him to get it right. He tried his partial rebuild through savvy trading and free agent spending, while using the draft to actually select decent, though unspectacular, players.
Burke should have rebooted the scouting department completely, but otherwise I think he did fine. He happened to run the team during offseasons in which the free agent pool was ugly (Brad Richards was the best one available? Ugh), and took heat for standing pat when frankly that's exactly what he should have done. His best free agent was one that he dug out of college: Tyler Bozak.
The New Plan
The new regime has three huge advantages to the Burke regime.
1. A worn-down fanbase. The fans are ready for a rebuild. They have the patience to really lose badly for a couple of years, as long as they see the young talent actually building towards something.
2. Assets. And lots of them. Instead of Stajan-Kaberle-Antropov, they have a dozen players and prospects that other teams actually covet. They have a pile of draft picks, too.
3. Free agency this summer will actually have good players in it. Steven Stamkos. Keith Yandle. David Backes. Mikkel Boedker. Eric Staal. Milan Lucic. Andrew Ladd. Loui Eriksson. Jiri Hudler. David Perron. Kyle Okposo.
The Leafs can boot this season and take a run at first overall. With the approval of their fans. But at the same time, they need to actually ice an NHL team. Solution? Fill out their roster with depth NHL players on easy-to-move one-year contracts. Give their prospects time to develop in the minors while the journeyman play out the first four months. Move out the longer contracts in exchange for even more prospects. And then in the summer go on a signing spree when there are actually decent free agents available.
The goals are:
1. Free up as much cap space for the summer (and long term) as possible.
2. Add to the prospect talent pool
3. Stockpile draft picks
Signing journeymen to short-term deals are the best way to do this. Brendan Shanahan and Lou Lamoriello didn't sign Shawn Matthias, PA Parenteau, Mark Arcobello, Brad Boyes and Daniel Winnik so that they can help compete. No, they were signed so that they can be traded in February for a draft pick. Pay a player $1 million (give or take) to help fill your roster for four-and-a-half months, and then get a draft pick for him. Any team in the league would gladly pay $1 million for an extra draft pick.
On top of the short-term free agent signings, the Leafs are also stockpiling 'throw-in' players who may or may not be turned into draft picks. Colin Greening? Milan Michalek? Michael Grabner? They've already traded Spaling. With the remaining players, the Maple Leafs would love to add another four or five draft picks to the pile (any draft year). An asset it an asset.
Lamoriello/Shanahan are following a script. They're going to enter this summer with a ton of cap room, lots of flexibility, and probably 12 draft picks for each of the next three summers. They'll overpay for two or three prominent free agents, all while possibly (likely?) drafting Austin Matthews and graduating William Nylander from the minors. It won't be enough to get them to compete for a Cup, but clearly this team will be on the right track. And ironically this 'proper' rebuild will wrap up faster than the 'partial' rebuild.
Prediction
In late June you will see the Maple Leafs trade a prospect defenseman and a conditional draft pick to the Lightning for the rights to Stamkos. Then they will sign him. Not because of the home town thing. No, but because they'll pretty much give him max term and max dollars. Why? Because they can. And that conditional pick will become something like a second rounder because they signed him.
You could also see them making a play for a lesser player right now. Such as Boedker. Get Boedker on the cheap, sign him long-term for a relatively cheap price. If not, they'll just target him or another solid forward like Backes or Okposo, in the summer. But since Boedker is in play now, that is why I identify him as being a possibility immediately. His acquisition wouldn't suddenly 'ruin' their chances at Austin Matthews – he's a good player, but on this roster he's pretty much on his own. Any price paid for him would likely involve conditional picks, pending his re-signing.
And finally – the big offseason trade will probably come in 2017 when they're a little closer. At that point, giving up draft picks (which are still stockpiled) would make more sense. And that deal will bring in a solid defenseman.
Let's revisit this in September and see how I did. Feel free to add your own predictions below (and I'll give you public kudos in the summer if you get most of them right)