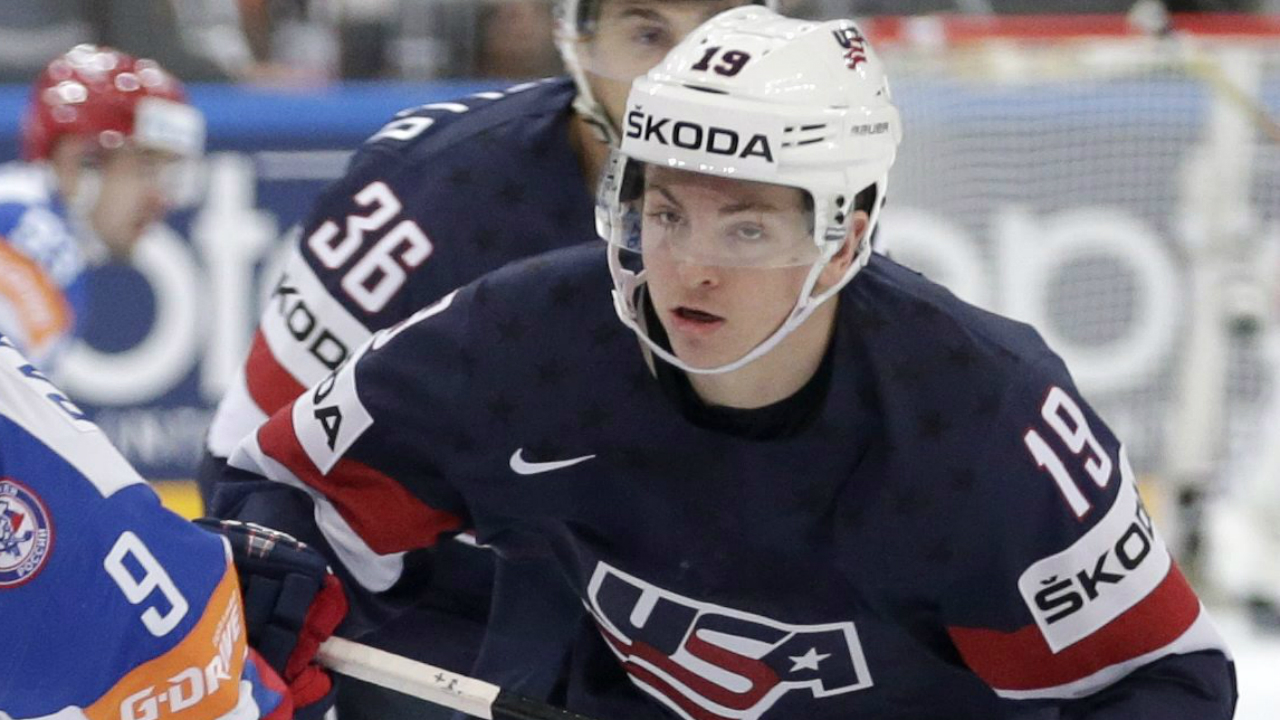 Rambling about where Vesey will go, why the Avalanche are better (for fantasy) now and more…
***
Welcome to National Jimmy Vesey Day! Or as I like to call it: Monday. (Edit: it has come to my attention that the Sabres actually hold Vesey's rights throughout the day today – he's a free agent tomorrow. So…Happy Jimmy Vesey Eve!)
*
I updated the Fantasy Hockey Guide on Sunday. It was my fifth update, just to give you an idea of the frequency (by mid-training camp it becomes daily). This one had my projected goals-for by team article added. I also updated the Draft List so the unrestricted free agents have projections now (at least – the ones I can be sure will land jobs, that is). Thanks again for your support.
*
Patrick Roy is an inspirational coach and a smart hockey man. He's like Randy Carlyle in that sense. But because he pays little attention to playing a possession style (which can be illustrated simply by tracking advanced stats and listening to what they tell you), his winning percentage has dropped year over year. You see this happen with most coaches, except for the truly great ones who have teams with positive possession numbers – be that by design or by accident – such as Mike Babcock, Joel Quenneville and Darryl Sutter. Claude Julien is another example.
I'm not saying that advanced stats are the 'be all' and 'end all'. Those who have read me for a long time know that I'm quite the opposite. I think it's a tool, but it's one that needs to be used and can't be ignored. And the possession style of play is what wins hockey games (and Cups). A lucky run may happen once in a while (what if Colorado ended up winning the Cup that first Roy year?). But don't bet on it.
Coaches who ignore possession (and by extension fancy stats) will often have one great season to kick things off, but it's followed by steady declines. Carlyle is the perfect example of this. Anaheim has a weak team this year, so I'm tempted to say they'll be out of the playoffs. But Carlyle is 'that type'. Whatever style of game he employs I think it will work for the first year, and it will be enough. But then you'll see the decline in 2017-18.
Whoever ends up coaching the Avalanche, I think it puts them into contention to make the playoffs now. Prior to Roy stepping down, I think the Avs were sunk for sure. But now…man, I think this helps in terms of both winning and offense. And that helps your fantasy team if you own the likes of Nathan MacKinnon, Matt Duchene, Tyson Barrie (especially him), Gabriel Landeskog and the other stars.
*
I got started on a preliminary list for the upcoming fantasy draft (end of September). Yes, this is far earlier than usual but this year I want to be extra prepared. It's a five-round draft (75 picks) and I have nine draft picks, which I think is an all-time high for me. Furthermore, after my first-round pick (12th overall) I have the other eight picks take place 32nd and beyond. So some late picks that I have to make count. Last year I hit a home run with Gostisbehere at 42. But my picks at 37 (Grimaldi), 51 (Weal) and 65 (Bertuzzi) were not so great. For completion's sake I'll tell you my other picks – Talbot at fourth overall and Stralman at 23rd overall. Six picks, three good ones. But my draft was saved by Ghost (and I think Talbot will be this year's goaltender breakthrough).
It's never too early to start. My method was to take all the players in Fantrax not already taken and export to excel (over 4000 players). Then I filtered just the goalies and went over each one. Who is worth taking? I consulted the Fantasy Prospects Report, team-by-team. The goalies were easy – I jotted down which round I'd take them in (most of them were the fifth round because the pickings aren't great). Then I did the same for defensemen. I have set the bar high for these two positions because I'm very deep in them right now, especially on D. It's the forwards that will be the tough and in-depth analysis. But once I have 100 potential draftees it will be nice to have the list handy so that over the next month I can tweak, remove and/or make notes.
*
Another young fringe NHLer who wasn't going to break through did the smart thing. Drew Shore has signed to play next season in the – you guessed it – Swiss League.
*
Today Jimmy Vesey will officially declare himself a free agent. Shortly after that (I'm sure), he'll sign with his new team. Reports out of Buffalo say that the Sabres were making a last-ditch effort. But I've been pretty firm – and unwavering – in my belief that if Vesey wanted max money he'd get it from Nashville and he'd get it from Buffalo. And if he wanted the 'best situation' then he'd get it from Nashville and he'd get it from Buffalo. Both teams promised him a spot in the top six (reportedly). So what does that leave? Well, that leaves the secret city that he wanted to play for all along. So I think the Sabres will fall short in their efforts and my guess is that Toronto is where he wanted to play all along. Possibly Boston. But I would be shocked if it were any other team, despite the Chicago and Detroit rumors.
So, from Day 1 (some time in March?) I had him going to the Leafs and if anything I'm more firmly in their camp on this one. We'll know soon enough!
*
Let's talk some Nikita Kucherov (again). While I am of course confident that the Lightning will sign him and I'm equally confident that he will get north of $6 million per season, I am curious about one thing. And that is – why no offer sheet? I mean, besides the obvious 'nobody does offer sheets' thing. In taking a look at the bottom cap teams, we have the following (cap room courtesy of Cap Friendly):
Carolina $16.7 million in cap room.
Calgary $58.0
New Jersey $12.3
Winnipeg $10.0
Edmonton $9.2
Arizona $8.8
Ottawa $8.8
Anaheim $8.7
Buffalo $8.0
Let's look at this by team. Carolina could use him more than anybody, but Carolina is also the team that is first on my list to move (to Quebec? Another conversation, that). Whether the Hurricanes are in 'that much' trouble or not, the fact is that this team won't go out and offer $6.5 million per season for seven years to Kucherov. I think Tampa matches anything under $7.3 million (beyond that, the compensation increases from a 1st/2nd/3rd to 1st/1st/2nd/3rd). I think you can safely rule out Carolina, unless we're completely wrong about their financial situation.
Calgary – rule them out. They have their own RFA issues.
New Jersey – I wonder about the Devils. Can you imagine Hall and Kucherov on the Devils? If their payroll wasn't destroyed for the next five seasons by Travis Zajac ($5.75 per season remember) I would think this would be a great move. Then again, this is a team that took on Marc Savard's contract to help them stay above the floor so…
Winnipeg and Edmonton – This won't work for these teams because they have enough young talent that will be pushing that cap up higher and higher over the next couple of years.
Arizona – Ha. Ha.
Ottawa – Once Cody Ceci signs, they will be too close to the cap ceiling to make a play for Kucherov.
Anaheim – They have Rakell and Lindholm to sign so they, too, will be close to the cap ceiling.
Buffalo – Ditto for the Sabres (Ristolainen and Girgensons).
So there you go. Question answered. A team won't make an offer sheet because none of the teams can actually do so, either because of their own cap situation or because of an internal cap. If anything, I suppose the Devils and the Hurricanes make the best bets. But either of those teams stepping up like that would shock us all.
*
Wow – Alexei Krasikov (s/t to Puck Daddy for this one). He's 20 years old and undrafted, and at 6-3 he's right in the NHL's wheelhouse in terms of possible future signings (three or four years down the road). In the meantime, enjoy this save: