Quinn Hughes returned to the Canucks lineup after missing their last contest with a sprained ankle. Obviously, this is terrific news for Hughes owners and Vancouver fans everywhere. Hughes made an impact in his return by tallying the game-tying goal with three minutes remaining in regulation.
Quinn Hughes with the knucklepuck to tie things 1-1. #Canucks pic.twitter.com/6ZZ7aiY1GV

— /Cam Robinson/ (@Hockey_Robinson) November 6, 2019
The Canucks ended up losing this one on a three-man breakaway in overtime. THREE!
The always popular 3-on-Oh OT winner for the Blues. You don't see that everyday pic.twitter.com/gtWCnyrHJV

— /Cam Robinson/ (@Hockey_Robinson) November 6, 2019
But back to Hughes, to illustrate the impact that the rookie defender has on the power-play, consider this: during the early portion of the season when the 20-year-old was trapped on a second unit that consisted of some combination of Tanner Pearson, Brandon Sutter, Micheal Ferland, Tyler Myers, and Josh Leivo he was able to create a higher expected goals-per-60 (xGF/60) than the top unit which featured Elias Pettersson, Brock Boeser, JT Miller, Bo Horvat and Alex Edler.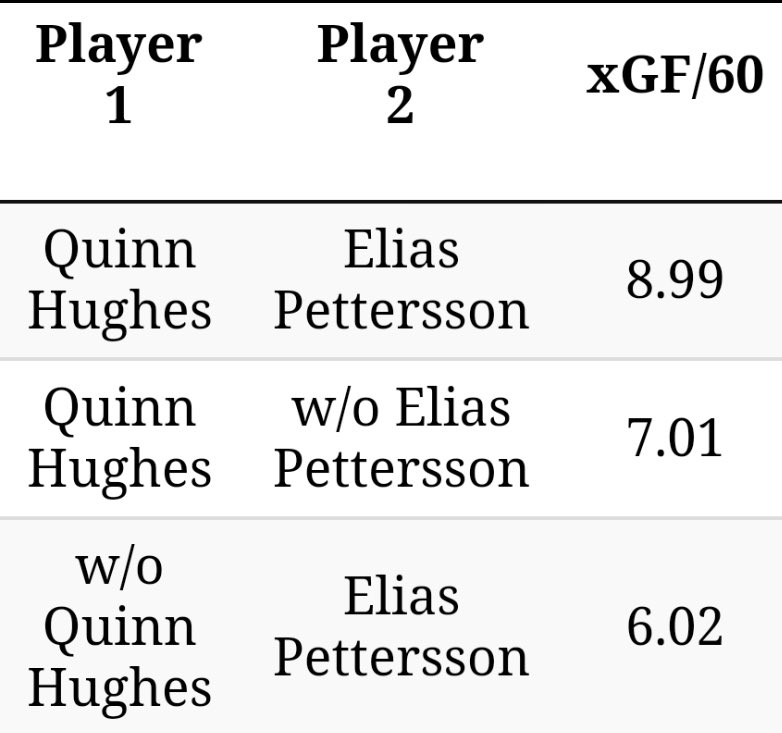 There is no reason that the Canucks' second unit should be even in shouting distance of those top dogs. It's unfathomable. But that's what Quinn is capable of doing – making magic out of beans.
The eldest Hughes' brother had been dynamic leading up to the minor injury. He had seven points in the previous five games before departing in the second-frame against Anaheim last Friday. His 11 points in 14 contests sit tied for first in rookie scoring. His eight power-play points are also tied for 1st with Victor Olofsson, and his PPP/60PPmin is tops at 9.6.
I'm not going to say that the infusion of Hughes into the Canucks lineup has been the deciding element in Pettersson, Boeser, and Miller's rise towards the top of the league point producers, but well, I guess I am. Pettersson is a superstar and would have gotten there without Quinn. However, we cannot underestimate the power of a defender who can transition the puck at such a wildly effective pace.
Pettersson is the whiskey, Boeser the rocks, but it's Hughes who stirs the drink.
**
One more thing on the Canucks. I know the Lotto Line (6-40-9.. Get it?) has been earning all the major ink for forwards on this team. But Bo Horvat has been on a mission of late – especially on the powerplay.
The newly minted captain is near the top of the board for high-danger scoring chances this season. This is due to his living in the homeplate area on the Canucks extremely dangerous power-play unit. The result is him playing at a 76-point pace on the season and having posted 11 points in his last seven contests.
I'm not sure why this is all that surprising though. Horvat has long been a player who refuses to settle. He's the very rare example of a linear development arc. He's improved on his output in each of his five NHL seasons and is well on pace to improve once again here in Year Six.
As an added bonus for those in league with faceoff cats, his 164 wins are fourth in the league. The 24-year-old has long broken the projection that he'd simply be a checking line centre. Now he's here to prove he's a legitimate star and worthy fantasy asset.
**
Have you all been following @Baderader and using his NHLe Player Comparison Tool yet? If not, you better get on it. This model is seriously addictive and quite illuminating in trying to discern which prospects have a realistic chance to hit 'Star' level in the coming seasons.
From my rabbit hole experience, the tool is quite accurate from a historical perspective – hitting correctly on players that slipped through the draft cracks. The downside of such a neat tool is that it will likely be snapped up by an NHL club before we know it.
**
The Islanders dismantled the Sens 4-1 on Tuesday evening. Thomas Greiss was excellent once again. Is it time to consider this guy the real deal or what? The answer is.. yes, as long as he's playing behind a Barry Trotz system. The 33-year-old is cruising this season with a 0.937 save percentage. Ranging back to the beginning of 2018-19, Greiss has a posted a 29-15-2 record and a 0.930 mark.
Those are elite numbers.
Semyon Varlamov has the term on his deal. Ilya Sorokin is coming. But as of now, enjoy the ride.
**
The Bruins have David Pastrnak and Brad Marchand locked up for another 4 and 6 years respectively at a combined 12.79M per.

I don't even need to make a joke about the Leafs here. You already made it in your mind.

— /Cam Robinson/ (@Hockey_Robinson) November 5, 2019
In a surprising turn of events, Leafs fans did not like this tweet from Monday evening. Colour me shocked.
The quick and dirty of it is this: yes, Brad Marchand is an outlier. His developmental arc is bananas. Who suddenly becomes a Hart Trophy candidate in their age-28 season and then witness improved production year-over-year and now somehow producing two points-per-game through the first month of the year?
No one. Other than Marchand that is.
His contract is the result of, well, good fortune. Now, comparing David Pastrnak and Auston Matthews is far closer and in my mind, a justifiable comparison. In the final year of his ELC, as a 20-year-old, Pastrnak scored 35 goals and 70 points in 75 contests. He was rewarded with a six-year deal at 6.66M per season. That number represented 8.8 percent of the 75 million dollar cap.
Matthews, on the other hand, had established himself as a premier even-strength finisher as a rookie and continued that trend through his ELC. However, in February 2019 – partway through his final contractual season, he was pacing for nearly an identical season as Pastrnak had in 2016-17. The difference? Matthews signed a five-year deal to the tune of 11.634 per. That number represented 14.6 percent of the 79.5 million dollar cap.
This doesn't really tell you anything pertinent regarding fantasy. Both Pastrnak and Matthews are great players. But in a cap system, Pasta represents arguably the best bang-for-your-buck for the foreseeable future. In fact, we can go ahead and place Pastrnak firmly in the top five keeper league players right now.
Oh yes, Matthews recorded a goal and an assist – both at evens, in the Leafs 3-1 victory over the Kings.
**
As for the Bruins, they lost a wild on 5-4 against the Habs. Montreal was led by Tomas Tatar (1+1), Victor Mete (two goals), and Jeff Petry (two helpers). What a career resurrection by Tatar. Left for dead in Vegas, the 28-year-old has re-found his magic in Montreal. He's up to 13 points in 15 games this season and has 71 points in 95 games in Le Bleu-Blanc-Rouge.
**
Another player on a heater that hasn't been garnering a ton of attention is Eric Staal. The veteran centre was off to a disastrous start to his age-35 campaign. He produced just one assist and was a minus-10 through the first seven games. After a goal in tonight's contest, he has racked up 10 points in eight games. He's back to being locked onto the top power-play unit and the chemistry beside Jason Zucker and Mats Zuccarello appear real.
I'm not really here to promote buying any one of the Wild these days, but if you need a quick fix down the middle, you could do worse than kicking the tires on Staal.
**
John Klingberg has been dreadful this season. Downright awful. He's being dropped in leagues and frankly, I don't blame people. To add insult to injury, after tallying a power-play assist on Tuesday, he left the game with an injury. But there is hope (when he's healthy at least). Klingberg's metrics are WAY out of sorts. His IPP of 25 is less than half of what it should be. His PDO of 953 is disgustingly low.
Regression to the mean can mean positive trends are coming too. He's due for some serious puck-luck here. Let's hope the injury is minor and he can begin to claw his way out of this hole. He's too good not to.
**
What are we to do with Dustin Byfuglien?
I'm one of those jerks who took a flier on the impactful defender late in a draft this fall and have continued to hold to him to this point. My reason for doing so was in hopes of adding a top producer from the backend for nothing when the playoffs roll around in March. However, with the shenanigans going on surrounding his ankle injury and who/where/when/how it occurred and who should be responsible only muddies an already muddy situation.
If you have even a reasonable option on the waiver wire – say, Devon Toews or Jeff Petry, I'd go ahead and make that swap now. Four months on the shelf recovering from surgery and now with the negativity surrounding his organization's treatment of the issue does not make for a recipe for returned success.
If your waiver pool is void of replaceable talent – like mine is at the moment, well, hanging on could be the best bet despite it being a long shot. Does Byfuglien return to action? Does he return to Winnipeg? Does he even want to play anymore?
Plenty of questions left unanswered. But at the end of the day, the potential gains don't appear to worth the wait in most scenarios.
**
Follow me on Twitter @Hockey_Robinson