The Journey: CHL Playoffs Shaping Up & Traded Prospects
Brayden Olafson
2020-02-22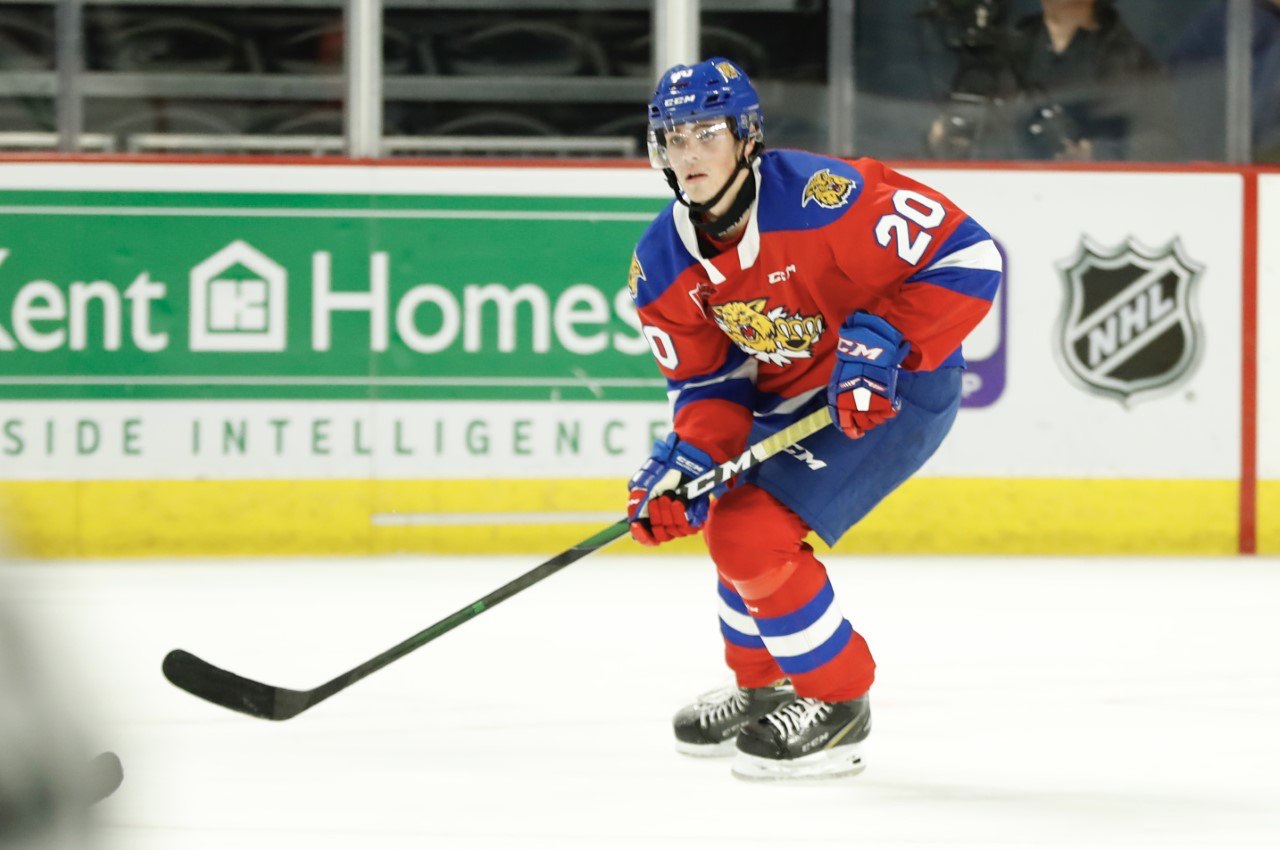 With only a handful of games remaining for each club in the CHL regular season, the playoff picture is beginning to take form. Another slate of major junior games is nearly a wrap and we're on the doorstep of a few great regional matchups in each of the three leagues with more than a dozen of the eventual 48 teams already having locked down their ticket to the post-season.
WHL
Six of the WHL's eventual 16 playoff bound teams have already locked down their playoff bids, with the surprisingly strong Western Conference already having half of their bracket tentatively set. The WHL seeds their playoff bracket on a divisional-based wild card system, similar to the current NHL method. Portland, Everett, and Spokane hold down the three US Division seeds in that order, while Kamloops owns the top seed in the BC Division. Thanks to the rest of the conference posting sub-.500 records over the course of the season, it likely won't be long before both Vancouver and Victoria settle out the remainder of the BC seeds, leaving only the wild cards to be settled.
With all three American teams separated by a healthy margin, it appears as though they will remain intact, meaning that if playoffs were to begin today, the Silvertips and Chiefs would kick things off. Both teams have been red-hot through February and between the two of them, would feature a solid lineup of NHL prospects including Reece Newkirk (ISL), Joel Hofer (STL), John Ludvig (FLA), Adam Beckman (MIN), Ty Smith (NJD), and of course, top 2020 Draft prospect, the slippery Seth Jarvis ('20).
Coincidentally, as the first group of teams punch their tickets, the 2020 Memorial Cup host, Kelowna Rockets are shaking things up. The Rockets parted ways with head coach Adam Foote this week in response to the team failing to reach anything resembling their season-opening expectations. With a guaranteed ticket to the final four, the Rockets had anticipated icing competitive, if not intimidating roster on a nightly basis. In the past couple of months, the Rockets have parted with eight Bantam Draft picks in an effort to revive their season. The only acquisition who has made any tangible difference for the team has been Florida's seventh-round draft-pick from 2019, Matthew Wedman.
OHL
At the beginning of the season,  I had expected to see much more out of the OHL than what it ended up providing. That's not to say that there haven't been exciting players to watch, or that the league, overall has been boring – only that there simply hasn't been the dominance that I would've expected from teams like London, or Peterborough. Although both of those teams have now finally locked down their playoff spots, it seemed like a bit of a drawn-out process considering what each of the teams had to play with.
The top three seeds in the East Division have punched their ticket with the Ottawa 67's sipping their coffee far ahead of the Peterborough Petes and Oshawa Generals. Because the OHL uses a conference-based 1-8 playoff seeding system, we're still a ways away from knowing exactly how the league's bracket will shape up.
As I understand the OHL standings and playoff format, the Sudbury Wolves have not clinched a playoff spot yet, despite holding down the second seed in the Eastern Conference. Because the Wolves own the first seed in their Central Division, they're automatically awarded the second seed in the conference leaving them in a bit of an awkward position on the OHL's website.

It seems quite strange to me, but Sudbury eventually clinching is a foregone conclusion, so their divisional status is simply a bit of leverage for the team so that they can end up facing a lesser conference opponent when the bracket is set.
Currently, it looks like one of the most interesting first-round matchups could be between the Kitchener Rangers and the Guelph Storm. Although the bracket is far from being set in stone, both teams seem to be on a relatively even trajectory and currently occupy the 3 v. 6 slots respectively.  The Rangers have missed the consistent production from their 19-year-old captain Riley Damiani (DAL) who has failed to take a step forward in what will likely be his final year in the CHL. They're also continuing to work on finding a home in the lineup for recent acquisition Serron Noel (FLA), who they paid a heavy price for at the OHL trade deadline. In the opposite corner, Guelph will look to shut Kitchener out with their strong back end and top goaltender Nico Daws ('20).
QMJHL
Of all the CHL leagues, the QMJHL has to have the most interesting format. Rather than seeding teams by division or even conference standings, the QMJHL takes each of the entire league's top-16 teams and pairs them up in a full out 1 through 16 format. The result is catastrophic in most of the extreme matchups, but in some of the middle groups, there can end up being more than a few very interesting first-round series. With a few weeks of regular season contention remaining, each of the Q's powerhouse squads has locked down a spot in the dance, with a relatively accurate seeding from 1-5.
Each of Sherbrooke, Moncton, Chicoutimi, Rimouski and Cape Breton will present formidable opponents for the teams that finish 12th through 16th, with the top 5 seeds having a near guarantee to the second round. From 6th through to 11th, however, it's anyone's game.  As the second half of the season has shaped up, one of the teams that have become a force to be reckoned with is the 9th seeded Victoriaville Tigres. The Tigres' final seeding is still in flux, but with Mikhail Abramov (TOR) and undrafted forward Brooklyn Kalmikov at the helm in Victoriaville, they could conceivably find their way out of the bottom half of the bracket and find themselves a more favorable opponent.
Traded Prospects
In the last few weeks leading up to the NHL trade deadline, a number of NHL owned prospects have seen their affiliations changed. Both DobberHockey and DobberProspects anticipate providing a full slate of coverage as we approach the official deadline so be sure to check both out for further details on the day of, but for now, here is a quick recap on some of the prospects on the move.
Axel Andersson | Boston Bruins > Anaheim Ducks
Andersson has been having a good season on a great team in Moncton. The move shores up Anaheim's graduating defensive prospect depth and could mean an earlier arrival for Andersson.
Joseph Blandisi | Pittsburgh Penguins > Montreal Canadiens
Blandisi has been a bubble type prospect for quite a number of years and will likely remain as such. The move to Montreal doesn't change much for him.
Riley Barber | Montreal Canadiens > Pittsburgh Penguins
This portion of the transaction balances things out for Pittsburgh who had a lack of depth on their right-wing. Barber could see NHL ice this season but is still a bubble player. In the off chance he gets a more optimal line to play with, he could pop off.
Aaron Luchuk | Toronto Maple Leafs > Ottawa Senators
Luchuk wasn't long for the Toronto organization. He's quickly found his way back to Ottawa where he's a long-term fringe forward prospect at best.
Max Veroneau | Ottawa Senators > Toronto Maple Leafs
Veroneau helps Toronto's AHL squad now but is unlikely to contribute to the main squad in the foreseeable future.
Mason Marchment | Toronto Maple Leafs > Florida Panthers
The move to Florida is a peculiar one for Marchment. He will likely continue to play in the AHL, but does add some depth to their system. He could find his way into a full-time bottom-6 role next fall.
Denis Malgin | Florida Panthers > Toronto Maple Leafs
Malgin has played most of his season in the NHL and will continue to do so with the Leafs. He brings some additional speed and skill to the team's bottom-6 and could work his way up the lineup in the case of injuries.
Joey Keane | New York Rangers > Carolina Hurricanes
Keane was stuck in a jammed defense pipeline in New York but is now in a great position with the Hurricanes. Could be the eventual replacement for Justin Faulk.
Julien Gauthier | Carolina Hurricanes > New York Rangers
Gauthier helps the Rangers now and shores up their bottom-6 with a touch of skill.
Nolan Foote | Tampa Bay Lightning > New Jersey Devils
A tough chip for the Lightning to have to move on from, but their first-round draft-pick from last year has a much better opportunity with the Devils than he would've had with Tampa in the next three years.
David Quenneville | New York Islanders > New Jersey Devils
Quenville looks to be on the long-track for development. The former seventh-round draft-pick finds a new home with New Jersey's AHL squad but it doesn't brighten his outlook that much for now.
Calen Addison | Pittsburgh Penguins > Minnesota Wild
Addison was poised to develop into yet another one of the defensemen that Pittsburgh so desperately needs, but the move to Minnesota changes that. His arrival and outlook don't change based on the system he is coming in to, but he certainly won't have the opportunity to play with Sid or Gino in St. Paul.
Make sure to check out the updated prospect profiles for these guys on DobberProspects for a more in-depth assessment on how the trade impacts their fantasy value.
***
Thanks for reading