Daily Fantasy (DFS) Advice: Muzzin is buzzin'
Stephen Dotzel
2020-02-22
I spoke here last week about what many consider the best week of the year to play NHL DFS, which was this past week while the NBA was on break. During this time the contests and prize pools are jacked up to levels that many regular players would like to see all the time. The biggest contest of the week took place on Tuesday where the winner took home a cool $100,000. Unfortunately that person wasn't me but let's take a look at the lineup that came out on top.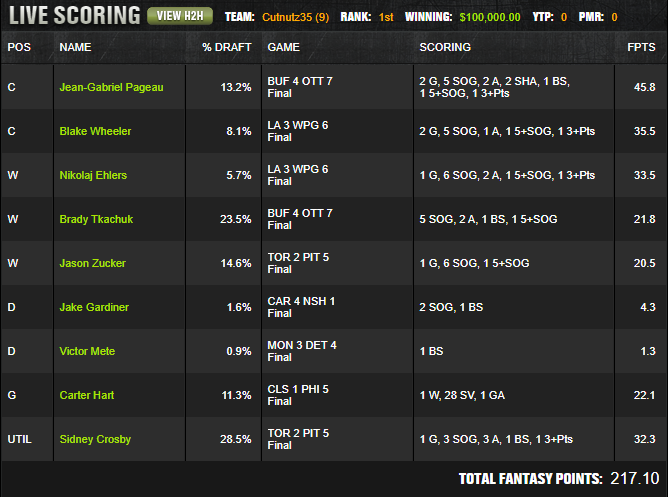 First off, congrats to user cutznutz35 on the big win! One thing that stands out to me when looking at the lineup is that there are three double stacks with OTT, WPG, and PIT. These six players combined for seven goals and ten assists, almost an average of three points per player which is the type of performance you often times need to win a tournament. This also shows the power of stacking guys who are on the ice together because when things go right you can see scores like this.
With the three double stacks in place, there was not much salary left on the table for defenseman and goalie so it seems pretty clear that cutznutz35 just punted the defenseman position with two of the most stomach-able options from the bottom of the salary range. He did not get much production out of these players, but he didn't need it! As for goalie, I do not know if Hart was one the user's target goalies or if he simply was the best option that fit with the rest of his build. Either way Hart was on home ice, where he has much better numbers, against a team in Columbus who lacks firepower on offense. Hart had a strong performance in a 5-1 victory and was the icing on the cake for a great lineup and big payday for cutznuts35!
As for the rest of us, we will look to duplicate some of that success on Saturday with an 8-game slate starting at 7 p.m. EST. All players and prices used are from DraftKings but can be applied to FanDuel as well.
C – Mika Zibanejad ($7,600)
While everyone awaits a deal sending Chris Kreider out of town, which could be bad news for Zibanejad, the NYR have quietly snuck themselves into the playoff picture with seven wins in the past nine games. Leading the way has been the team's top line featuring the two players previously mentioned along with Pavel Buchnevich. Over those nine games this trio has combined for 17 goals and 18 assists. Zibanejad is responsible for 16 of those points and has put up an average of 21.1 DraftKings points during that span. Assuming the full line remains intact for Saturday, they find themselves in a great spot to continue this hot run on home ice against a Sharks team who has less to play for as each day passes.
Stacking Options: Chris Kreider ($6,100), Pavel Buchnevich ($4,600)
C – J.T. Compher ($4,100)
Nathan MacKinnon is the obvious and preferred option in this game, but since that is a surprise to nobody, consider Compher as a high-risk, high-reward play. The numbers don't make much of an argument for Compher, considering coming into Friday's game he had only recorded two points in the past 15 games. However, he was able to score in that one and sometimes taking a shot on opportunity can pay off. Since Nazem Kadri went down with an injury, Compher has moved up to the second line and has seen just under 18 minutes of ice time per game. He still sees time on the second power play unit and with the talent Colorado has on offense, Compher may be worth a flier in tournaments. The Kings seem to be in re-build mode and Compher's low price tag along with that of his linemates make them very easy to stack or plug in as a one-off with some higher priced options.
Stacking Options: Joonas Donskoi ($4,000), Valeri Nichushkin ($3,900)
Other C's to Consider: Nathan MacKinnon ($8,500), Auston Matthews ($8,300), Sebastion Aho ($7,400), Patrice Bergeron ($7,200), William Karlsson ($5,300), Nick Suzuki ($4,900)
W – Max Pacioretty ($7,700)
Pacioretty was a letdown last Saturday, failing to record a point in a 1-0 win against the Islanders, but responded by scoring a goal in each of the team's two games since. That brings his goal total to seven in the past seven games to go along with three assists. During the stretch he has put up 30 or more DraftKings points twice while averaging 19.4. Vegas is playing arguably their best hockey of the year having won four straight including wins over Tampa Bay, Washington, and St. Louis and will face off against a Florida team who is playing their third road game in four days. In the month of February the Panthers have allowed 44 goals which is far and away the most in the league. They have also allowed the most shots and the third most scoring chances. All things considered, Vegas is poised to find the back of the net often and if recent history is any indication the Pacioretty line will be responsible for most of the damage.
Stacking Options: Mark Stone ($6,500), William Karlsson ($5,300)
W – Brady Tkachuk ($7,000)
As expected there hasn't been much winning in Ottawa this season, however Tkachuk has given the Senators fans hope that a brighter future is imminent. Over the past eight games Tkachuk has recorded nine points – couple that with his propensity to shoot and he has become a very consistent fantasy performer. In that same span Tkachuk has cracked double-digit DraftKings points in all but one game and has averaged 16.8. The Canadiens have seemingly played their way out of the playoff picture with losses in five of the last six and if they take Ottawa lightly Tkachuk and company can certainly do some damage.
Stacking Options: Jean-Gabriel Pageau ($6,000), Anthony Duclair ($5,300)
W – Noel Acciari ($4,100)
The Panthers are right in the middle of the playoff picture as they seemingly flip-flop with Toronto on a daily basis. With just three wins in their past ten games, coach Joel Quenneville continues to tinker with his lines to try and find something that gets the team going. For the past three games this has led to Acciari finding himself on the top line alongside Aleksander Barkov and Jonathan Huberdeau. Acciari has only accounted for one point in those three games, despite Florida scoring 14 goals, but he has shown this season he can score. Most will remember his back-to-back hat tricks in mid-December, and Acciari has scored eight goals since then which is more than he scored all of last season. As long as he sticks around with Huberdeau and Barkov he is in play at his miniscule price tag.
Other W's to Consider: David Pastrnak ($8,400), Artemi Panarin ($7,300), Brendan Gallagher ($6,400), Andre Burakovsky ($5,700), Reilly Smith ($5,100), Blake Coleman ($4,500)
D – Jake Muzzin ($4,700)
The Toronto defenseman enters Saturday's home matchup against Carolina on a bit of a hot streak. In the Leafs' past four games Muzzin has racked up 19 blocked shots, achieved the 3-plus blocks scoring bonus each game, scored two goals, and added four helpers. Not a bad stretch for the Ontario native who has averaged 21.4 DraftKings points and comes in at a price of only $4,700. It appears being on the ice with the likes of Auston Matthews and Mitch Marner is good for fantasy production, who knew?
Other D's to Consider: Roman Josi ($7,500), Brent Burns ($7,300), Shea Theodore ($5,900), Jacob Trouba ($5,100), Tony DeAngelo ($4,900), Quinn Hughes ($4,800), Mackenzie Weegar ($3,900)
Goalies (Be sure to confirm goalies at Goalie Post before rostering)
Elvis Merzlikins ($7,200)
Marc-Andre Fleury ($8,300)
Pavel Francouz ($7,800)
The Five Hole
Five players to build cash lineups around:
Nathan MacKinnon ($8,500) – Max Pacioretty ($7,700) – Anthony DeAngelo ($4,900) – Jake Muzzin ($4,700) – Elvis Merzlikins ($7,200)
Five tournaments stacks to consider not previously mentioned:
Auston Matthews ($8,300) – Mitch Marner ($6,800) – Zach Hyman ($5,200)
Tomas Tatar ($5,700) – Phillip Danault ($4,700) – Brendan Gallagher ($6,400)
Artemi Panarin ($7,300) – Ryan Strome ($5,500) – Anthony DeAngelo ($4,900)
Jonathan Marchessault ($5,800) – Paul Stastny ($4,300) – Reilly Smith ($5,100)
Nathan MacKinnon ($8,500) – Gabriel Landeskog ($6,700) – Andre Burakovsky ($5,700)
Feel free to reach out to me via Twitter for any NHL DFS questions. Follow me @SteveDotzel and I will do my best to tweet any major updates to players in the article throughout the day and before lock.