Ramblings: Searching for Breakouts, Penguins Wake Up, RNH, Fiala, & Podkolzin (March 4)
Cam Robinson
2020-03-04
The Penguins seemingly forgot how to score last week. It was especially dreadful for the owners of Sidney Crosby and Evgeni Malkin. The two combined for just a single assist in three contests.
Fortunately, a date with the gutted Senators was just what the doctor ordered. Three points apiece for Sid, Jason Zucker and Bryan Rust. Geno chipped in with four.
All of a sudden, the Pens boast a fairly impactful top-six and not just a smorgasbord of 'who the hell is that' guys surrounding the HoF centres. It was Sid between Zucker and Sheary, while Malkin centred Rust and Patty Marleau.
I have a feeling we'll see Jared McCann get a swing in Marleau's spot before long – he just doesn't have the juice to play up there.
**
This would be amazing. Full stop.
Hearing that the LA Kings are talking to Will Ferrell about being their representative in the April draft lottery. Not clear it will happen. But I would love it. Stay classy, @LAKings

— Pierre LeBrun (@PierreVLeBrun) March 4, 2020
This is an entertainment business and I applaud the Kings for looking for ways to increase enjoyment for their fans. Hell, every team should send a celebrity 'fan' to the lottery. Can't you just imagine Ryan Reynolds shoving around with Vince Vaughn and Will Ferrell? Sign me up.
**
Petr Mrazek is out another 7-10 days. That means the Hurricanes will rely on Anton Forsberg and Alex Nedeljkovic to backstop them a little longer. That's gotta be slightly better than David Ayres, right?
Adjust your lineups accordingly.
**
Speaking of goalie injuries, the word is Ben Bishop is day-to-day. Anton Khudobin took on the Oilers on Tuesday but saw the easier of the workload between the netminders. Not overly surprising though, the Oilers just came off an offensive explosion the night before and had to travel to the BIG D.
It was Mikko Koskinen standing on his making 42 stops as the Oilers won 2-1 in overtime. Ryan Nugent-Hopkins scored a goal and added a helper. RNH has been caliente for some time now.
RNH is feeeeeling it these days. He has 21 points in his last 13 games, and 33 in the last 23.

Suffice to say he's enjoyed the addition of Kailer Yamamoto.

.. and I guess that Draisaitl guy is decent at creating offence too.

— /Cam Robinson/ (@Hockey_Robinson) March 4, 2020
The cool thing is that all of his metrics are fine. He's seeing more PPTOI than ever before and is living next to real talent at evens. It's a recipe that will bring out the juice in a highly-skilled player.
I'm believing in the 26-year-old.
**
Watch for updates on Bishop. The 33-year-old has been playing at a Vezina level this season. If he's out for any length of time, the Stars and many fantasy rosters will be hurting.
**
Kevin Fiala absolutely refuses to quit. The 23-year-old has at least a goal and an assist in each of his last five games including 1+1 and 7 SOG on Tuesday as the Wild knocked off his old squad. He's averaging over four shots per game over that stretch.
He has 44 points in his last 46 games. His 22 goals would lead the Predators and his 51 points would trail only Roman Josi. That trade was weird from Day 1. A year later it's downright bad.
Kudos to anyone who held on after many of us championed him as a breakout player. I gave up in November. Like a fool.
**
The Bruins took down the battle of the best in the East by defeating TB 2-1. Brad Marchand – who was a game-time decision due to an illness, scored the opener. Rask only needed to make 21 saves in this one.
Like your fantasy teams, Tampa is missing Stammer.
**
For many fantasy GMs, the season is done. Leagues who use a two-week playoff format and end a week before the regular season conclude (as they should), are already entering into the second round of the bracket.
But that doesn't mean you can simply pack up shop and tune back in for October. There's work left to be done. As such, let's talk about some breakouts for next season.
Traditionally, we've pegged skaters entering into their fourth year as a predictor for a jump in success. I don't follow that guide too strictly though. I like to look for 'regular' players who have a few markers
Around 200 games played – including playoffs.

A history of being a high-end production player in lower leagues.

In a situation, or pegged to be in a situation that can lead to success.

IE. Scoring lines, power-play deployment, QoT.

Has shown signs of breaking out.

Stretches of high-end production when given newer or better deployment, etc.
You're probably wondering what a 'regular player' means. To me, this is a wide net. It's skaters who came up the longer way. They weren't top five picks. They played their draft-plus one and probably draft-plus two seasons outside of the NHL. They were not supposed to be truly elite but always had the shine of an offensive upside type.
Then there's the cream.
Players who often bust the mould of waiting until the 200GP mark for varying reasons – they're top picks and given primo ice immediately. This is a result of their skill level but as well due to the investment the organizations have placed on their teenaged shoulders. They need these types to become pillars and soon.
With all that in mind, here are a few players I like to hit new marks in 2020-21
Someone recently asked me on Twitter whether I expected Kakko to take a similarly-sized step forward in year two that Andrei Svechnikov did this year. The answer is, not quite.
I maintain my love for Kakko despite the muted rookie totals. I expected him to be better than he's been this year, but that's okay. It's damn difficult being an 18-year-old in this league. So, even though I don't see 35 goals and 70-75 points likely coming next season (although it is conceivable) I do see Kakko pushing up into the 30-goal, 60+ point range.
Watch for year three to be the big banger.
I'm all over this kid. I liked him as a deep sleeper this season and he's making me look smart the last few months. The 21-year-old has about 180 GP to his name and is finding his stride in 2020. I like him to lock down a top-six role and plenty of PP time next year and shoot up to 55+ points.
DeBrusk is right in that sweet spot. He's right at 200 regular season GP with a boatload of clutch playoff experience. He lives in the Bruins top six and he sees a good chunk of time on that big boy top PP. We've seen what Travis Konecny can do with the fourth season. I like DeBrusk to push for a similar type of breakout. – maybe a hair less.
You probably don't know it because he plays in Florida, but this kid is seriously good. Like all-star good. Selke good. He's already clicking at a 55-point pace in year two. Look for a 65+ pace next year.
**
 There were more than a few worried Vancouver fans wringing their hands over the extremely limited deployment and zero production coming from Vasily Podkolzin. As a KHL rookie playing on a high-end SKA squad, the 2019 10th overall selection was marred in a pointless skid that lasted 20-odd games to begin the year.

It wasn't for lack of trying. It was for lack of opportunities.

The power winger was seeing anywhere from no shifts to three or four minutes on a traditional fourth line. It wasn't working. It wasn't great for the development of an 18-year-out.

But something has changed coming out of the World Junior Championships.

Podkolzin has been united with fellow U20 skaters, Kirill Marchenko (CBJ) and Ivan Morozov (VGK). The trio has been dynamite bringing an offensive flair from the bottom six. Each has seen their minutes nearly triple.

For Podkolzin, he's recorded 10 points in his last 15 games, including a goal and an assist in the opening two playoff games this week. He's done so while still seeing around 11 minutes per game.
Vasily Podkolzin with his first-career KHL playoff goal.

He has 2 points in 2 playoff games and 10 points in his last 15 games. #Canucks pic.twitter.com/jLLVyCHaqU

— /Cam Robinson/ (@Hockey_Robinson) March 3, 2020
The underlying metrics match what the eye-test and now, finally, the scoresheet is saying as well.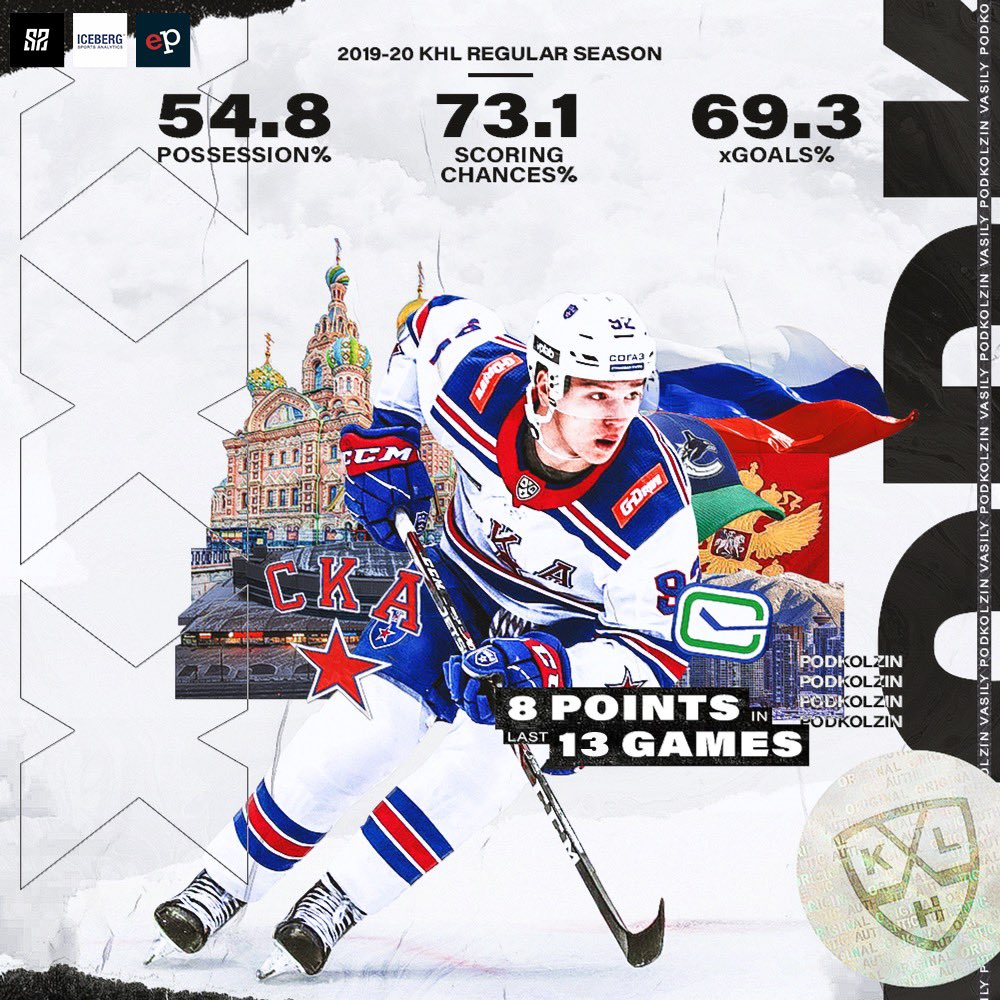 EP Rinkside
Now, just as I've teased you to the potential multi-cat beast, I'll take a moment to remind everyone that the wait time still remains. The earliest the Canucks and fantasy owners can expect to see the 6'1 195lb right-winger is the spring of 2021.

But that's okay.

Next year, you can expect to see Podkolzin elevated up the lineup further – likely with Marchenko and Morozov coming along with him. The power-play time will elevate. The points will too. He'll go back for a third final trip to the WJC and will be expected to be the best player there.
By the time he crosses the pond, he should be ready to step right into a top-nine role.

**
One more thought on those SKA kids, Marchenko is the Blue Jackets' top prospect.

That might not have the same level of cache since the club graduated Emil Bemstrom, Alexandre Texier and Elvis "King of the Crease" Merzlikins this season. But it still holds weight. The 2018 second-round pick is a very interesting and versatile player.

His seven goals and 16 points in 31 KHL games comfortably led all U20 skaters. That includes Grigori Denisenko. The kid is hard-nosed, has a good amount of skill and he's not afraid to get a little creative either. It's a nice combo.

Kirill Marchenko (CBJ '18) just got dirty in the MHL. pic.twitter.com/67oxsBYYiC

— /Cam Robinson/ (@Hockey_Robinson) September 19, 2018
**
Follow me on Twitter @Hockey_Robinson