Eastern Edge: Matchups to target
Brennan Des
2020-03-03
 In this week's Eastern Edge, we'll take a look at which skaters you should target, based on the quality of their opposition's defense this week. First, I sorted each team based on the average number of goals they allowed over the past month. You'll notice this allows us to better appreciate recent trends. For example, the Hurricanes have been giving up a lot of goals recently, due to a number of significant injuries on the blueline and in net. Vancouver has been allowing a lot of goals since Jacob Markstrom got injured. Washington – despite being a strong team overall this season – struggled over the last month, posting a 5-7-1 record. Most surprisingly, the New Jersey Devils have benefitted from some strong goaltending recently. Don't expect forwards on your fantasy roster to light up the Devils anymore.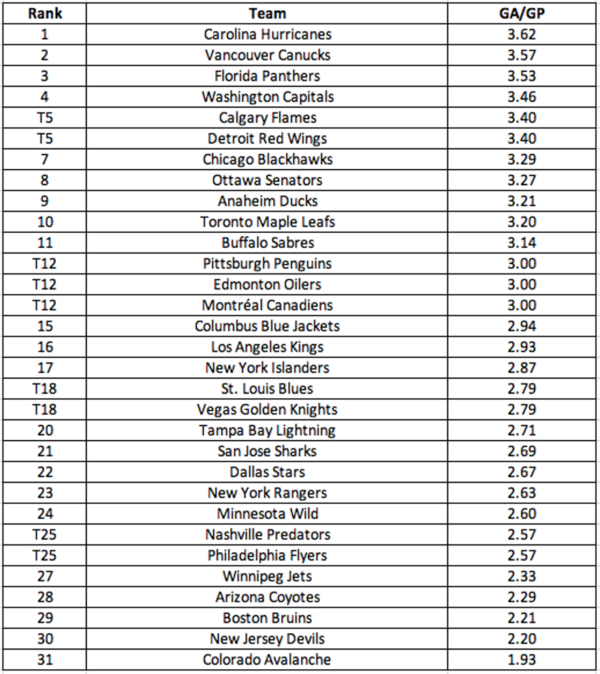 Next, I broke down the Eastern Conference schedule for this week (Tuesday to Sunday). I listed each team's opponents, based on the average number of goals they've allowed over the past month. For example, you'll see a 3.46, 3.62 and 3.14 beside Philadelphia in the first row of the table. This tells you that Philly faces Washington (3.46 goals against per game), Carolina (3.62 GA/GP) and Buffalo (3.14 GA/GP) this week. I created an average (Opponent GA/GP) to express the quality of defense each Eastern team will be facing this week. Teams at the top of the table (Philadelphia, Pittsburgh, Columbus and the NY Islanders), should have an easier time scoring, as their opponents have been giving up a lot of goals. I've probably done a poor job of explaining a pretty simple process, so if you have any questions, feel free to shoot me a message on Twitter @BrennanDeSouza.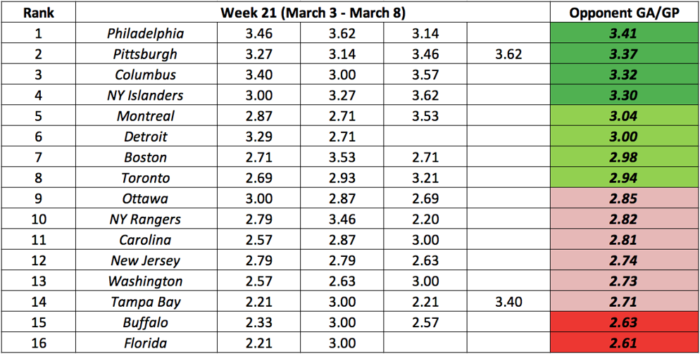 Based on the results from the table above, here are a few names you should consider for your fantasy roster this week:
Kevin Hayes – He took some time to get used to his new surroundings in Philadelphia, posting just seven points in his first 20 games as a Flyer. He's been much more productive since, tallying 32 points in his next 45 games, with seven points in his last six. Over the past month, he's been averaging nearly three shots per game. Hayes benefits from playing alongside Travis Konecny, who has also been on fire lately with 13 points in his last seven contests. While you won't be able to find Konecny on the waiver wire at this point in the season, Hayes is still available in 73-percent of Yahoo leagues and could be a worthwhile addition to your fantasy roster this week.
Matt Niskanen – He has been the most productive member of Philadelphia's blueline recently, posting an impressive 14 points in his last 15 games. At first glance, it looks like he'll have a tough matchup against Washington on Wednesday, but the Capitals have been struggling over the past month, conceding three or more goals in ten of their last 11 games. The Flyers then face the Hurricanes, who are currently rocking an AHL-level tandem with Alex Nedeljkovic and Anton Forsberg as their starting goalies. Philly's third and final game of the week is against Buffalo. While Carter Hutton hasn't been awful recently, the Sabres have struggled to keep the puck out of the net this season.
Jason Zucker – He hit the 20-goal mark in four of his last five seasons with the Minnesota Wild – a team that isn't exactly known for their offensive talent. He has five goals in 10 games since arriving in Pittsburgh, skating most of his minutes beside Sidney Crosby. While he hasn't had much of a power-play role yet, he was skating with the top unit on Monday. Considering he's owned in 56-percent of Yahoo leagues, he might not be available on the waiver wire. If that's the case, Patrick Marleau (4-percent owned) and Conor Sheary (7-percent owned) are more attainable options in Pittsburgh's top six.
Nick Foligno – Columbus' captain is available in 70-percent of Yahoo leagues and can slot in at the center, left-wing or right-wing position of your fantasy roster. He has six points in his last six games and has been averaging over 20 minutes of ice time a night.
Jordan Eberle – At first glance, you might not be impressed by his overall numbers. However, those numbers are dragged down by a slow start that saw him post 17 points in his first 31 games. Since then, he's tallied 20 points in 23 games. He's still available in 79-percent of Yahoo leagues, so I highly recommend you add him to your roster. After this week, the Islanders play eight games over 14 days. Eberle is someone who can help you secure your fantasy hockey championship.
Anthony Cirelli – The Lightning don't necessarily have the best matchups this week, as the face defensively-sound Bruins twice. However, Tampa is one of just six teams that play four games between Tuesday and Sunday. In addition, they have a couple of favourable matchups this week, against Montreal and Detroit. Captain Steven Stamkos will be out for the next six to eight weeks as he recovers from core muscle surgery, creating a bigger role for other players on the team. One of those players is Anthony Cirelli, who has been skating 20-plus minutes a night over his past few games. He's on the top power-play unit and is still available in 70-percent of Yahoo leagues.