Eastern Edge: Matchups to target
Brennan Des
2020-03-03
 In this week's Eastern Edge, we'll take a look at which skaters you should target, based on the quality of their opposition's defense this week. First, I sorted each team based on the average number of goals they allowed over the past month. You'll notice this allows us to better appreciate recent trends. For example, the Hurricanes have been giving up a lot of goals recently, due to a number of significant injuries on the blueline and in net. Vancouver has been allowing a lot of goals since Jacob Markstrom got injured. Washington – despite being a strong team overall this season – struggled over the last month, posting a 5-7-1 record. Most surprisingly, the New Jersey Devils have benefitted from some strong goaltending recently. Don't expect forwards on your fantasy roster to light up the Devils anymore.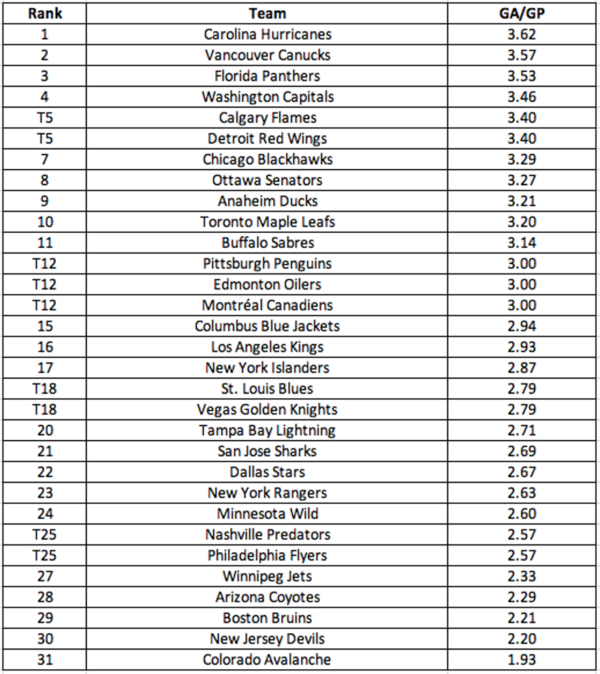 Next, I broke down the Eastern Conference schedule for this week (Tuesday to Sunday). I listed each team's opponents, based on the average number of goals they've allowed over the past month. For example, you'll see a 3.46, 3.62 and 3.14 beside Philadelphia in the first row of the table. This tells you that Philly faces Washington (3.46 goals against per game), Carolina (3.62 GA/GP) and Buffalo (3.14 GA/GP) this week. I created an average (Opponent GA/GP) to express the quality of defense each Eastern team will be facing this week. Teams at the top of the table (Philadelphia, Pittsburgh, Columbus and the NY Islanders), should have an easier time scoring, as their opponents have been giving up a lot of goals. I've probably done a poor job of explaining a pretty simple process, so if you have any questions, feel free to shoot me a message on Twitter @BrennanDeSouza.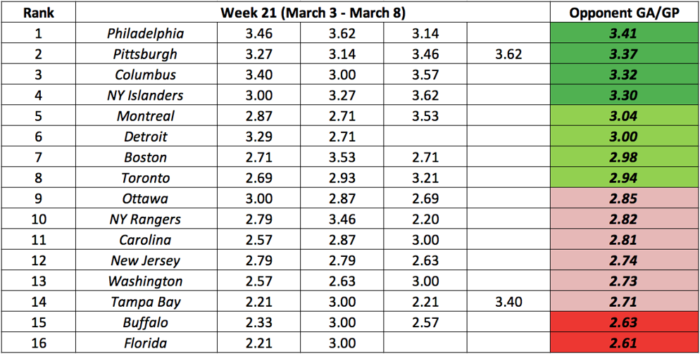 Based on the results from the table above, here are a few names you should consider for your fantasy roster this week:
Kevin Hayes – He took some time to get used to his new surroundings in Philadelphia, posting just seven points in his first 20 games as a Flyer. He's been much more productive since, tallying 32 points in his next 45 games, with seven points in his last six. Over the past month, he's been averaging nearly three shots per game. Hayes benefits from playing alongside Travis Konecny, who has also been on fire lately with 13 points in his last seven contests. While you won't be able to find Konecny on the waiver wire at this point in the season, Hayes is still available in 73-percent of Yahoo leagues and could be a worthwhile addition to your fantasy roster this week.
Matt Niskanen – He has been the most productive member of Philadelphia's blueline recently, posting an impressive 14