Dobber Ramblings: NHL season suspended; IIHF announcement; primary points – March 13
Michael Clifford
2020-03-13
The NHL started the day by cancelled all morning skates, given the COVID-19 pandemic that has spread globally, and the NBA's suspension of its season on Wednesday night. The writing was on the wall: college games are being cancelled, NBA games suspended, mass gathering outlawed, people getting sick seemingly in real time on television, and so on.
It came to pass as the league has decided to suspend the season.
I don't like to write about non-hockey things here, and I don't think I have in my five years here, but this is a very serious situation. No excuses of 'it's just the flu' or 'I won't be hurt from it'. Everyone needs to be very vigilant about their behaviour for the next several weeks, if only for people other than themselves.
For more information from people much better qualified to speak on this topic, please read this.
Might I suggest picking up that instrument you meant to master, the programming languages you wanted learn, or reading those books you always meant to read?
*
The International Ice Hockey Federation has announced there is no change to their plans for the 2020 Men's World Championships as of right now. The end of that sentence is the key here, because the event isn't for another six weeks. If the situation does not improve in three or four weeks, I imagine we see a different kind of announcement. But again, we'll cross that bridge when we get to late April. Let's just worry about March for now.
*
For those running fantasy leagues, I'm not sure what the proper way is to go about this. Here are my recommendations in case you're feeling stuck.
I also want to mention that for the foreseeable future, it'll be somewhat business as usual here at Dobber Hockey. Obviously, we won't have games to report on, injuries to note, or anything else that would occur in the normal run of the league. We also will be without certain weekly columns like 'Looking Ahead', given, well, you know. Other than that, we will be running our daily Ramblings as well as columns that still have relevance, for the time being. We understand that fantasy hockey is very low on the totem pole of things that matter right now, but our hope is that if someone wants to take 15 minutes away from the bombardment of COVID-19 news we're all sure to face in the coming months, that we're here to provide those columns. (Don't worry, we all work remote.)
For a different, and more detailed, perspective, Dobber wrote on potential scenarios of the NHL resuming play, as well as how to handle things in your fantasy league. My recommendations are based on the season being flat-out cancelled, whereas Dobber has options in case the league resumes.
Roto leagues
Just pay out now as they are in the standings. If your league does a 50-30-20 split, then pay it out as such right now. There may be issues with games played limits and if that's the case, then you'll have to break down the numbers further.
Points Leagues
Award on a points-per-game-played basis. That means if the person in first place has 1500 points and 1000 games played (1.5 points per game played), and the person in second place has 1400 points with 900 games played (1.56 points per game played), the person in second place would technically be the winner. That is likely to enrage the guy in first, but you can't give a person in first an unfair advantage for a circumstance beyond your league's control.
Head-to-head
This is where things get a bit tricky. You probably will want to reward the people who finished higher in the standings, but there would be some leagues in the middle of a playoff week right now, and those handful of games have provided an edge for some people in those leagues. That's going to lead to some pushback.
I would divide by the number of teams remaining in your playoffs. If you're in semi-finals, maybe give the first overall seed half the pot, 25 percent to the second seed, and 12.5 percent for each of third and fourth place. Or whatever split you and the league mates feel is satisfactory.
All the same, please try to come to a civil conclusion. It's nutty to even be thinking about fantasy hockey right now, but given the way things are headed, we're all going to have a lot of time on our hands for the foreseeable future. There's no reason that a fair breakdown can't be reached.
*
Yesterday's Ramblings discussed players and the primary points/60 minutes rate at 5-on-5 over the last two years. The reason for doing this is to see who has been productive in the minutes given and removing some of the noise from point production by taking out secondary assists.
Those Ramblings discussed players inside the top-20. I want to talk about a few players outside of it, so here are the next 20 after that (again, data from Natural Stat Trick):

So, let's talk about a few of them.
Tomas Tatar, Mark Stone, Nikolaj Ehlers, Johnny Gaudreau
I wanted to put all four together because they're the four at the top of the list, they are all wingers, and they're all wildly different fantasy assets. Even in a tough year, Johnny Gaudreau is seen as a near-elite asset. Not to Alex Ovechkin or Connor McDavid levels, but just a step down. Mark Stone is likely viewed as a step below Gaudreau, with both Tatar and Ehlers a step below Stone. (A Step Below Stone was also the name of my early-2000s alt-rock band.) Here are four guys who are all about as productive as the other, and next season, some will go in the third round, and some in the eighth.
It just speaks to how much peripheral stats, and power-play production, can matter. Had this season kept playing, Gaudreau probably would have reached 20 PPPs for the fifth time in six seasons. Ehlers, meanwhile, has 25 PPPs over the last three years. If he'd had power-play production similar to Gaudreau, and this season were to play out, he'd push for 80 points this year. But he doesn't, and it's not, so he won't.
The same could be said for Tatar, though to a lesser degree. Believe it or not, he does have 14 PPPs on the season, and that's what's helped lead him to a career-high in points so far. It also shows how much upside he does have if, again, he posted somewhere near 25 PPPs instead of 15.
Not to get too long-winded about the same point over and over, but it really is remarkable how much power-play production affects the view of a player. In fantasy hockey, that matters for valuation purposes. But I wonder how many people would put Ehlers and Gaudreau in the same conversation when talking about real-life hockey? I would guess not many.
I still don't think he's good defensively, but that doesn't really matter for Domi as long as he continues to play 17-18 minutes a night. He's very talented with the puck and I think has the upside to put up 70-point seasons annually with a decent power play and good wingers. Whether he gets either of those things consistently is another matter.
It is my personal belief that Konecny is on the verge of fantasy stardom. This is a guy who has three straight 24-goal seasons in his age 20-22 seasons. From Hockey Reference, here are all the players who have scored at least 24 goals in each of their age 20, 21, and 22 seasons since the 2005 lockout: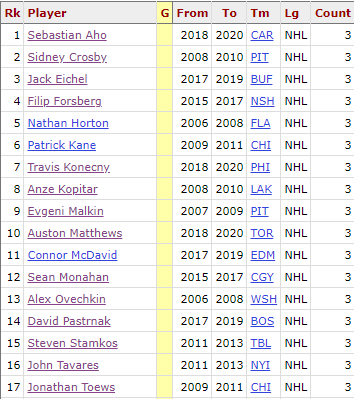 Other than Nathan Horton, that list is a veritable who's-who of fantasy greatness over the last decade. The worst fantasy asset on that list might be Sean Monahan, and that guy has five straight seasons with at least 25 goals (likely to be broken this year with the league suspension), with a few 30-goal seasons mixed in there. Unlike Monahan, Konecny adds a fair amount of hits that makes him valuable in banger leagues. He's also just starting to reach his prime.
The only concern is that the Flyers do have a lot of good wingers like Claude Giroux, Jakub Voracek, and James van Riemsdyk, with guys like Joel Farabee knocking on the door. It could keep Konecny to a second-line role for now, and he won't reach his true ceiling until he starts playing 19-20 minutes a night.
All the same, there is an excellent fantasy asset here and there's no reason to think he won't get better and more valuable.
Brady Tkachuk
Just want to note Tkachuk here. He's going to be a monster (and he kind of already is) when that team rounds into form in a couple years.
It really is wonderful to see Fiala break out in Minnesota. I have always been a firm believer in him and that one bad year in Nashville did nothing to dissuade that. Look at where he lines up in P1/60, and that's including his bad year last year with the Preds. There is a lot of literature on him from me over the last few years, feel free to check our archives.
The upside here is he's playing a lot more minutes. If he continues to play 19-20 minutes a night in the 2020-21 season, I think 70 points is well within reach, and he could even be a point-per-game player if he does serious damage on the power play.