Geek of the Week: The Cat's Outta The Bag
Michael Halbany
2020-03-15
After scoring 41 goals last season for the Chicago Blackhawks, Alex DeBrincat has struggled to regain his scoring touch from a season ago. Last year saw him put up 41 goals, 35 assists, 0 plus/minus, 24 power-play points, and 35 hits, which lead to him being tied for 58th in Fantasy Hockey Geek value among skaters in 2018-2019.
As a quick aside I created a "Standard Yahoo! League" in Fantasy Hockey Geek (FHG) and used the same settings as a Yahoo! Standard league. I highly recommend doing this for any league you play in because you can easily generate rankings from previous seasons.
This campaign has been a struggle for him as he has 18 goals, 24 assists, minus-11, 14 power-play points, and 58 hits in 68 games. Assuming he holds this pace for the rest of the season, he'll finish tied for 143rd in FHG value, behind his teammate Dominik Kubalik. A closer look at his underlying statistics reveals poor puck luck for the 22-year-old Michigan native.

(Data courtesy of Natural Stat Trick, Statistics are 5v5)
DeBrincat's 16.47 shot attempts per 60 minutes are up from last season and tied with his rookie campaign in 2017-2018. Even more intriguing is that his expected goals of 0.73 per 60 minutes are at the highest rate per season in his career, yet he's on track to finish with his fewest amount of goals in a season. The anomaly from the chart above is that his shooting percentage at 5v5 has cratered to 4.86% from last season, creating a potential buying opportunity for the stud forward.
If we zoom the microscope out to include all strengths (5v5, power play, and penalty kill), the data reveals more of the same when it comes to a depressed shooting percentage.

(Data courtesy of Natural Stat Trick, Statistics are all strengths)
Again, we see that his expected goals per 60 is 0.96, which is the highest rate in his career. But his shooting percentage has more than halved to 8.82%. Looking closer at other Yahoo! Standard League categories, Debrincat's hits per 60 is at the highest rate in his career at 2.88. This doesn't mean we can expect Debrincat to start throwing the body like crazy, but it does show he is capable of more than the 40 and 35 hits he's posted the last two years. A total of 70 hits is a reasonable projection for him. His plus/minus will continue to be an issue for him until the Blackhawks improve defensively (46.73% expected goal share at 5v5, third worst in the NHL). The best-case scenario for him would be a plus/minus between 0 and +5.
Perhaps a possible reason for his decline this year has been a change in role. Sometimes a younger player can be sheltered by receiving a high amount of offensive zone starts against lesser quality competition when breaking into the league. Using the player usage charts on Frozen Pool, let's compare his 2018-2019 season to this year.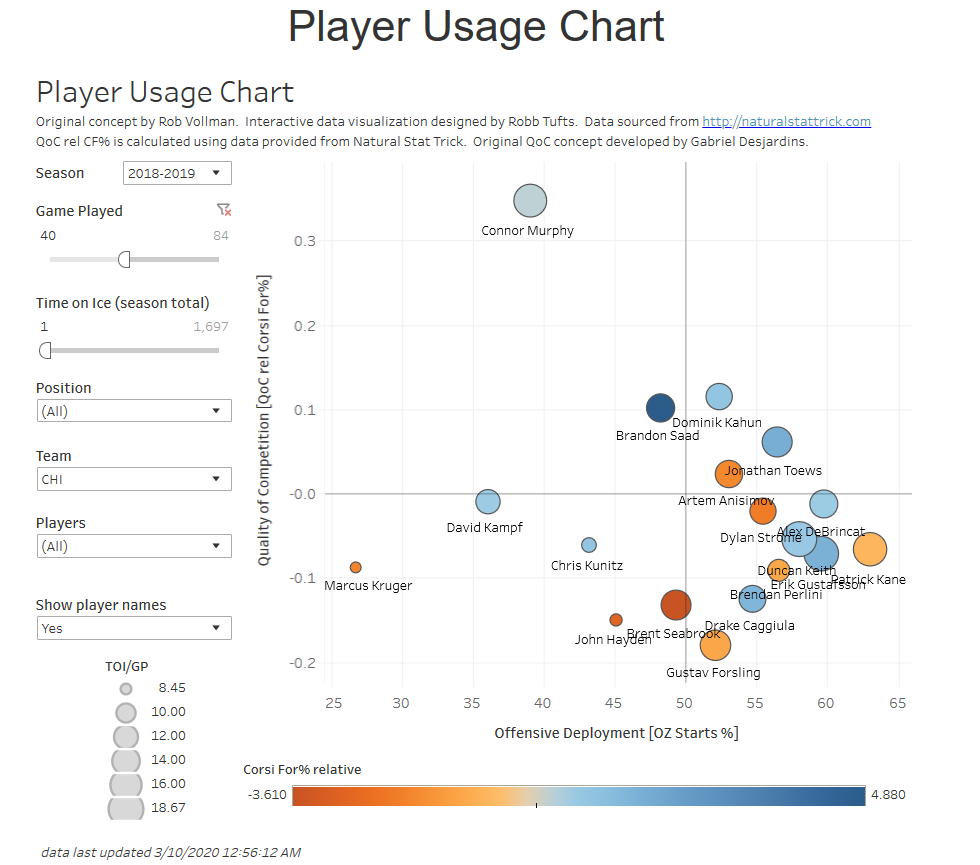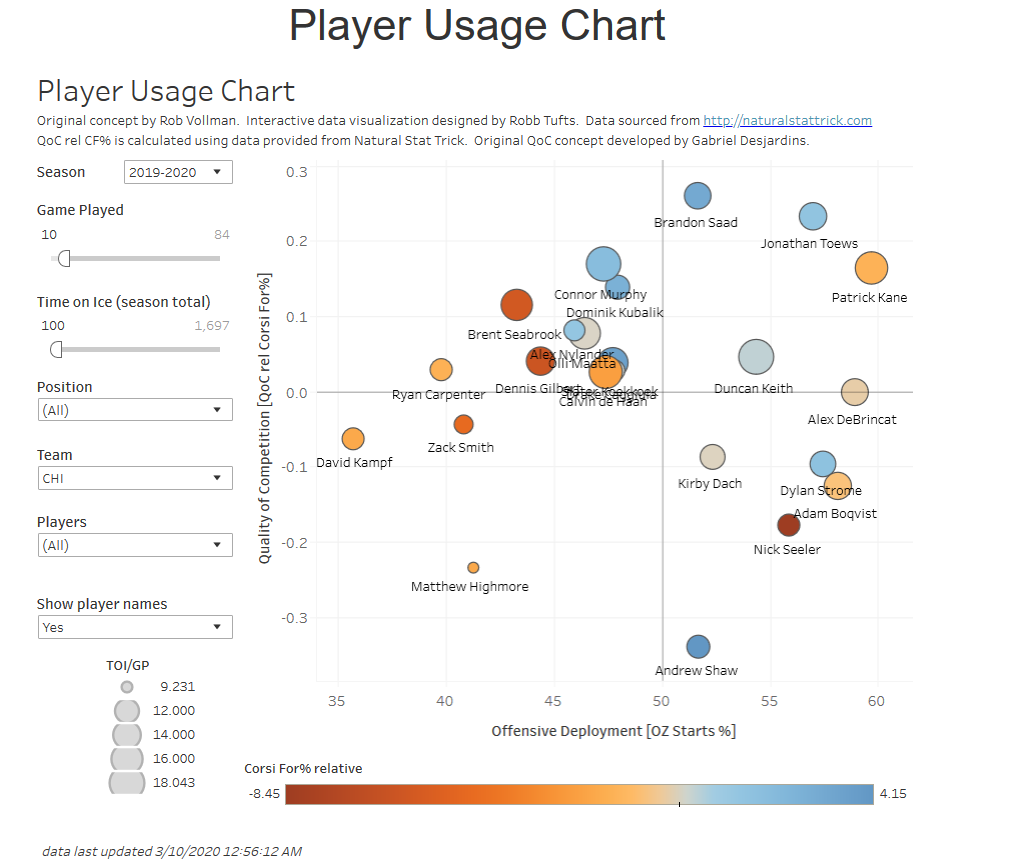 There isn't much difference in his usage between seasons. He's received 59.75% of his starts in the offensive zone in 2018-2019 and 58.94% in 2019-2020. Granted it's a lesser number but the difference is negligible. The quality of competition numbers are also similar between seasons.
Rather than inundating this article with another player usage chart, his usage is again similar to his rookie year in 2017-2018. This is a long way of saying that he's still being used in the same capacity as he was when he first broke into the league. This isn't a player that was heavily sheltered as a rookie being thrown out against stiff competition in the following seasons. Debrincat is still receiving virtually the same deployment in terms of offensive zone starts and quality competition in his three seasons.
The bottom line is that his poor shooting luck this year will create a likely buying opportunity next season in drafts. He'll be heading into the trademarked fourth-year breakout season next year. It's not unrealistic to expect 35 goals, 35 assists, with some room for growth in hits. Bet on a big bounce back for him next season. I'd be surprised to see his average draft position drops significantly from where it was this season (40th in Y! Leagues via Fantasy Pros). But even a little dip in cost near year leaves a lot of room for profit. Debrincat is a player I'll be drafting on all my teams next season.
Statistics are up to date through all games completed on Saturday, March 7, 2020.