Ramblings: Social Distancing, Draft Lottery, Playoff Alternatives, Caufield, Newhook, & Kotkaniemi (March 18)
Cam Robinson
2020-03-17
I've been playing and watching hockey for over 25 years. I began writing about the sport in 2015. I don't think I've ever been in a situation where I didn't know what to say.

That has all changed.

With the impacts that we as an entire society are facing at the hands of COVID-19, my mind has been frozen shut like so many car doors in the north this past winter. I have a couple of big articles just inches away from completion but have struggled to sit down, focus up and get things done.

Hell, I've just chewed up over a hundred words of this fantasy hockey rambling by simply…. Rambling away. 
Okay, fine. I'll attempt to focus up and at least talk about hockey here. But just know, it's a struggle!

**
I'll preface this by saying I've completely shuddered my hopes that we see hockey again this year. NHL hockey that is, I may or may not have woken up early and watched some Russian junior league yesterday. 
This may be in self-preservation so my heart won't be broken once again, or maybe it's just pessimism. But let's say the 2019-20 season is done. What the hell do they do for the draft lottery? What about teams with conditional picks?

Here's what I'm thinking.

Just like the 2005 draft, you throw all 31 clubs into the lottery. You weight it appropriately based on the standings at the time of suspension, and then draw away. Teams like Detroit and Ottawa would still have an overwhelming chance of landing top five selections. 
My personal hope for the NHL lottery and draft if we don't see another game this year:

31 teams in the lottery. Weighted chances based on standings at time of suspension.

For conditional picks like VANs, if they land inside the top 16, they keep the pick. If not, they give it.

— /Cam Robinson/ (@Hockey_Robinson) March 17, 2020


Realistically, you would put a limit on the number of spots a team can jump – like they used to do. That way no ripper teams end up at the top of the pyramid.
This would solve the issue of conditional picks too. As the tweet above states, let's take a look at Vancouver for example. They moved a conditional 2020 first in exchange for J.T. Miller. First off, they crushed that deal despite many people questioning it at the time.

Tampa Bay then moved that pick along with Nolan Foote to the Devils. The condition attached is that if the Canucks make the playoffs in 2019-20, they lose the pick. If not, they keep it and then New Jersey receives an unprotected 2021 first rounder. 
In this scenario, the 31 teams are drawn at the lottery. If the Canucks end up with a pick inside the top-15, they keep their pick as that would represent 'missing the playoffs'. If they land in the 16-31 slots, they give NJ the pick. At the time of suspension, the Canucks sat T-18th. 
**
Here's another angle at how the NHL will attempt to anoint a Cup Winner this year.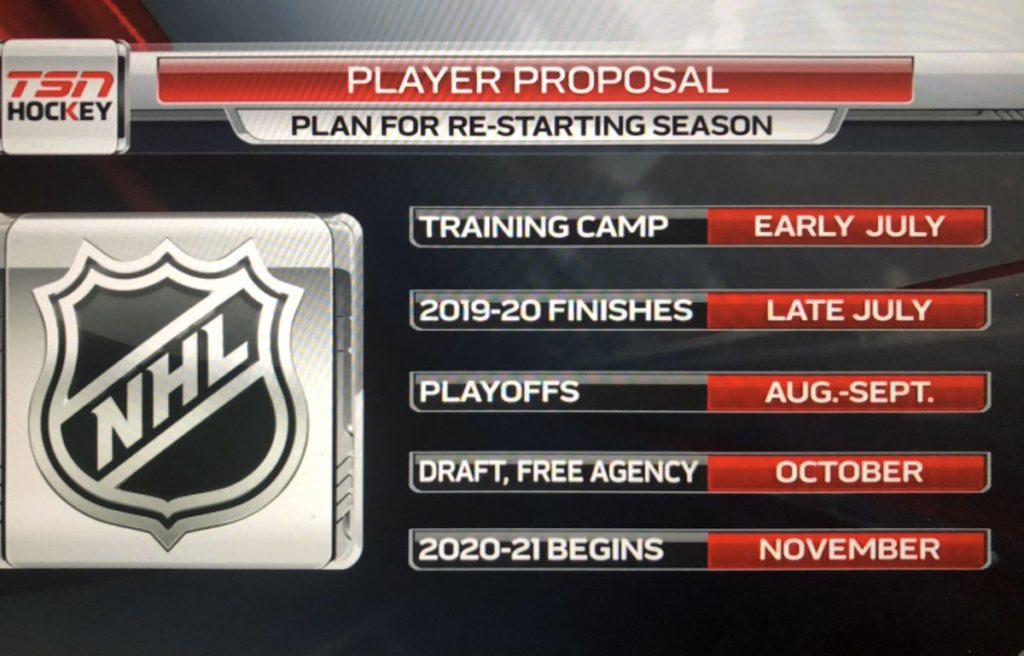 This would be some wild stuff, but I could get down on it. Playoff hockey raging through the summer months would really add a jolt to the Canadian economy. And then we'd (presumably) even get a look at a truncated schedule in 2020-21. 
**
I was on TSN radio over the weekend to talk draft, COVID-19, Canucks and more. Have a listen here 
**
Ah hell, here we go.
Report: Senators player tests positive for COVID-19 https://t.co/oCDjj9qv1E pic.twitter.com/GDncRsvAs9

— theScore NHL (@theScoreNHL) March 18, 2020
**
Here's something for you: Nick Suzuki is quite clearly a notch or three ahead of Jesperi Kotkaniemi these days in Montreal. One finished his sophomore season in the American League, the other was pushing for that third spot on the Calder ballot.
But if you put a gun to my head over who I think will be the best player in their prime, watch out now, because I'll be picking Kotka.
Don't forget that this kid is quite literally, a kid. He was the youngest player in the league in 2018-19. This year he was 19 for all his action. And will continue to be so into June. He has all sorts of potential and a great deal of time to get there.
Suzuki is great, and I'm tickled to own him in a dynasty. But don't sleep on the 2018 third-overall selection. His bust out may yet be down the line, but it's coming.
**
Speaking of the Habs, their top prospect, Cole Caufield as decided to return to the University of Wisconsin for a sophomore season. 
The 15th overall selection from 2019 had a standout freshman season at UW. He co-lead first-year players with 19 goals. He led the way in shots (140) and shots-per-game (3.89). His 36 points in 36 games were third. 
Cole Caufield staying at UW for a sophomore season is just fine. He was supposed to be a two-year wait.

Not everyone needs to be in the NHL as a teenager in order to find success.

— /Cam Robinson/ (@Hockey_Robinson) March 17, 2020
From a developmental standpoint, going back from another NCAA season is just fine. He was always supposed to be a two-year wait. From a fantasy perspective, it's less ideal in non-dynasty setups. I myself have Caufield in a league that's dipping down to 15 keepers. I drafted him with the full intention of keeping him. I also thought he'd turn pro and be on the Habs top PP next year.

Decisions decisions. 
**
The two true-freshmen ahead of Caufield on that scoring list are Colorado's Alex Newhook and Anaheim's Trevor Zegras. We haven't heard what their plan is for next year, but I think there's a decent chance they both turn pro. If they do, their impact next year will be very limited, but their upside remains high.

I had Zegras and Newhook ranked fifth and sixth respectively last June. Points just seem to follow them around, albeit in many different ways.

Zegras is a bit undersized but plays an overly feisty style – almost too feisty at times. He's also a premier distributor. We're talking elite levels of creativity and precision. He can dish it with the best of them.   
Trevor Zegras is a bad mamma jamma

Kid is filling the orchard with apples at this event

— /Cam Robinson/ (@Hockey_Robinson) December 30, 2019
Meanwhile, Newhook has the speed and skill combination that makes opposition coaches gameplan against and fans drool. First of all, it was a travesty that he was sitting there at pick 16. Colorado nabbing him and Bowen Byram last year was a coup.

A look at Alex Newhook's speed. That's right, Colorado will be EVEN FASTER in the near future. #WJSS

*shudders* pic.twitter.com/JHZiuYRwY1

— /Cam Robinson/ (@Hockey_Robinson) July 31, 2019
**
The QMJHL has announced that they've officially cancelled their regular season matches and will seed the playoffs on a point-percentage basis. The WHL and OHL are expected to follow suit.

The Memorial Cup is supposed to run in late May. Again, my expectation is that it will all be wiped away.
**
This is strangely beautiful from Gritty.
— Gritty (@GrittyNHL) March 17, 2020
 Look after yourself. Look after your family. Look out for your community. We're all in this together. Oh, and invest in hand cream. IF you're anything like me, your hands are already dry af. 
**
Follow me on Twitter @Hockey_Robinson