Geek of the Week: Discussing Dominik Kubalik
Michael Halbany
2020-04-12
Dominik Kubalik was the most impressive forward among rookie skaters, assuming the regular season is over. The Czech Republic native would likely be nominated but finish third behind the uber talented defensemen Cale Makar and Quinn Hughes. Kubalik isn't your typical rookie as he's 24 years old. He was drafted in the seventh round in 2013 and burst onto the scene with an impressive debut. He totaled 30 goals, 16 assists, +2 Plus/Minus, 157 shots, 8 power-play points, and 79 hits in 68 games. All told, his stats rank 144th among skaters assuming a Yahoo! Standard League.
Perhaps the most impressive thing about his rookie campaign is his 1.70 5v5 goals per 60 minutes was a league high. To finish better than Alex Ovechkin, Auston Matthews, and David Pastrnak in goals per 60 minutes is obviously impressive. Also, he ranks 51st among forwards in individual shot attempts per 60 minutes at 5v5 with 14.92 and averaged over 2.3 shots per game.
As a quick aside, when I find myself debating between two or three players, I will always lean toward the player who generates more shot attempts versus the player that doesn't shoot as often. A poor shooting percentage can tank any individual season. However, players that generate more shot attempts are less prone to fluctuations because they are constantly slinging the rubber.
Likewise, players that shoot far less often are more susceptible to the wild swings of shooting percentage. In addition, if players are shooting more often, they can also take advantage of a percentage binge and post a career year. This isn't groundbreaking by any means, but whenever I'm drafting with friends, it boggles the mind when I see a low volume shooter go early on.
Back to Kubalik, digging deeper into his profile, he averaged 14:22 TOI per game, which ranks 233rd among forwards. He was certainly deserving of more ice time than he received as a whole. The good news is that his ice time every quarter of the season increased (13:02, 13:15, 16:07, 16:26). Additionally in an eight-game sample during Quarter 4, he was receiving 3:47 of power play TOI per game. A significant upgrade from the first quarter of the season when he was only netting 1:37 power play TOI per game. The rise in ice time along with rise in power-play ice time are encouraging for next season.
Before moving on to his prospects for next season, I want to point out something interesting about his player usage chart.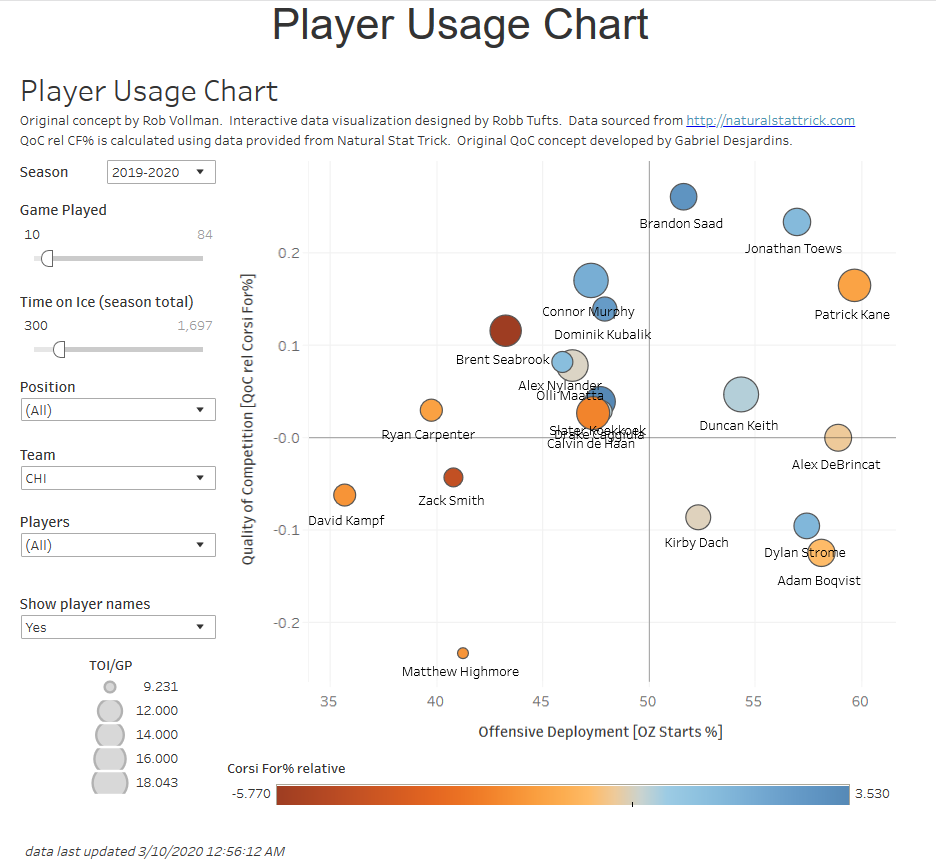 His blue bubble in the upper left quadrant indicates that when he was on the ice, he drove shot attempts towards the opposition. He faced quality competition and received less than half his starts in the offensive zone. This was not a player that was sheltered and received a ton of offensive starts (see Strome, Dylan). He was challenged as a rookie and rose to the occasion. With Jeremy Colliton back next season, he'll get the added benefit of coaching staff continuity, so Kubalik will likely be used in a similar role.
So, what is he capable of next year? That's the million-dollar question. On one hand, his shooting percentage at 5v5 was 19.33 (fourth-highest among forwards, minimum 300 minutes of ice time), likely to regress. However, he led the NHL in goals per 60 minutes, his ice time increased every quarter throughout the season, and his power-play time was at 3:47 during the last quarter of the abbreviated season. He also drove shot attempts at the opposition when he was on the ice against stiff competition.
If you believe he can continue to capitalize on the gains he made during his rookie season, then he has room to improve upon his numbers from this year. If you think he took advantage of a percentage binge and is due to regress in shooting percentage, then you'll probably be avoiding him in drafts next season. It feels like a cop out to suggest the truth lies somewhere in the middle. In the case of projecting his second season, that's the most plausible answer.
I think he'll give back a little on his shooting percentage, but his solid shot volume will help mitigate some of the decline. Kubalik will also find himself slotting higher in the lineup next season, so a full year in the top-6 and prime deployment on the power play is very likely. A projection of 60-65 points in an 82-game season makes sense. Statistics are via Frozen Pool and Natural Stat Trick