Ramblings: Up and Comers (June 3rd)
Cam Robinson
2020-06-02
Before we get going, I'll just take a moment to discuss what's happening in the United States. The protests happening throughout that country and the similar showings of support in other places around the globe are a long time in the making. I am a privileged, white male who has never known such fear or persecution. I only hope to gain knowledge from knowing that I will never truly understand, but that does not mean I cannot be an ally.
Today feels like a difficult day to discuss anything other than the fight for equal rights and freedoms. But, for many, sports are a reprieve. A place to soothe the angst that surrounds us. So we'll beat on, but know that my heart is with those risking their lives so that others can find peace.
**
In a not-so-surprising turn of events, I continue to be wrapped up in the world of draft-eligible players. Recently, I have been granted access to the mecca of all scouting platforms. The site is called InStat and it compiles and annotates games and shifts from nearly all the games in all of the world. 
I'm not joking. I can immediately jump to a zone breakout or blocked shot from an obscure second division game in Slovakia. It's my dream. The statistics and images to follow come from their platform. But of course, with this new power comes new responsibility. The team and I at DobberProspects are heartily producing content for the upcoming 2020 Fantasy Prospect Report. That, by the way, drops in a little less than two weeks.
The Fantasy Prospects Report, out on June 12, is now available for pre-sale.https://t.co/5HG6umMrdp pic.twitter.com/cjcpjoW5QU

— Dobber (@DobberHockey) June 2, 2020
For today's Ramblings, I've decided to highlight a few of the less-talked-about skaters from the upcoming group that boasts real fantasy upside. I'll add the range where they could be drafted and their anticipated wait time. 
Seth Jarvis, RW
Jarvis wrapped up as the top WHL draft-eligible producer with an impressive 42 goals and 98 points in 54 contests for Portland. But what is even more impressive is how he went about gaining those points. He began the year in the bottom-six and was given a B-rating indicating a player likely selected in the second or third round. However, this is a player who simply refuses to be denied access to the inner portion of the offensive zone. His penchant for clicking at a high conversion rate blends well with this style. 
Through the final 30 contests, Jarvis went off. He recorded 30 goals, 70 points, 95 shots on goal and 160 attempts from December 1st onwards. As you can see by this shot map, he has a favourite home when releasing the puck. That home is right in the goalie's kitchen.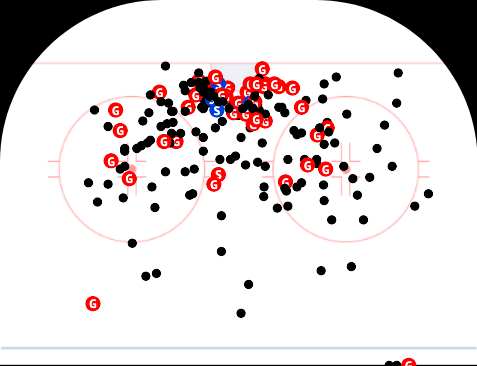 At 5'10 and 175lbs, Jarvis is not the biggest player even at the junior level. Yet he is fearless in his approach to the home plate. That will only become more challenging as he levels up, but his skill and motor should help keep him in the high-danger scoring areas. 
Seth Jarvis is just so much fun pic.twitter.com/We2NzktMRd

— /Cam Robinson/ (@Hockey_Robinson) June 1, 2020
Projected Draft Slot: 10th-25th
Project Wait Time: 2-4 years
Noel Gunler, RW
Gunler has been something of a polarizing prospect for a while now. His skill level and production in the J20 SuperElit league was that of an elite prospect. Yet, when he was afforded chances on the national team whether it be at the U17 or U18 level, he didn't see prime deployment and the production wasn't there.

This past season, the October 2001-born winger spent the majority of his season in the SHL playing for a quality Luleå club. He skated primarily on the third line and produced strong metrics for a teenager in one of the top leagues in the world. His 13 points in 45 games were third-most for U19 skaters and trailed only Alexander Holtz for draft-eligibles.

Gunler's number one asset is his release. It is heavy, quick and accurate. And he has that rare ability to know how to use space to create room for himself to get it off. 
There are some justifiable knocks on Noel Gunler, but you cannot argue with his offensive awareness and that release is *chef kiss* pic.twitter.com/o3LjbWTMvp

— /Cam Robinson/ (@Hockey_Robinson) May 28, 2020
While Jarvis is a player who loves the inside, Gunler is more of a gunslinger who is willing and able to let it fly from the outside. He has the gifts to beat netminders from that distance, but that became more difficult in the SHL. Very few of his goals from this past season were from the outside. Compare that to his shot map from 2018-19 in the J20 where he had more success from deep. As he becomes more accustomed to the tighter checking and continues to develop physically, you'll find his shot will become more dangerous from out high.
Regardless, he will need to continue to find ways to the higher danger areas in order to round out his offensive game. 

Noel Gunler: 2018-19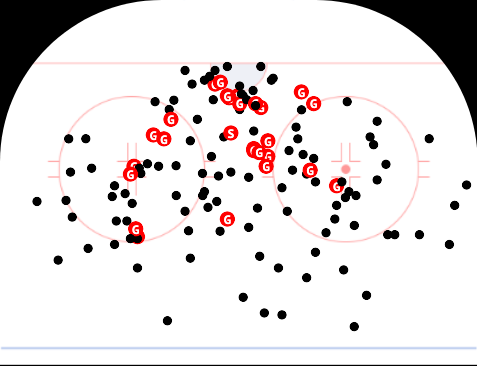 Noel Gunler: 2019-20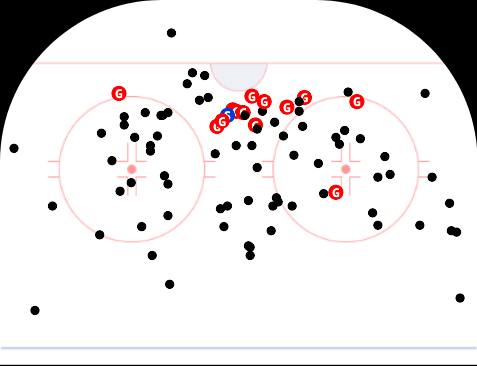 Speaking of rounding out his game, the knocks on Gunler are clear. He can look disinterested at times away from the puck. This isn't to say he's always a negative drag on the defensive side. I've watched several games where he's active and smart without the puck. But he needs to continue to work on it and prove it as a strength. This aspect will likely keep him down draft boards, but that just means you have a chance to snipe a good one later in the draft. 

Projected Draft Slot: 15th-40th
Project Wait Time: 2-4 years
The left-shot defender watched his stock ROCKET upwards in the back half of his draft-eligible campaign. The USNTDP's top blueliner has always boasted above-average defensive skills. He maintains a nice gap, a smart stick and he's unafraid to lean into an opponent to separate man from puck. But it was his transitional offense that has noticeably improved this past season.

The sharp curls and acceleration to shake pressure have become more regularly seen. The deep outlets, the smart pinches, and timely rushes have begun to raise their heads. He remains a player who projects as a more complementary offensive contributor, but his multi-category upside is real. 
There are scouts out there that feel he could continue to blossom offensively and become the top rearguard from this grouping. He's off the University of North Dakota next year and will have substantially more offense to work with upfront. It will be very telling to his long term upside.
Projected Draft Slot: 5th-20th
Project Wait Time: 2-3 years
Connor Zary, C
The Kamloops Blazers were something of a surprisingly good team in 2019-20. And the straw that stirred the drink for their club was Zary. The 18-year-old centre was born just 10 days late past the cutoff to have been included in the 2019-crop. That extra week and a half will impact the perception around him greatly. If he had been in last year's group, his point-per-game 2018-19 campaign would've garnered interest in the late first or early second. This season, his 38 goals and 86 points in 57 games have put him on the map as a potential top-15 talent.
Zary is a nifty finisher. He blends deception with a short windup and heavy release. He is deft at changing the angle on the fly to keep goaltenders guessing. He owns a non-stop motor and can be downright relentless defensively. 
Coaches love that.
But maybe the best part of Zary's game is his swagger. The kid has it in spades. 
Connor Zary has swagger pic.twitter.com/ZJGPdQf4AO

— /Cam Robinson/ (@Hockey_Robinson) June 1, 2020
Projected Draft Slot: 12th-30th
Project Wait Time: 2-3 years
**
Oh, and if you're crazy enough to be looking ahead even further, get on board the Kent Johnson train. It's about ready to leave the station.
I know I'm supposed to be focused on 2020, but get excited for North Van-native, Kent Johnson in '21.

He good. pic.twitter.com/pWs9Rfc2UF

— /Cam Robinson/ (@Hockey_Robinson) June 2, 2020
**
Be safe out there, people.
Follow me on Twitter @Hockey_Robinson