Ramblings: Nichushkin for Selke; looking at nominees for the Vezina and Jack Adams – June 4
Michael Clifford
2020-06-04
In a normal year, the Dobber Prospects Report would already be released, as it's typically set for distribution every June 1st, allowing fantasy freaks to read up on the prospects they need to know for their dynasty drafts in the summer or fall. It provides the opportunity to do a bit of homework when there's not much going on in the hockey world, at least in terms of transactions. Gotta love transactions.
Anyway, the Prospects Report is still coming, it's just going to be next week, a delay of a couple weeks. There's still not much going on in the hockey world so head to the Dobber Shop to pre-order your copy. It has profiles, three-year projections, upside values, and a whole lot more. It's truly a cornucopia of prospect goodness.
*
When I was writing my Ramblings on the end-of-season awards a couple days ago, one that I purposefully omitted was the Selke Trophy. Let's spend a few minutes on this.
The Selke Trophy is given to the NHL's top defensive forward. The wording is "… who demonstrates the most skill in the defensive component of the game." (Or at least on Wikipedia, it is.) But it's not always necessarily given to the best defensive forward. It is eminently possible that the best defensive forward in the NHL put up 25 or 30 points in a season, but he's not winning the award; since the 2005 lockout, only one forward has won the Selke Trophy while putting up fewer than 60 points, and Patrice Bergeron did it twice, but still put up over 50. We haven't had a Selke Winner with fewer than 50 points since Kris Draper won it with 40 in 2003-04.
When looking for potential Selke Trophy winners this year – and by that I mean who I think the writers will choose, not who I would choose – it seems likely that Bergeron is nominated again. He was plus-23 with 56 points in 61 games and has finished top-3 in Selke voting eight years in a row. This should be nine.
I also think Brayden Point will get some looks. He was tied for second in the NHL among forwards at plus-28 and had 64 points in 66 games. He's often revered as one of the great young centres in the game, so this will be his coming-out party, of sorts. As for the last guy, I'm torn between Brad Marchand, Sean Couturier, or Teuvo Teravainen. All were at least plus-20 on playoff teams and two of the three had at least 60 points (Couturier had 59).
But that's who I think will get nominated by the writers. Were it up to me, my list would look a bit different. I'm going to use Evolving Hockey as my primary stats resource here.
I'm going to have just one criteria: at least 60 games played. Most teams were in the 68-71 range, and playing 60 out of 68 games would mean playing roughly 72 out of 82 in the regular season. A 10-games missed cut-off seems about right for this.
Even-strength defense goals above average, or EVD, is a metric devised by the guys at EW to measure how much value a player brings defensively over a replacement forward, or basically the 13th forward on a team. The leader in EVD among forwards this year? Our old pal Valeri Nichushkin.
If anyone reading this has been reading my work for years, they know how much I loved this guy coming out of the draft. He looked great early in his career in Dallas, had injuries derail him, and he couldn't get his roster spot back. After a brief interlude overseas, he returned to the NHL, and had a great season for the Avalanche.
Sometimes, just saying a player was good at something, and showing some numbers that people may not be familiar with doesn't really help. Sometimes pictures can help. Let's look at some pictures.
From HockeyViz.com, here is Colorado defensively with Nichushkin on the ice at 5-on-5. The blue areas mean fewer shots allowed than the league average, while the red is shots above average allowed. The darker the shade, the less/more it is shaded, the fewer/more shots they allowed. Good? Good: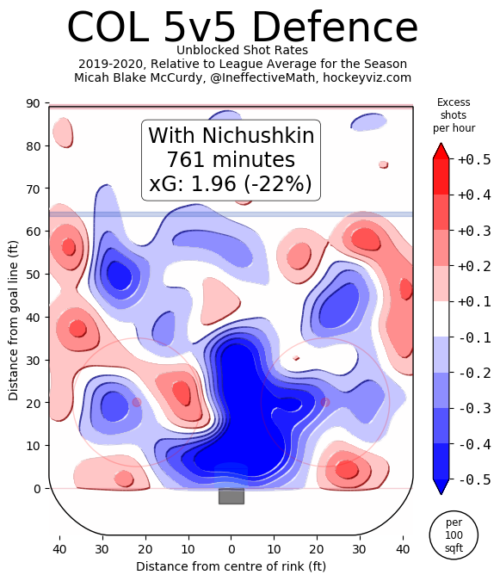 And for reference, here is the team with him off the ice: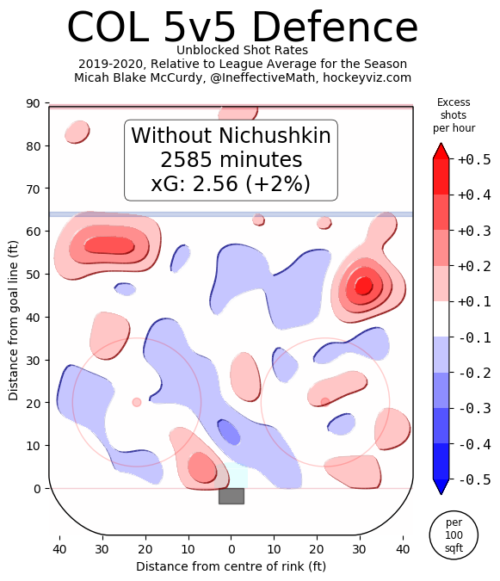 That difference in shots allowed, especially from the slot area, is stark.
Of course, that doesn't give us a lot of context. Yes, they were better with Nichushkin than without, but was that up to him, or his line mates? Thankfully, we can restrict this even further.
Colorado went through a lot of injuries and that moved Nichushkin all over the lineup. That means he didn't spend a ton of time with any one player, but he did have over 300 minutes playing alongside Pierre Edouard-Bellemare. This was the team defensively at 5-on-5 with the two of them on the ice: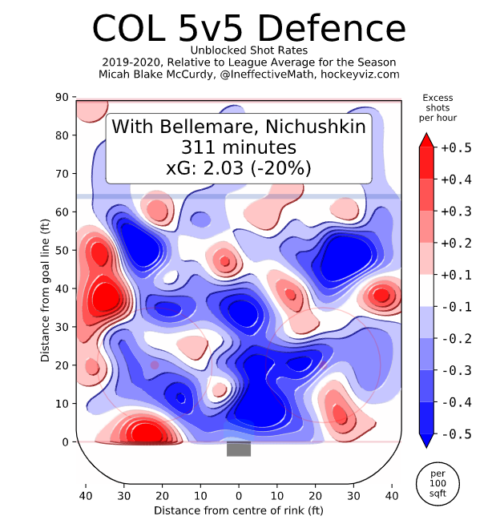 That is outstanding work defensively. That same tool allows us to separate them, though, and here are their results apart. Let's start with Colorado's defensive results with Bellemare on the ice without Nichushkin on the wing: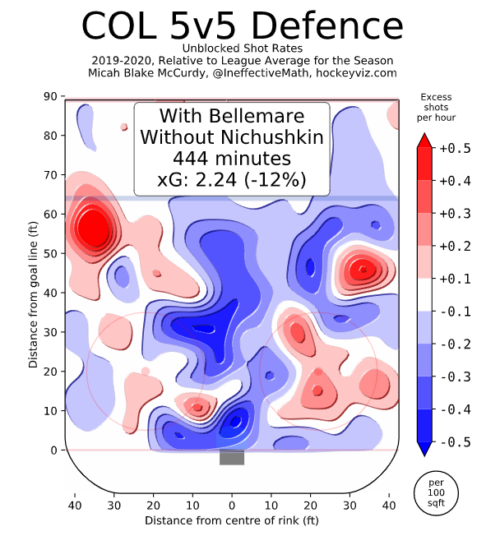 And for the flipside of this, the team with Nichushkin on the ice without Bellemare: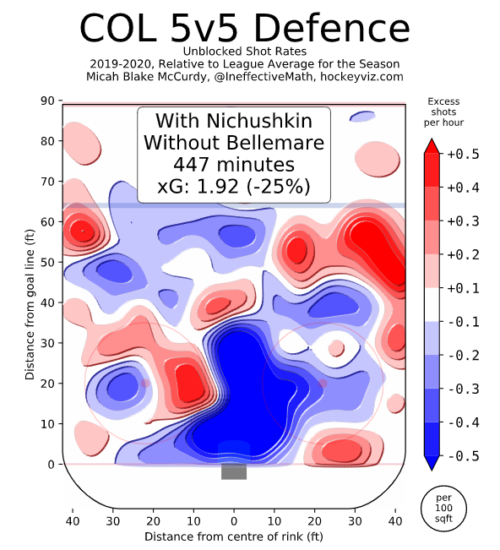 It should be noted that Bellemare still did very well without Nichushkin on his wing, just not as well, and Nichushkin did better without him.
I won't keep posting a bunch of charts, but the same applies for a guy with whom Nichushkin played nearly 200 minutes in Matt Calvert.
Between EW's EVD rating, Colorado's performance defensively with and without Nichushkin on the ice, and how his line mates fared without him, I feel comfortable in saying that Nichushkin had a superlative year in his own zone (and elsewhere).
There is more to analyze – namely, how he's doing this – but for our purposes today, all that matters is showing what happened. And what happened is that Valeri Nichushkin was the best defensive forward in the NHL this year. Give him the trophy.
After seven years of being a Nichushkin fan, I never imagined I'd be pushing for his Selke nomination before he ever had a 20-goal season. Hockey is weird.
*
Let's roll through a few more awards.
Jack Adams
I would have a real hard time not giving the Jack Adams Trophy to John Tortorella this year. There are a lot of coaches that are responsible for huge seasons for their teams, like Alain Vigneault or Dave Tippett. They did not, however, endure anywhere near the level of injury that Columbus sustained. It started early in the season with Josh Anderson and lasted all throughout the year, as none of Anderson, Cam Atkinson, Seth Jones, Alex Wennberg, or Ryan Murray played more than 56 of the team's games. They had injuries up front, on the blue line, and in net. That doesn't even mention all the talent they lost in the offseason. All the same, the Jackets were in the second wild card spot when we went to break.
Vezina
I wrote in my Ramblings on Tuesday that because Connor Hellebuyck was on my MVP ballot, he would be my Vezina winner. And he is.
Beyond him, though, I would definitely nominate Tuukka Rask. He ranks basically just behind Hellebuyck in most metrics, or ahead of him in some. Sure, he had a great team in front of him, but that doesn't mean that Rask didn't have a great season as well. He and Jaroslav Halak continue to be a fantastic duo for fantasy owners.
My last nominee would be Ben Bishop. That wasn't a very good Dallas Stars team this year, or at the very least they were underwhelming. All the same, the team finished fifth in the Western Conference, largely thanks to the guy who finished runner-up in the Vezina last year, giving him three top-3 finishes.
GM of the Year
I don't really care about this award because there aren't a lot of GMs who turn around their team's fortunes in one year. For teams like Carolina, Arizona, and Philadelphia, it's years of drafting, developing, and trading that has held them to be in the positions they're in right now.
With that out of the way, I have a hard time not giving it to Jeff Gorton. The team had a lot of nice pieces in place already, but he signed Artemi Panarin, traded for Adam Fox, got the team in a position to draft Kaapo Kakko (which, we'll see how it works out, I guess), and had the guts to turn the team over to a rookie goaltender with Henrik Lundqvist still on the roster. (At the least, he and David Quinn would have discussed this before bring Shesterkin to the NHL.) Stuff like the tanking and trading for Ryan Strome happened in 2018-19, but hey, this is a cumulative award anyway.
A significant infusion of talent took a team that picked second overall in 2019 to a team that was two points out of a wild card spot in 2020. Whatever, sign me up for the Gort stuff.