Ramblings – Top 13 NHL Backups Worth Owning, Drama in Arizona, and more (July 27)
Dobber
2020-07-27
The Interactive Playoff Draft List is up, updated and ready for download. If you bought the Ultimate Fantasy Pack last year, this is included in that package (i.e. not the more popular Keeper League Pack, so make sure you have the Ultimate Pack before trying to download it). This year's Ultimate Pack, however, does not include this list. It only includes next year's list. Blame coronavirus for messing up and overlapping our neat schedule! But now is the time to put together your playoff hockey pools, so pick up the playoff draft list here.
LIMITED TIME OFFER: Keeper League Pack (Prospects Report is already out!) and this Playoff List for under 20 bucks. That's right – the FPR, the Fantasy Guide (out in October), and the Playoff Draft List, all for $19.99 when you have the Keeper Pack and Playoff List in your cart and use coupon code: hockeysback
*
There is some drama coming out of Arizona and the full details are still filtering through, bit by bit. What we do know is that John Chayka has resigned as GM, and did so on Friday. Just nine months before resigning, he signed an extension that took him through 2023-24. So what happened? What we have heard is that his office was cleaned out Friday, and that he 'might' end up with Buffalo or Ottawa – and that it would not be a lateral move, meaning he could become President or VP somewhere, along with the role of GM. There is also suspicion that he wasn't happy being left out of the re-opening of negotiations with Taylor Hall, as he should be.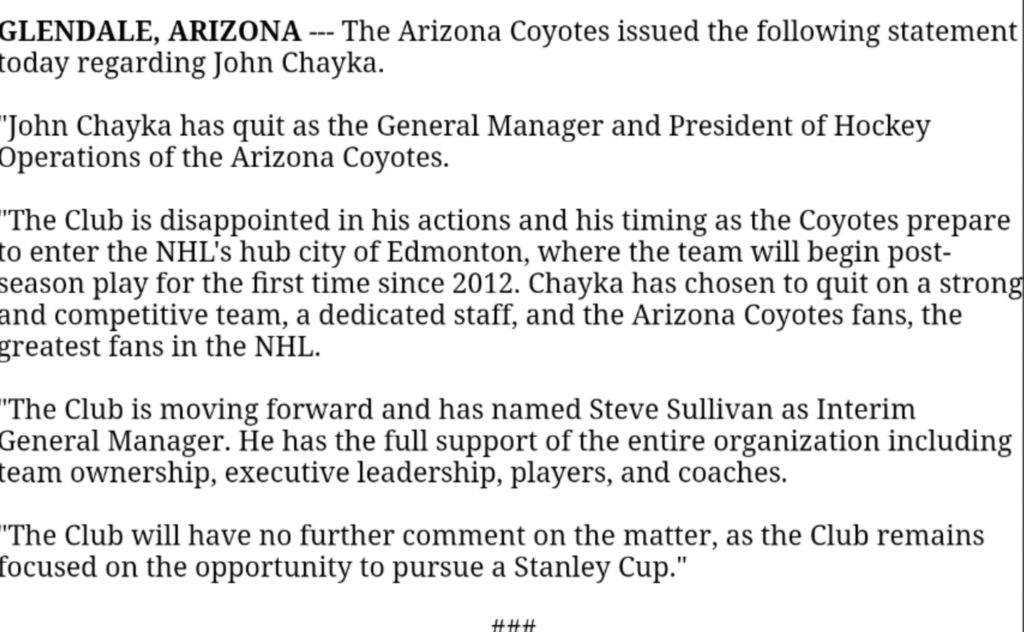 Pretty poor and unprofessional reaction by the young Chayka, and I think that had he had another 10 years of experience under his belt he would have known to wait until after the playoffs. I agree that the club treated him poorly in negotiating with Taylor Hall without him. But Chayka needed to take the high road here. It looks as though he simply stopped working, and started doing the bare minimum, when he wasn't given permission to leave. Without knowing the full details, it strikes me as a reflection of his immaturity. If you want to read more on this situation, Morgan has solid information on his new website here. Six weeks ago, Chayka was looking for permission to speak to someone about another opportunity – and six weeks ago Buffalo fired their general manager. Chayka grew up near Buffalo. Hmmm…
I'm a Chayka fan. I know that in Grant Campbell's recent GM ratings, Chayka ranked at the bottom. But that was the ranking of Grant's that I disagreed with the most. In trades where he was criticized, I felt he should have been lauded. Such as when he was under pressure to not spend money and yet he had to hit the salary floor. So Chayka did a weak hockey trade in giving up a second-round pick to move up four slots in the first round and take on Pavel Datsyuk's salary. I feel that more than a few of Chayka's trades were done with some behind-the-scenes pressure that I won't get into here. And after putting together a fine group of prospects and a strong defensive team, he was under pressure to add some big names to put bums in the seats as well as to add offense. So he took on a Phil Kessel in decline, and a Taylor Hall who had an expiring contract. I'm a fan of young businessmen with a fresh outlook and who lean on analytics, and I thought with another year we could have judged Chayka properly. And we still will, because next year will still reflect his handiwork.
Chayka's statement to beatwriter Craig Morgan: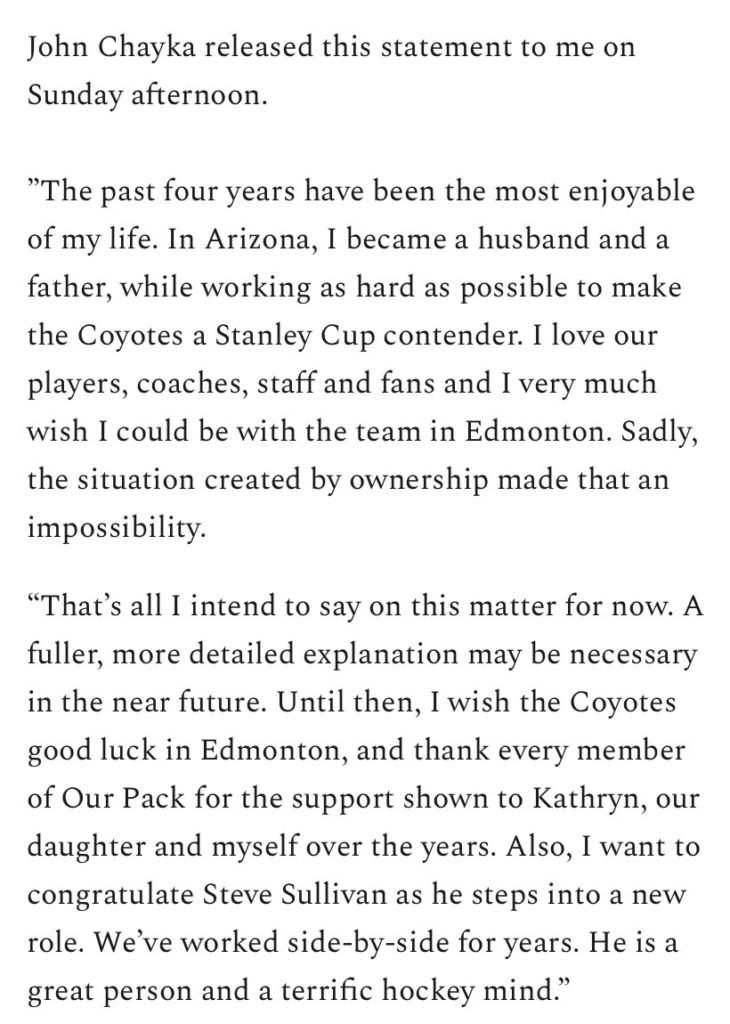 Steve Sullivan, who is a Dobber Darling and was the Assistant GM of the Coyotes as well as the GM of their farm team in Tucson, will be the interim GM.
*
Oscar Lindblom has been included on Philadelphia's postseason roster. He has just gone through months of treatment for cancer and is regaining his strength and speed. He may actually play!
*
My own cancer battle is approaching 35 months post-transplant. Just a month away from three years and still going strong. Best shape of my life, in fact. I'll post a full update when I reach that big milestone on August 30.
*
Everyone in my circles here in the Toronto area has been talking about this new drink 'Pink Whitney'. Always sold out in stores, I finally got a chance to try some when friends brought over a bottle. I can't speak to the taste, as I'm a beer guy and this is just alcoholic pink lemonade, but what I will speak to is the brand. I saw that it is from hockey blog Spittin' Chicklets and sports blog Barstool Sports? And that the "Whitney" actually comes to us via Ryan Whitney, Pittsburgh's former PP QB! How the hell did a hockey blog manage this? And what can I do to pull off the same feat? Dobber needs an alcoholic product! (Preferably beer, but I understand that 'beer' isn't trendy enough to fly off the shelves)
*
Top 13 Backup Goalies to Own in Keeper Leagues
*Because they have a genuine shot at becoming starters very soon.
It should be noted that I consider the following goalies as the starter already, even though you may not: Elvis Merzlikins, Petr Mrazek, David Rittich, M-A Fleury (some might say Robin Lehner is, or they can't figure out the weird situation, but Fleury is the guy for now), Matt Murray, Pekka Rinne, Philip Grubauer, Darcy Kuemper, Devan Dubnyk, Jonathan Quick, Mikko Koskinen, Corey Crawford, Semyon Varlamov and Linus Ullmark.
One final note is about the New York Rangers: All three goalies I will consider backups for now, so all three are eligible for the below Top 10 list.
The torch will be passed to Petersen next season, whether the Kings manage to trade Jonathan Quick or not. He started five of the last eight games for Los Angeles, winning four of them.
Thatcher Demko
Jacob Markstrom will probably sign with a new team in the offseason. Probably. If Vancouver managers to keep him, then Demko will be the new Cory Schneider. As in, he'll be buried as a backup far longer than he should be. Which makes him fantasy-useless. Of course, if Markstrom does sign elsewhere, then I'd leapfrog Demko straight to No.5 on this list (because I think Vancouver will be a better team in front of him than the team that Lehner likely signs with).
Considering that Francouz started 13 of the last 14 games and that his numbers are far superior to those of Philipp Grubauer's, one could argue that Francouz is already the starter for Colorado. But Grubauer was the organization's planned starter, whereas Francouz is kind of sneaking in and stealing it. I find that organizations have a hard time tearing themselves away from their "plan", so it's never cut and dried. Especially considering that Grubauer has been hurt so often. But the cream always rises to the top.
Tristan Jarry
This is a huge postseason for Matt Murray. Because if the two-time Cup winner (at just 26 years old), stumbles and Jarry comes in and takes over, then Murray loses his job. Murray has had it tough with injuries, and to me that would be his undoing in these playoffs. If he stays healthy, he keeps his job. As much as it makes sense to trade Jarry – I wouldn't count on that happening within the next year. And in fantasy leagues, I very rarely value a player based on the hope of a trade going down.
Kaapo Kahkonen
Not a backup, but a prospect. A No.3. Does it count? He played five games and will be 24 in the fall, so I'm going to say that it counts. He won't be a starter next year, but the reigning AHL Goalie-of-the-Year could be one by 2021-22.
An unrestricted free agent in the offseason, Greiss's value will depend on where he ends up signing. Had he been any younger than 34 years of age I would have him ranked higher. But I don't know if there is a team out there willing to hand him the reigns for a starting gig at this point in his career.
This postseason is huge for Talbot, who just turned 33 a couple of weeks ago (so his window is going to start closing soon). He has been the better goaltender in Calgary and was especially hot heading into the pause. But Rittich is five years younger and he's signed for next year, so he'll likely be Calgary's starter in the playoffs. Talbot needs Rittich to stumble, and then Talbot needs a chance to make an impression in the postseason. Then he needs to parlay that into a starting job for next season. A lot of "ifs".
Collin Delia
Corey Crawford is recovering from Covid-19, and Delia is the next best option for Chicago (he is much better than Malcolm Subban or Kevin Lankinen). Chicago is hamstrung for cap space and it's entirely possible that they actually go with Delia next season. But only if he gets a shot in the postseason and makes a strong impression.
Worth Mentioning: Anton Khudobin, Alex Stalock, Jaroslav Halak, Antti Raanta, Alexandar Georgiev. I believe the first four are already pigeonholed and have little chance of making it as a starter somewhere. Even Raanta, because no team out there would risk giving him the full-time starting gig given his injury history, though he may get a 1A or 1B role. (As an aside, I wonder if he would sign cheap with Chicago to partner with the aforementioned Delia). As for Georgiev, I just don't think he has starting-goalie upside, but makes for an excellent backup.
*
*
Frozen Tools Announcement: There is an awesome new feature – A draft order randomizer. You can now use this tool to randomly set your draft order for any league up to 40 teams. And it will email the results to your league!
Furthermore: We also now have a Draft Lottery Generator for your league! These tools are free, and another reason why the Dobber Sports Network is the best one-stop shop for anything fantasy hockey.
*
See you next Monday. Be safe!
Thanks for continuing to support the website, and if you're bored and need a fantasy hockey fix – visit the gang in the forum here.