Ramblings – Top 13 NHL Backups Worth Owning, Drama in Arizona, and more (July 27)
Dobber
2020-07-27
The Interactive Playoff Draft List is up, updated and ready for download. If you bought the Ultimate Fantasy Pack last year, this is included in that package (i.e. not the more popular Keeper League Pack, so make sure you have the Ultimate Pack before trying to download it). This year's Ultimate Pack, however, does not include this list. It only includes next year's list. Blame coronavirus for messing up and overlapping our neat schedule! But now is the time to put together your playoff hockey pools, so pick up the playoff draft list here.
LIMITED TIME OFFER: Keeper League Pack (Prospects Report is already out!) and this Playoff List for under 20 bucks. That's right – the FPR, the Fantasy Guide (out in October), and the Playoff Draft List, all for $19.99 when you have the Keeper Pack and Playoff List in your cart and use coupon code: hockeysback
*
There is some drama coming out of Arizona and the full details are still filtering through, bit by bit. What we do know is that John Chayka has resigned as GM, and did so on Friday. Just nine months before resigning, he signed an extension that took him through 2023-24. So what happened? What we have heard is that his office was cleaned out Friday, and that he 'might' end up with Buffalo or Ottawa – and that it would not be a lateral move, meaning he could become President or VP somewhere, along with the role of GM. There is also suspicion that he wasn't happy being left out of the re-opening of negotiations with Taylor Hall, as he should be.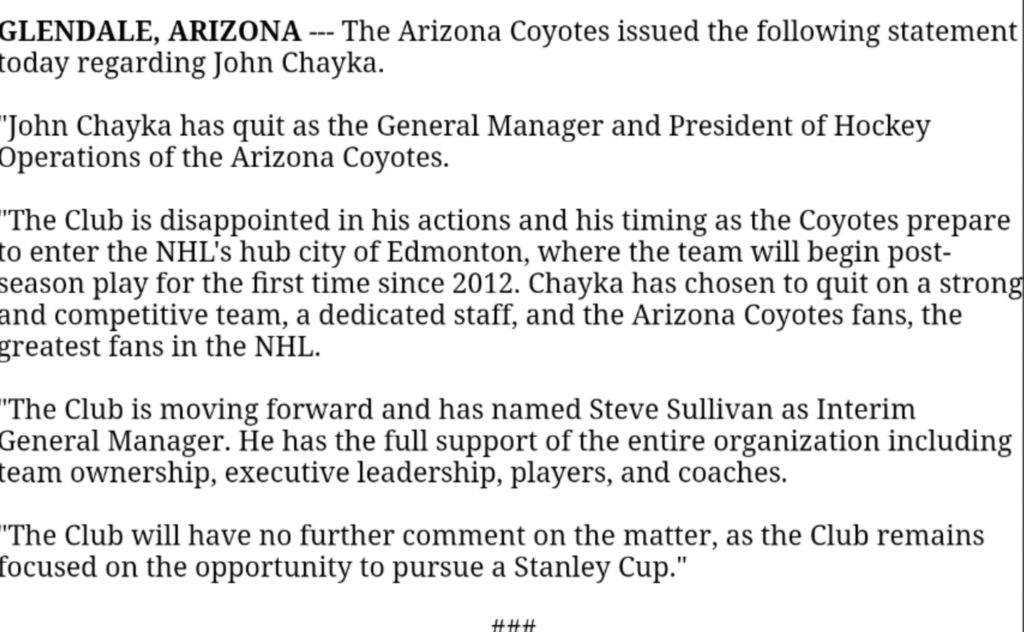 Pretty poor and unprofessional reaction by the young Chayka, and I think that had he had another 10 years of experience under his belt he would have known to wait until after the playoffs. I agree that the club treated him poorly in negotiating with Taylor Hall without him. But Chayka neede