Ramblings: Updates on Hamilton and Ennis; Dach's playoffs; Kyrou – August 7
Michael Clifford
2020-08-07
I know I've written a few times about Kirby Dach already this postseason, but I want to write more about him. Why? Because hockey's back and who cares.
Remember back to the 2019 draft. Chicago got lucky to move up to three and likely surprised a few people by taking Dach. Not that it was off the board – that was Moritz Seider – but there was Bowen Byram on the board, and the team obviously need(ed)s defencemen. But they went with Dach and it's hard to say they made the wrong choice.
Hockey Reference has him listed a little under 200 lbs, but we're going to need an update. The broadcast on Wednesday talked about Dach's focus on getting bigger and stronger during the pause. Watching him play, he seems to have done just that. The guy is an absolute freight train and he doesn't turn 20 years old until next year. Oh yeah, he also has good hands and vision.
He also has very good awareness. Here's something I noticed in their last game.
They had a power play early in the second period. Dach was curling to the front of the net, where he was going to draw some defenders with his size, but Dominik Kubalik was already there and wouldn't budge. What does Dach do? Gives him a little nudge, as if to say, "go give Kane an outlet, don't just stand here":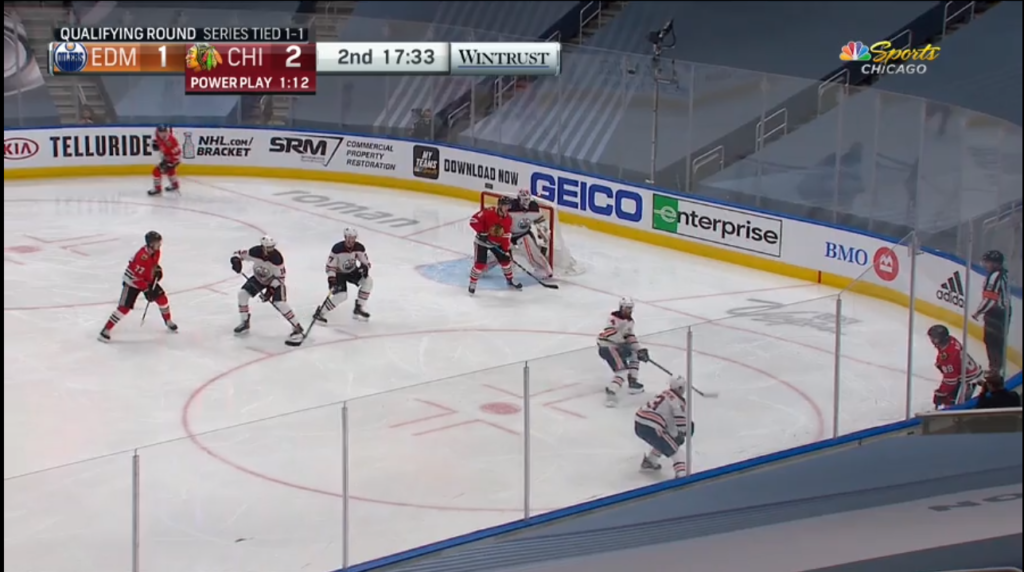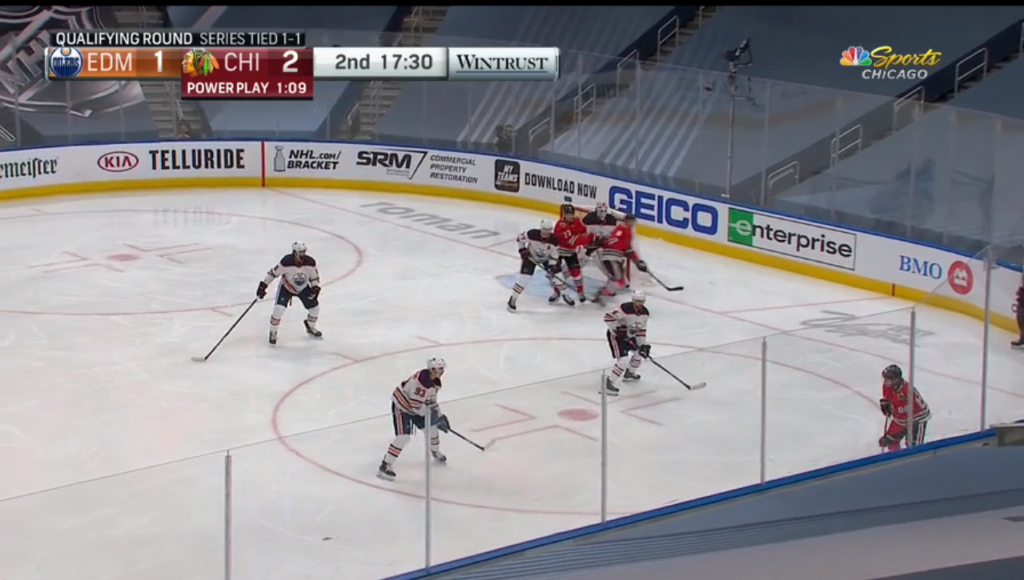 A 19-year old rookie taking charge of the power-play positioning on the fly in the playoffs.
That might seem like a small thing, but it showed me this isn't a guy who is just happy being in the NHL as a rookie and is looking to earn ice time. He's earned his ice time. At this point, he's starting out on his journey to prove that he doesn't just belong in the NHL, but that he's an upper-echelon star in the making. With the way he's looked in the postseason, it's hard to argue that.
*
Dougie Hamilton was back at practice for Carolina. That they got through the play-ins without much fuss and were able to give Hamilton a couple weeks to heal up (by the time they get back into game action) could be huge for their long-term prospects these playoffs.
*
Tyler Ennis has been deemed "unfit to play" and is out indefinitely following the hit he took from Dach in Game 3.
This really sucks for Ennis. He had a resurgence of sorts over the last couple years and seemed to have found a home in Edmonton's top-6. He's a fun player to watch and we can only hope that he's all-systems-go for when the 2020-21 regular season starts up.
*
I did a little experiment on Twitter last night. It was as follows: