Ramblings: Krug's value; NHL next year; Klingberg and Heiskanen; Point – September 10
Michael Clifford
2020-09-10
This season isn't over yet but it's fair to look ahead to next year. Maybe your favourite team is eliminated; maybe your most-hated team is still in it; maybe you just didn't have much interest in this Return To Play. There are any number of reasons to look ahead to the 2020-21 season.
The hope has been for the NHL to start the next regular season sometime in early December of this year. Of course, a lot has changed and a lot more will change, which is why it doesn't look like we're going to get an early-December start:
Yup: https://t.co/9FcF2zzWH1 https://t.co/IZM8dfcrfR

— Greg Wyshynski (@wyshynski) September 8, 2020
It appears as though once this Stanley Cup is won, we could be 4-5 months without hockey. There are any number of external reasons for this, of course. And there is the economic side of things. This is a delicate balance and we haven't even begun figuring out the details. Remember that they initially wanted to start the Return to Play in early July – it started a month later. There is so much uncertainty that relying on even mid-January may be too much.
At the very least, we have a timeline we can start to cobble together. The draft is four weeks away, free agency not long after, and a shortened regular season starting hopefully in the first couple months of 2021. That's about the best that can be done right now.
*
Bruce Cassidy was the recipient of the Jack Adams Award for top coach this year for his work with the league-leading Boston Bruins. Alain Vigneault finished second in voting with John Tortorella, Craig Berube, and Jared Bednar rounding the top five. Full voting here.
Personally, I thought it should have gone to Tortorella, and I still think that. At the same time, the Bruins were the only team with 100 points (they cleared the next-closest team, St. Louis, by six), they led the league in goal differential at plus-53, they led the league in regulation/overtime wins (44), they had the number-2 power play by conversion (25.2 percent, trailing only Edmonton) and number-3 penalty kill by the same (84.2 percent, behind only Edmonton and Boston). There's a lot of talent, but that's an impressive résumé for the year. It doesn't seem a case where an egregious mistake has been made.
*
Alex Killorn got five and a game for a hit from behind to Brock Nelson during Game 2 of Islanders/Lightning. It was a pretty easy call I think, but I'll say it's not one the NHL makes consistently. They need to start doing that.
The Bolts went 11/7 so they were down to 10 forwards after Killorn's ejection. Brock Nelson, the recipient of the hit, would eventually return to the game in the second period.
Adding to Tampa's problem, Brayden Point went to the room early in the second, and we weren't sure why. That put them down to exactly nine forwards. He did return in the second period but then left again after a couple shifts. He did not return after that. When we know more, you'll know more.
In dramatic fashion, with nine seconds left, Nikita Kucherov one-timed a beautiful seam pass from Ryan McDonagh to lift Tampa to a 2-1 win. Nine seconds away from overtime with nine forwards. Instead, a 2-0 series lead. I'm not writing off the Islanders yet. Let's see how all these injuries and possible suspensions work out.
*
Not long ago, I was talking with some other hockey writers about Torey Krug's future in the NHL. He's a free agent and this is probably his last chance for a major contract.
What I wonder: how much is Krug worth? Like, really worth? I don't project future contracts; I leave that to Alex MacLean over in our 'Capped' section, and he has Krug's future contract pegged for $8.1M AAV, and that's right around where John Carlson signed. So if we think that Carlson and Krug are somewhere in the vicinity of each other in terms of skill (and I do), then that $8.1M per season for Krug is fair.
The thing with Krug is he doesn't play monster minutes. Carlson has averaged 24:50 per game in the regular season over the last three years. Krug has never averaged 22 minutes in any single season and has averaged under 21 minutes a game over the last three years. There is a chasm of difference between playing 20 minutes a game and 25 minutes a game. Those extra five minutes have to go to someone, and it's doubtful it would be someone of Krug's calibre.
It's not to say Krug can't play 24-25 minutes a game, it's to say we haven't seen him do it so it's fair to wonder if he can. Would you feel good about your team signing a defenceman who can't play 23 minutes a night for 10 percent of total cap space? It feels like there are a lot of red flags here that should concern teams, especially with a flat cap.
*
Watching these playoffs, one question keeps popping into my mind as I'm watching the Dallas Stars: who is running the top power-play unit next year?
That question, if posed to me a year ago or more, would have elicited a laugh. John Klingberg is an excellent defenceman, at the very least he is excellent driving offence. He's a great puck-mover, he's a great playmaker, and he has great vision. It's not just hyperbole; note his offensive impacts (at even strength and on the power play) over the last three years, from Evolving Hockey: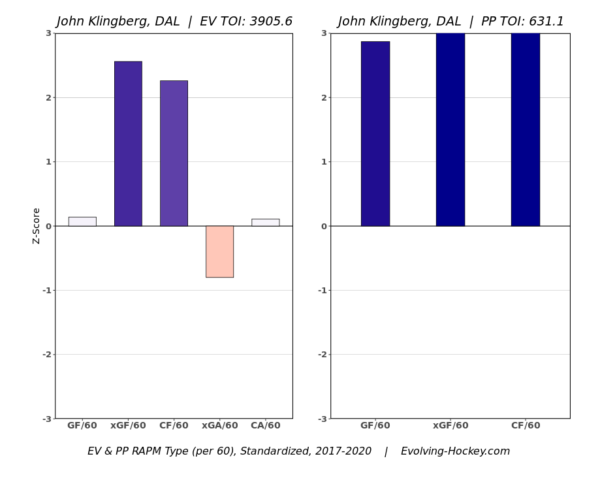 And he's excellent driving offensive play because he's excellent with controlled zone entries/exits, as demonstrated by CJ Turtoro's viz: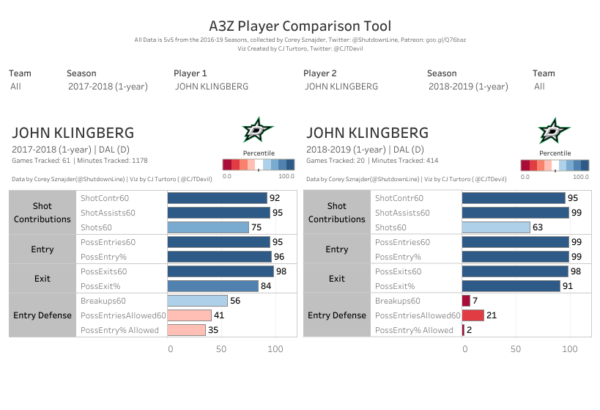 All this has resulted in a 5-on-5 assist rate over the last three years higher than the aforementioned Krug, and a higher assist rate on the power play over the last three years than guys like Erik Karlsson, Brent Burns, and Ryan Suter.
Even with all those accomplishments, it's a legitimate question to ask whether it should be Klingberg on PP1 next year, or whether it should be Miro Heiskanen.
I don't have a real good answer here. They've maintained Klingberg on PP1 throughout the playoffs so that is obviously the initial lean. But is Heiskanen going to surpass him in 4-5 months? Maybe they see the two guys as having different offensive skill sets and Klingberg is best for what they want to do on the PP.
That there's even a decision to be made speaks to just how good Heiskanen has been. He's so much fun to watch.
*
There was a lot of chatter after Brayden Point's 5-point game a couple nights ago about his draft. As was often mentioned on social media, he finished with 91 points for Moose Jaw in his draft year, on a roster that was 19th in scoring out of 22 teams. That year, no one else on his team had more than 55 points. For reference, it was the same year Sam Reinhart went second overall out of the WHL (from a team that scored nearly a half-goal more per game than Point's) and Leon Draisaitl not much later (from a team that scored even more than Reinhart's). This isn't ancient history, either. This is from 2014.
It's a good reminder that stats are only useful if they have context. Sure, Point wasn't a top-10 scorer in the league in 2013-14, his draft year. But his team was also pretty bad and he was head-and-shoulders above everyone else. That kind of context is important when looking for, say, a future franchise centre.
*
We need to keep an eye on Buffalo this offseason. I've talked a lot about the cap space that Colorado has – and they have a lot of it – but the Sabres have over $30M in space this summer with the only significant in-house contract likely being Sam Reinhart. After that, it's about filling out depth. In other words, they have a lot of room to play with.
This is important for Buffalo. There will be a lot of teams looking to shed salary as the cap stays flat the next year or two. Realistically, Buffalo is nowhere near where they want to be, so taking on bad contracts with a year or two left on them is very much viable.
It could be a tough sell to the team and fans. This team has mucked up their current rebuild and so asking for faith in this regard is asking a lot. But just going out and adding third and fourth liners isn't going to change the fortunes of this team. They need impact players in the franchise 2-3 years down the road when Eichel and Dahlin are both firmly in their peaks. Adding draft picks or top-end prospects in exchange for taking in bad contracts is a good way to go about this. They have a lot of flexibility, and they'd be stupid not to use it at a time when many other teams do not.