Ramblings: Reviewing the big signings and trades from the last few days
Michael Clifford
2020-10-13
Interesting quotes from Colorado general manager Joe Sakic about their blue line. He really made it seems like Conor Timmins will be in the lineup next year, which makes sense when looking at their depth. He can come slot on the third pair with a solid veteran like Ian Cole and get his feet wet while also not shouldering big responsibilities. Sakic also says that Bowen Byram will get a look, but with Timmins in the lineup, they have their top-6 set. It likely means another year of waiting for Byram until Cole's contract runs out after 2020-21, though he's likely the first-man-up should an injury hit.
On that front, Ryan Graves signed a three-year extension carrying an AAV of nearly $3.2M. With Graves and Timmins' cap hits, the Avs still have about $6M to play with. They do have a couple lesser RFAs to sign, though, so unless they're traded for futures, the Avs may be done in free agency outside of smaller signings.
*
Minnesota signed prospect goalie Kaapo Kahkonen to a two-year deal. The first year is two-way, the second is one-way. Looks like we should be expecting another year in the AHL for Kahkonen, barring injury.
*
It was quite the opening weekend for free agency. Anyone looking for the fantasy impact of signings and trades can check out our analysis section here.
Technically, I haven't had a Ramblings since the start of Free Agent Frenzy on Friday. I want to take the time to talk about what went on over the weekend because while free agency started with a bit of a fizzle, Saturday and Sunday brought a torrent of moves that have wide-ranging impacts on the fantasy game.
The big news was the 2018 MVP heading to Buffalo on a one-year deal. There are a number of reasons this makes sense – boosting value after a down year, avoiding signing a long-term deal in a flat-cap situation, playing with Jack Eichel – but it's still curious that he chose there. He has spent basically his entire career on non-playoff teams, so why pick a team that hasn't made the playoffs in nearly a decade? Again, I think this is more about the reasons why this makes sense than why this doesn't.
Regardless of why he's there, the fact that he's there now gives the Sabres the chance to put together two scoring lines for the first time since… ah, 2012?
First things first: I cannot wait to watch Eichel/Hall play together. Eichel is in his prime as one of the top players in the league. Hall is still in his 20s and even in his 'bad' 2019-20 season, he paced for 21 goals and 66 points per 82 games while playing two of the bottom-10 teams in goal scoring last year. What is he going to do with an all-world centre both at 5-on-5 and on the power play? It is an exciting prospect.
It does make me think Jeff Skinner is going to get the short end of the stick at evens and with the man advantage. He is going to assuredly start on the second line with Eric Staal, which makes sense when thinking back to their time together in Carolina. At the same time, they were often not on the same line and that was a few years ago now so just assuming instant chemistry may be misguided. I also think Skinner may be relegated to the second PP unit. The reason is because Eichel plays one side, Olofsson typically played the other in 2019-20, and Hall will probably play below the goal line. That leaves one spot – the bumper – and it's probably going to be Skinner or Reinhart. I lean Reinhart because he was often left on the top PP unit with Skinner getting bumped to PP2 last year when they ran 3F2D. Assuming Hall just replaces one of the d-men, I am just assuming they'll run the same thing back, which means Skinner to PP2.
There are a lot of assumptions here but they're rooted in prior decision-making. If Skinner really does start L2/PP2, well, it's going to be hard to get back to 30 goals. It does put point-per-game production firmly in Hall's realm, though.
There was a time when I was very, very high on Brandon Saad in the fantasy game. His problem, outside of a lack of hits in banger leagues, was always his power-play production. He can post 20 goals like clockwork, but he has just one season of 10 PPPs in his career (it was exactly 10 and it was five years ago). He had eight PPPs in his second three-year stint with the Blackhawks. That is across all three seasons, to be clear.
In that sense, going to Colorado may not be some huge upgrade. He spent a lot of time with at least one of Jonathan Toews or Patrick Kane last year. The on-ice goal rates for MacKinnon+Landeskog at 5-on-5 weren't far off those of Toews or Kane when playing with Saad. In that sense, it could be a lateral move as far as 5-on-5 production goes. It may even be worse if he doesn't skate with MacKinnon because guys like Kadri and Compher are not in the Toews/Kane realm for playmaking. He won't get to the top PP unit without injuries, so there may be an argument this is worse for Saad, fantasy-wise.
In real hockey terms, this was a win for the Avs. In fantasy terms, this should probably be seen as a lateral move for Saad, if not a small step back.
The Leafs cleared a bit of cap space by sending Johnsson to New Jersey. When I was writing about Johnsson last year post-Kadri trade, the thing that stuck out to me was Johnsson's role on the power play. Like the aforementioned Skinner and Kadri, Johnsson plays the bumper slot on the power play. These are his shot charts from the last two years with the Leafs from Hockey Viz: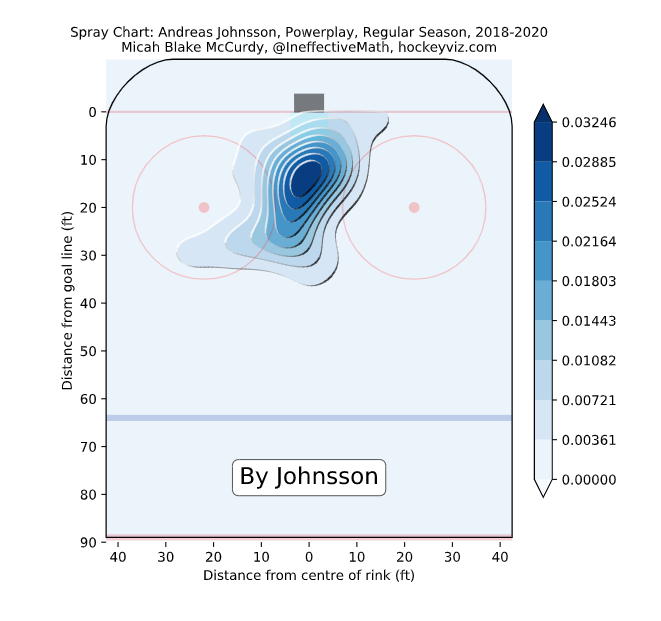 Now, players can obviously switch roles when they switch teams, or even just when a new season starts with the same team. This isn't to say that he will be used in the bumper PP role for the Devils, but they would be aware of his prior usage and may not want to get him to learn a new PP role. Having a rebounding Jack Hughes dishing the puck to Johnsson in the bumper on the power play is making me feel feeling.
The wrinkle: both Hughes and Hischier played the down-low/bumper role last year. If we assume Gusev and Palmieri are locks for the top PP unit, and Johnsson plays the bumper, that would leave one of Hughes and Hischier on the outside looking in (my guess is it would be Hughes who gets bumped to PP2). Of course, the other option is Johnsson to PP2 and leaving both Hischier/Hughes on the top PP. We just won't know for sure until games start back up again.
More ice time and being assured a good playmaking centre should mean good things for Johnsson. How the team decides to run their power play could mean the difference between having him on your fantasy radar or on your fantasy wish list.
I think one of the best signings of free agency was Mr. Smith going to Boston. He's long been one of the better play-driving wingers in the league and while his lack of finishing means things like 35-goal, 75-point seasons are a bridge too far, he shoots enough that 25 goals and 50 points are within reach.
Smith might get a crack at the top PP unit but we should pump the brakes on what exactly that means. Jake DeBrusk and Danton Heinen got lots of top PP time last year and combined for 16 PPPs. That is not 16 PPPs on the top PP unit alone between the two, that is 16 PPPs on the power play in total. The power play just does not run through the fourth forward. It runs through the top line and (formerly) Torey Krug. Even if Smith is stapled to the top PP unit the entire season, expecting more than 15 PPPs is expecting too much. If he can manage 10, that should be seen as a very successful and productive season on the man advantage.
Speaking of Krug, it sure seemed like that Blues signing came out of nowhere, right?
Anyway, the Blues' power play was very good last year, coming in third in goals/60 minutes. The year before, they were 11th. Now, Boston should still have the better top PP unit, even with Vladimir Tarasenko back in the mix, but I don't think this is a situation where Krug crashes down to like 15 PPPs. I still think 20-25 is reasonable, but that's a far cry from the 34 PPPs/82 games Krug averaged over the last three years.
The real question is how much ice time they give him. Krug has never skated 22 minutes or more per game for a full season while Alex Pietrangelo has never skated fewer than 22 minutes per game for a full season (or, at least not since his nine-game stint in 2009-10). Do they just hand him 24-25 minutes a night, or do other players pick up the slack? My guess is it's the latter, so if Krug averages 21 minutes a game for the Blues, a team that should be lower-scoring at all strengths than the Bruins, those routine 50-point seasons are not so routine anymore.
Poor Vince Dunn…
*
Those are just the signings from the weekend. There were a bunch of impactful signings and trades on Monday:
And, of course, we got Pietrangelo to Las Vegas. I'll chime in on these in a Ramblings later this week.