Ramblings: Reviewing major moves made this offseason
Michael Clifford
2020-10-20
Doc Emrick, the long-time NHL play-by-play announcer, announced he will be retiring. He has done much more than just NHL, having announced international competitions as well, in particular the Olympics, so he will be familiar even to those outside of America. For those in America, he is likely your voice of hockey.
He announced his retirement in the only way Doc could:
After 3,750+ Professional and Olympic hockey games, 100 different verbs used to describe a pass or shot, and 22 Stanley Cup Finals, the legendary Mike "Doc" Emrick has announced his retirement from broadcasting.

From hockey fans around the world, we say #ThankYouDoc! pic.twitter.com/Pt27Dp63TW

— #ThankYouDoc (@NHLonNBCSports) October 19, 2020
Best wishes to Mr. Emrick on his retirement.
*
Free agency is largely behind us now. The first weekend was a mad scramble, and there will be signings that trickle over the next couple months, but most of the work has been finished. I just wanted to talk about a few of the teams from a macro view.
Montreal
The Habs went and addressed their most glaring need: depth at the wing. They hit a homerun with the signing of Tyler Toffoli and while the Josh Anderson contract is probably longer than they'd like, if he can play like he did before the 2019-20 season hit, it'll be fine. (That's a big "if" and the value of the entire contract hinges on it.) If they move Toffoli to left wing, their top-4 wingers are Tatar-Gallagher and Toffoli-Anderson. That's a drastic improvement from a year ago.
I am still of the mind that the Joel Edmundson contract was a waste of money. They could have just run a top-4 of Chiarot-Weber and Kulak-Petry with a bottom pair of Mete-Romanov, and probably been just as well off while saving themselves $14M. At the same time, as long as Edmundson is on the bottom pair, it shouldn't hurt them too badly.
They finished things off by extending Brendan Gallagher for six years with another team-friendly contract.
All in all, this was a very promising signing season where one bad deal and one iffy one will make or break it. If Edmundson can be passable on the bottom pair and Anderson can return to 2018-19 form, this offseason is a home run. If those things don't come to pass, it's still fine. Not a home run; maybe a double off the end of the bat down the right-field line.
I am still a bit reticent for saying the Habs have overhauled anything until they produce a quality power play. This may surprise some people but the Habs ranked favourably to other great teams in goals/60 minutes at 5-on-5 like Boston and St. Louis. The goal-scoring problem was the power play ranking similarly to other bad teams like Los Angeles and New Jersey. New faces and more improvement from Nick Suzuki could change things, but we need to see it first.
Buffalo
The big signing was Taylor Hall. We've seen how much wingers can benefit from playing with Jack Eichel – Skinner's 40-goal season, Olofsson putting up 20 goals in 54 games as a rookie, Reinhart posting three straight 20-goal, 50-point seasons – so that Eichel will be getting an actual MVP on his wing is very exciting. Hall was over a point-per-game player from 2011-2014 back in Edmonton and put up 93 points in his MVP season with the Devils. What will he do with a full season of Eichel? It's exciting to think about.
They made a few signings to help fill out their depth beyond Hall, but the trade for Eric Staal is what's crucial here. For years, the problem has not been Buffalo's top line, but that Buffalo has never had a good second line. Eric Staal of 2020-21 is not the Eric Staal of 2013-14, but he's still a good offensive player. Here are his zone entry/exit numbers, and shot assists (rate of passes leading to shots of teammates) over the last two years from CJ Turtoro and Corey Sznajder: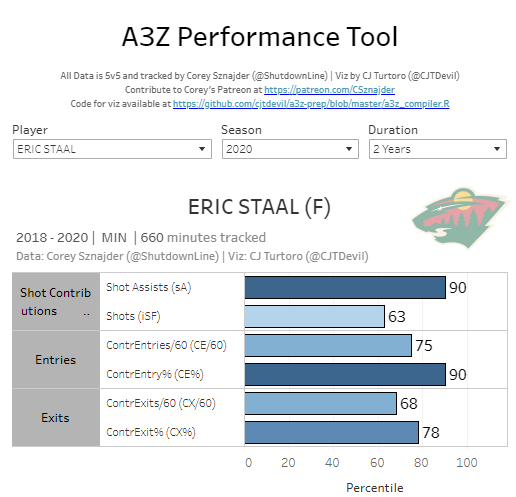 He's not the player he was 5-6 years ago, but Staal is still good at creating offensive environments for his wingers, and he'll finally (presumably) get a full season with Jeff Skinner on his wing. Last year, playing largely with Staal, Kevin Fiala finally had his breakout season. Can Skinner get back to the 30-goal mark? It will depend partly on his power-play usage, but it's looking like a better bet now than it was two months ago.
This was Buffalo's best offseason in years but there are still a lot of holes, like a weak bottom six. They are still in tough for a wild card playoff spot, and both Staal and Hall have just one year on their contracts.
Calgary
The Flames lost both T.J. Brodie and Cam Talbot, and replaced them with Chris Tanev and Jacob Markstrom. The signings combine for a cap hit exceeding $10M, which is greater than what Brodie and Talbot signed for.
Something interesting from the 2019-20 season: Calgary had a .919 save percentage at 5-on-5. Vancouver's save percentage? Also .919. Now, that's obviously goalies from both teams figuring into that number, so let's narrow that down: last year, both Talbot and Markstrom had .918 save percentages at 5-on-5. That obviously doesn't factor in differences in team defence, and Markstrom had the better year when figuring in the defensive environment. I just want to point out that Markstrom's results weren't different from Talbot's.
In my mind, Calgary basically shuffled deck chairs. Markstrom is an upgrade on Talbot but Tanev is a downgrade on Brodie. For a team that has been spinning its wheels for a few years now, it's not a big step in a different direction. Any improvement from this team will come from guys like Gaudreau and Monahan having rebound seasons, which is where fantasy owners should focus their attention.
Nashville
The Predators bought out Kyle Turris and made a bunch of small signings like Mark Borowiecki, Brad Richardson, and Nick Cousins. They also brought in Luke Kunin from Minnesota. This was all done with a  purpose, as GM David Poile said they were moving away from some skill players to add more grit. This was a team that finished in the middle of the league in goals scored rate last year. Taking away skill from that would, presumably, lead to fewer goals scored. If that is the case, then it also must result in much more fewer goals allowed or it was all a waste. We'll see what happens for a team that didn't have a single forward reach 25 goals or 50 points last year.
From a fantasy perspective, it's hard to get excited about Nashville. Purposefully abandoning skill isn't something fantasy owners like to hear, and coach John Hynes is a guy who likes to spread out ice time. (Filip Forsberg, for example, played 16:36 over his final 31 regular season games.) If the team is intentionally going to go to some Islanders-esque approach, and their stars are playing just 16-17 minutes a game, well, it's a nightmare for fantasy owners. It is really hard to trust any of their forwards at the moment.
My hope is young players like Tolvanen and Tomasino can get on the roster somewhere in the middle-6 to contribute offensively. The Preds will probably need the help.
Winnipeg
The Jets made out a lot better than they're given credit for. Paul Stastny was a trade, not a signing, but it gives them a viable 2C for the 2020-21 season. They had Cole Perfetti fall in their lap at pick 10 in the Entry Draft, and if the season doesn't start for four months, he'll have more development time to put in, which (I hope) means he'll have a crack at the roster out of camp. They re-signed Dylan DeMelo, who is a legitimate second-pair defenceman, and a badly-needed fixture of the top-4 mix. While free agency wasn't a home run for them, per se, a lot of good things happened for them in the offseason.
I think the crux of their 2020-21 season, beyond Connor Hellebuyck repeating his Vezina performance, will be Ville Heinola. It seems like forever ago, but he had a brief tryout at the start of the 2019-20 campaign and looked good for the Jets. If he can step in and be a top-4 defenceman out of the gate, now they have Morrissey/Heinola/DeMelo. That is two more top-4 defencemen than they had a year ago. Add that with Stastny and there is a lot of positive news around Winnipeg these days.
There are still the rumours they could trade Patrik Laine, at which point we may need to re-assess. At the least, they shouldn't need Hellebuyck to stand on his head every game.