Fantasy Take: Buchnevich Unloaded to St. Louis
Michael Clifford
2021-07-23
This one kind of hits home because as a fantasy analyst, there are players we have to believe in. There are players that come along and the analyst identifies something they like about the player and start of sort to root for them. Bias can set in here so it's a very tricky path to walk down, but it happens with every analyst in any sport. Personally, going back a decade, guys like Dmitrij Jaskin, Valeri Nichushkin, and Vince Dunn were/are personal favourites of mine, and I always root for them.
One of these players is Pavel Buchnevich. It's more for how he was treated through his first 4-5 years in the NHL. He was showing true top-line skill but the team kept stuffing him in the bottom-6. It is hard for top-end players to flourish when they're stuck with bad line mates.
That script flipped in 2021 when Buch was given top-line duties, at least at even strength, and penalty-kill duties. He was arguably the team's best player through the end of March and seemed to finally be rounding into a true two-way top-line winger.
So, of course, the Rangers traded him:
There are cap implications for the Rangers, which is why Buch was traded. That said, there is a non-zero chance they just traded their second-best winger for a non-first round pick next year and a fourth liner.
Let's get to it.
What the Blues get
As mentioned, Buch has been a good player for years, at least offensively. I thought I would compare him to another young winger, from 2017-2020, from Evolving Hockey: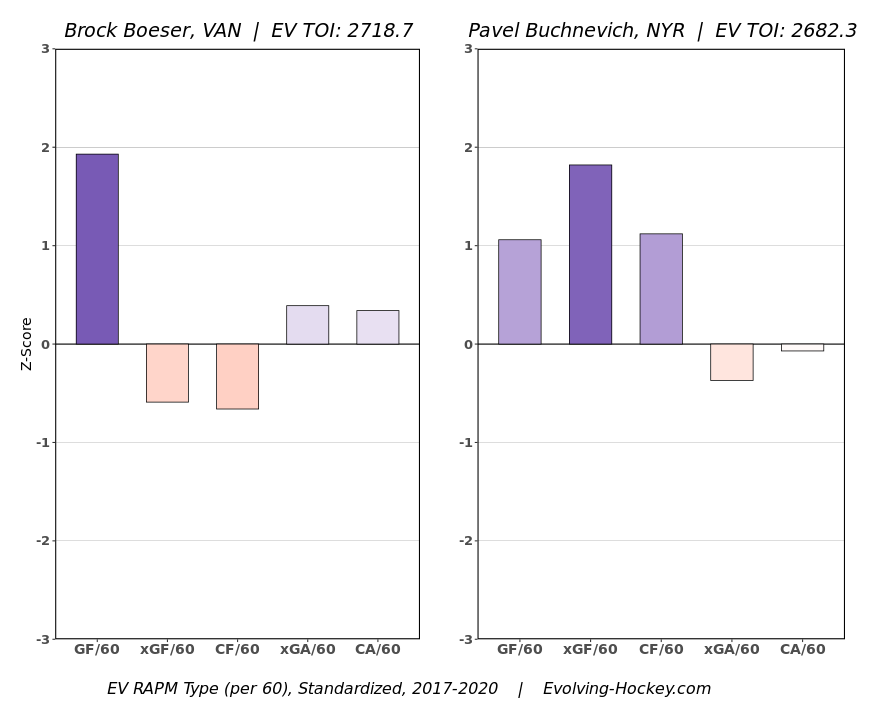 Now, we know that Boeser has a wicked shot and that's what makes him so valuable, so they aren't the same player. But Boeser's primary points/60 at 5-on-5 from 2017-20 was 1.55 and Buch's was 1.42. That difference is about two points every season. How would Canucks fans feel if Brock Boeser h