Geek of the Week: Planning Ahead for All-Star Week and Beyond
Scott Royce
2022-01-23
Hello everyone, hope everyone has had a good fantasy week, and for those of you in the northern states of America and most of Canada. Hope you survived the copious amounts of snow that's been dumped on us over the past week! As many of you know, the NHL schedule was revised this week and things are gonna get a little bit crazy in a week or two. The players won't be going to the Olympics, but to fill that giant Olympic-sized void in the upcoming schedule, the league will be making up a slew of previously postponed games. And just one more caveat, there's still an All-Star game and break to contend with as well, so things are going to be very touch-and-go over the next few weeks.
I know we are still a couple weeks away with this stuff, but I still think it's worth bringing up now, especially with my columns being every Sunday. At the end of next Sunday other people may have already taken action, so it's best to be prepared. Next week is busy, but largely business as usual, but just as a quick aside, the Leafs, Lightning, and Predators all only have two games next week, so keep that in mind. The following week is where things start getting a bit hectic.
For those of you in head-to-head leagues, Week 16 will be a two-week affair thanks to the All-Star Game. That means January 31 to February 13 will be one matchup rolled into one. Regardless of what format your league is in though, the schedule gets a bit wacky thanks to all these make-up games. As seen below, there's eight teams with a heavier workload, but at the same time there are seven teams who barely play. Depending on who you have rostered, this can have huge effects on your fantasy team.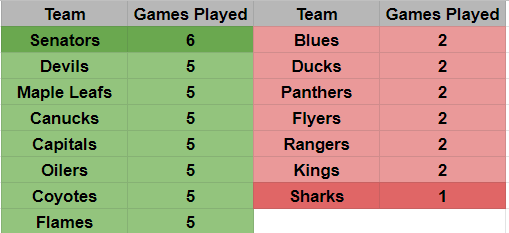 With all this in mind I've come up with a few recommendations for players to pick up who will be playing a ton over that two-week period. Of course, you have to ke