Daily Fantasy Saturday: Vegas Could Be Gold
Stephen Dotzel
2022-04-09
Dobber Hockey has officially entered the DFS space which if in case you missed it, our DFS subscription service, complete with our lineup optimizer, recently launched. If you want to see more, check out the link below where we're running a promotion:
Try Our Daily Fantasy Tools – Thousands of simulations run instantaneously to provide you with the most optimized lineup – Order Now and Get $20 Off!
Looking back to last Saturday, here's what the $10,000 first place lineup for username "mackman1995" looked like in the DraftKings Top Shelf contest: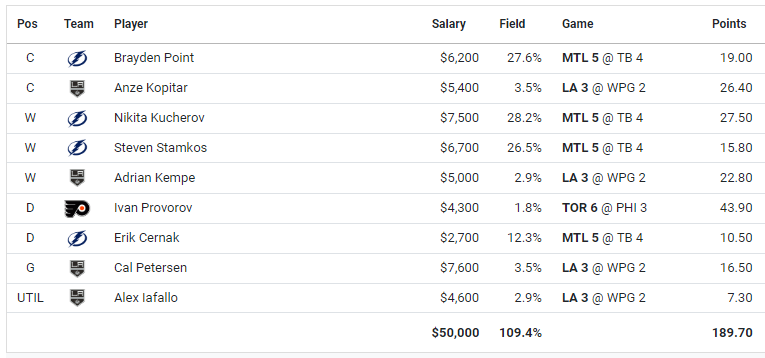 Once again, we see the familiar 4-3-1 lineup stack construction finding its way to the top with seven of the eight skaters in the lineup on the top power play and the four-player stack coming in at under $25,000 in combined salary. All of these are points we've touched on over the past few weeks. The Tampa Bay and Los Angeles top lines as well as Ivan Provorov were all players referenced in this article last week, which is nice to see. Hopefully if you played you were able to land on a similar style lineup. If not, there's always this week.
The regular season is winding down with only two Saturday slates left after this week, so we need to make the most of what's left. There's a nice slate of nine games on tap for tonight, so let's find some places to target. All players and prices are from DraftKings but can be applied to any site.
Four Player Stacks under $25,000
Edmonton – If you know me, you know I like targeting against teams on road back-to-backs. I don't discriminate so even though that team tonight is the best in the league, that doesn't mean I won't stack against the Avalanche, who are dealing with a few injuries and are coming off an overtime game on Friday. You also don't have to twist my arm to roster Connor McDavid ($9,200). Stack him with Leon Draisaitl ($8,100), Kailer Yamamoto ($3,200), and one of Tyson Barrie ($4,400) or Evan Bouchard ($4,300) to get a four-man stack just under the salary threshold.
Toronto – Not going out on much of a limb here, but sometimes the obvious choice is the correct one. Fading Auston Matthews ($9,600) and company of late has not worked out very well considering he has 49 goals over his las