Experts Panel: 2021-22 Playoff Round 1 Predictions
Ian Gooding
2022-05-01
The puck is about to drop on the Stanley Cup Playoffs! As is the case every season, the panel is weighing in with predictions for each of the eight playoff series, the Stanley Cup finalists and winner, and Conn Smythe Trophy winner. The panel will also return for more predictions at the start of every round.
The 2021-22 Stanley Cup playoff series:
(A1) Florida vs. (WC2) Washington
(M1) Carolina vs. (WC1) Boston
(M2) NY Rangers vs. (M3) Pittsburgh
(A2) Toronto vs. (A3) Tampa Bay
(C1) Colorado vs. (WC2) Nashville
(P1) Calgary vs. (WC1) Dallas
(C2) Minnesota vs. (C3) St. Louis
(P2) Edmonton vs. (P3) Los Angeles
For matchups, the number shows the seeding within the division.
The panel's lifetime record is 114-73 when it comes to postseason predictions.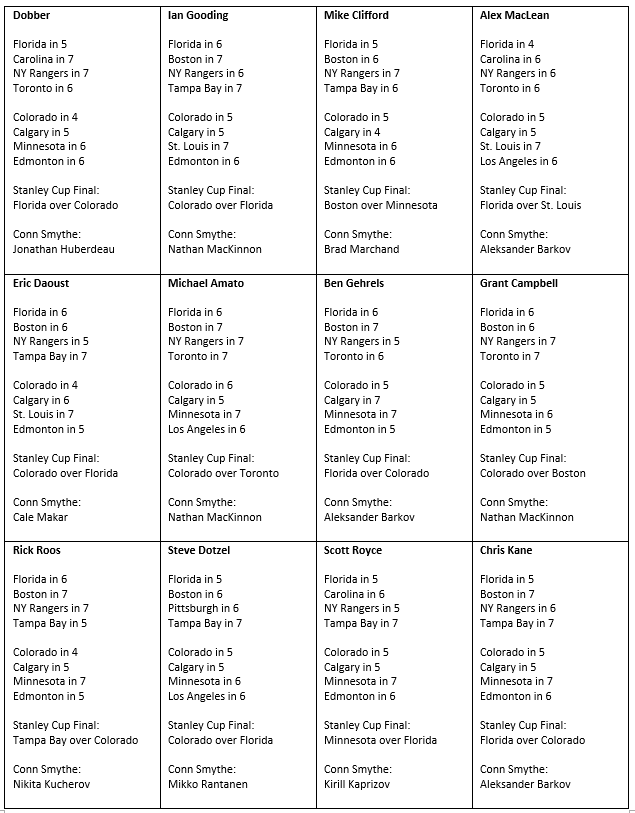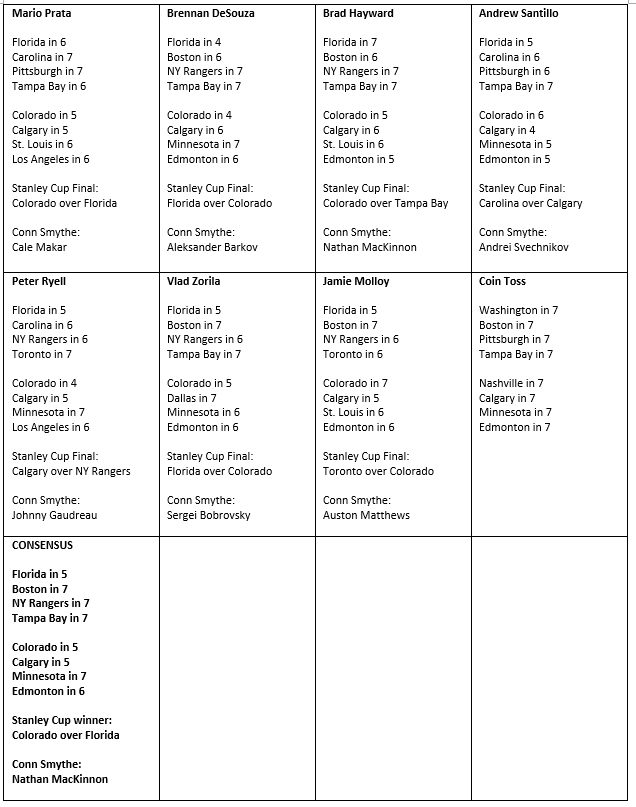 For the coin toss, heads was the higher-seeded team. The default is seven games for each coin toss pick, as well as for any writers who replied only with series winners. The coin toss results aren't counted among the aggregate results – they are just there to embarrass any of our writers if needed. 
Strong Favorites
Florida and Colorado were both unanimous selections among all 19 panelists to win their series, as not a single panelist chose either Washington or Nashville to win.
All but one panelist chose Calgary to win over Dallas. Like Florida and Colorado, Calgary was projected by the panel to win its series in five games.
Too Close to Call
All of the series have a clear majority in terms of a winner. However, Boston/Carolina, NY Rangers/Pittsburgh, Tampa Bay/Toronto, and Minnesota/St. Louis all have seven games as the most frequent choice among all who chose that majority. Could that mean another Game 7 heartbreak in Toronto? Not ideal if you're a Leafs fan.
Stanley Cup winner
The panel has chosen Colorado to win the Stanley Cup, with Nathan MacKinnon the most popular Conn Smythe Trophy winner from that team. Both Colorado and MacKinnon are the panel favorites for the second consecutive season. Maybe th