Experts Panel: 2021-22 Conference Final Predictions
Ian Gooding
2022-05-31
After being accurate on six of the eight first-round playoff series, the panel did not fare as well in the second round. Colorado was the only winner picked correctly, with favorites Florida, Carolina, and Calgary all now eliminated. At least the panel was also right on the length of the Colorado – St. Louis series (six games).
No panelist correctly picked all four second-round playoff series, which would have been difficult to do with multiple underdogs coming out on top. However, all of Eric Daoust, Brad Hayward, Mike Amato, and Rick Roos correctly picked the winning team from three out of the four series. Daoust and Hayward are the top prognosticators of the playoffs with correct predictions in 10 of 12 playoff series.
The 2021-22 Conference Final series:
(M2) NY Rangers vs. (A3) Tampa Bay
(C1) Colorado vs. (P2) Edmonton
For matchups, the number shows the seeding within the division.
The panel's lifetime record is 121-78 when it comes to postseason predictions.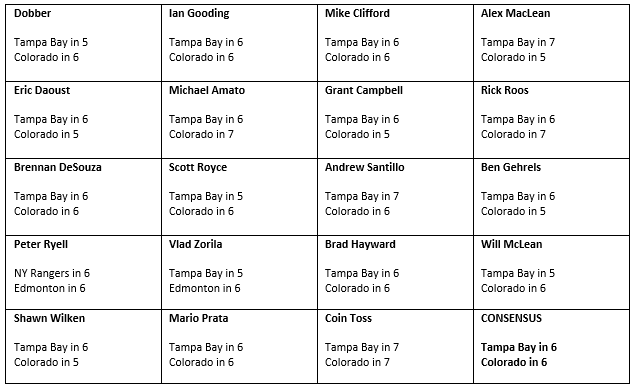 For the coin toss, heads was the higher-seeded team. The default is seven games for each coin toss pick, as well as for any writers who replied only with series winners. The coin toss results aren't counted among the aggregate results – they are just there to embarrass any of our writers if needed.
Not surprisingly, the Avalanche are favored by all but two panelists. That should not be a surprise, as they were the panel's Stanley Cup favorite to start the playoffs, as well as the team with the best odds at many betting sites.
The writers are also ready to jump back on the Tampa Bay bandwagon after they were the underdogs against their cross-state rivals. All but one writer is picking the Lightning. The Rangers were also not favored to defeat the Hurricanes, which could factor in. The fact that the Bolts have now won 10 consecutive playoff series should also weigh heavily.
Agree? Disagree? Comments?
About the panel
Dobber launched this website in 2005 after he was the fanta