Fantasy Impact: Chicago Hires Luke Richardson as New Head Coach
Dobber
2022-06-27
The Chicago Blackhawks have hired former NHL defenseman Luke Richardson as their new Head Coach.
Richardson was a big (6-4, 210 pounds), tough stay-at-home defenseman who played 1417 career NHL games and compiled 2055 penalty minutes. He works his players hard, but is also a player's coach in the sense that he does things such as joins them when he has them doing bag skates. This 'lead by example' philosophy is definitely a fresh take on the job.
Richardson was Montreal's Assistant Coach for the last four seasons. Prior to that, he was the Head Coach of AHL's Binghamton Senators, Ottawa's affiliate at the time. As coach of Binghamton, his team led the AHL in total goals scored with 276 back in 2013-14, and the team was fourth in goals the following campaign. This is a promising sign for fantasy owners of Chicago players, though without any kind of NHL track record it's difficult to know for sure.
Let's take a look at Chicago's Usage Chart under their former coach, so we can determine if any players were being used in a way that may change.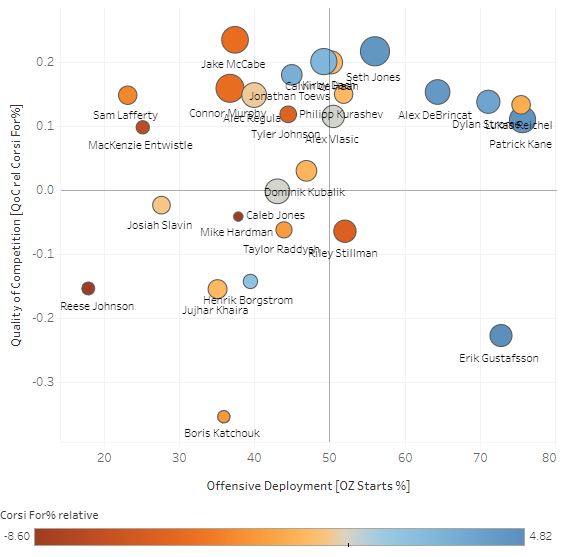 Looking at this, it would seem possible that Jonathan Toews and Kirby Dach could be pushed into more offensive situations. And Dominik Kubalik seems to be a mismatch for that kind of deployment (though that's due to being out there with those particular linemates). Patrick Kane seeing over 75% Offensive Zone Starts is quite high, and Richardson may dial that down to something closer to 60%.
But nothing huge really sticks out there. Every coach has their favorites, and we'll have to wait and see who becomes Richardson's pet. I would be cautiously optimistic for Kubalik, Dach and Toews, and I may dial Kane back a tad. But otherwise, it's best not to let this change your philosophy when it comes to Chicago players.