The Journey – NHL Draft – Mid-Round Fantasy Bargains
Kevin LeBlanc
2016-07-09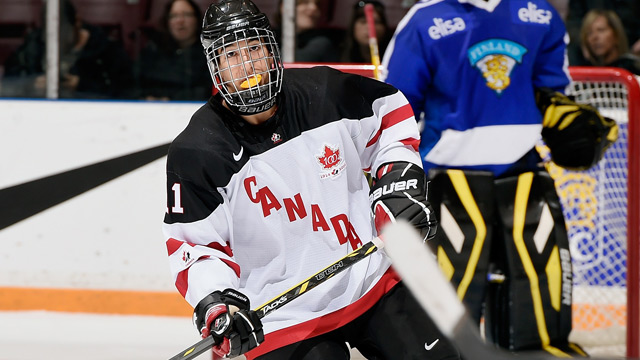 The Journey examines which mid-round picks from the 2016 NHL Entry Draft are fantasy value picks based on their drafted position and team. These are players who if they become NHL players could be fantasy relevant additions down the road.
Jordan Kyrou – Drafted 35th Overall – St. Louis Blues
Kyrou was a strong three-zone player for Sarnia this past season. He is an elite skater who uses his speed and control to gain time and space in the offensive and neutral zones. He has a good amount of offensive potential and has shown high-level ability in flashes throughout his career with the Sting. Last season he put up 58 points in 72 regular season and playoff games, and added another eight in seven games while playing for Canada at the U-18's
As he continues to get stronger, Kyrou's shot should improve, and if that happens, he could be a potential steal in the second round. He is joining a St. Louis organization that will allow him the time needed to develop. Kyrou should take on more offensive responsibility for Sarnia next year and with that should come higher point totals.
Samuel Girard – Drafted 47th Overall – Nashville Predators
Girard was named the QMJHL's Defenseman of the Year last season, piling up a league-best 64 assists for his position. As a fluid skater, he excels at zone-exits and zone-entries due to his ability to carry the puck confidently. Girard is a pass-first player who does a ton of damage with the man advantage, preferring to set up his teammates for scoring opportunities. As he gets stronger, his shot should continue to improve, which will add another element for opposing players to have to defend.
Given the logjam on the Predators blueline for the near future, and the drafting of Dante Fabbro with their first-round pick, Girard's eventual future could be with another organization. He is a good ways away from playing professional hockey, but projects as a bottom-four defenseman at even strength, and a dynamo with the man-advantage.
Vitali Abramov – Drafted 65th Overall – Columbus Blue Jackets
At 5-foot-9 and just 175 pounds, Abramov will have a tough climb to the NHL, but he does have the top-end skills to make it. After being the 13th overall pick in the CHL Import Draft, the undersized Russian impressed for Gatineau leading all rookies in goals (38), assists (55) and points (93) in the QMJHL.
Abramov is a terrific skater and has good hands, which is important in a player of his stature. Defenders tend to back off the shifty winger in fear of getting beat, which opens up passing lanes that Abramov is able to exploit with his good vision. Columbus is building prospect depth after a number of graduations and trades in recent years, and with Brandon Saad their only winger under 26, Abramov could push for a spot in the future.
Adam Fox – Drafted 66th Overall – Calgary Flames