Hockey has begun! Over in Finland, the Jr A SM-liiga has fired up regular-season contests. That's right people, we are darn close meow! It's fitting that Finland is getting us rolling as word came down in the wee hours of Tuesday morning that former fourth overall selection, Jesse Puljujärvi has signed a one-year deal with his hometown team, Kärpät in the Finnish Liiga.
Puljujarvi feels like he's been around forever, but the power winger just recently turned 21 years old this past May. He returns to the spot where he witnessed such tremendous success as a teenager. It will hopefully provide him with the opportunity to find his mojo and make a quick return to the NHL.
The deal does provide him with an NHL out-clause up until December 1st. Additionally, word around the campfire is that GM, Ken Holland is looking for a pick and prospect/young roster player in any trade. Puljujarvi has made it clear he will not be returning to Edmonton.
Well, Kärpät just got a whole lot more interesting.

Puljujärvi will join Tuuka Tieksola (CAR), Justus Annunen (COL) and the Räty brothers – one of which, Aatu, is looking like the top pick in 2021 draft. https://t.co/92a2eJrinA

— /Cam Robinson/ (@Hockey_Robinson) August 27, 2019
For the Oilers, this represents another notch in the bedpost of shame. The club has produced more failed lottery picks in the past decade than some organizations can be accused of in their club's history. Here lies a team in desperate need of offense from the wings – I mean, they have Zack Kassian, Alex Chiasson, and James Neal looking like top six LOCKS. And they still couldn't convince the former fourth-overall pick to rejoin the fold.
If we want to take some positivity out of this move for anyone but JP, his leaving will open up a spot for a young player to make a push for. Many people will assume that's Kailer Yamamoto, but don't sleep on Tyler Benson. The former Vancouver Giants' captain had a splendid first pro season in Bakersfield. His 15 goals and 66 points in 68 games led all U21 scorers. Ahead of Martin Necas and Drake Batherson – two players who are universally regarded ahead of the Edmonton-native in the fantasy landscape.
This isn't a player who is void of pedigree either. Despite being a second-round selection in 2016, Benson was once an Exceptional Status candidate in the WHL before going first overall in the bantam draft. Benson is a natural left-wing, but was used on the right-side for stretches in junior and could realistically push for a job on either side. He plays a sturdy game that should lend itself well to immediate trust from the coaching staff.
You could do worse than Benson on a late-round flier in deep leagues. His competition to land a job in the top six is as pillowy as it gets.
**
One of the greatest journeyman netminders has hung them up. All the best, Mike!
Please read 🙂 pic.twitter.com/xidY5FgHca

— Mike McKenna (@MikeMcKenna56) August 27, 2019
**
Let's get back to the Finns and talk about Roope Hintz for a moment.
This is a player that has taken a beat to acclimatize to a new level of competition and then promptly accelerates his production. It was that way in the Finnish Liiga and the American League. And now many, myself included, are predicting he'll do the same in the NHL.
Despite his consistent growth, the 22-year-old was mostly unheralded as a rookie last season. And with just cause for the most part. Hintz recorded just three goals and nine points his first 38 games. However, the last 20 contests saw him score six goals and 13 points while putting 2.5 shots on goal per game.
He still failed to earn a single Calder trophy vote.
The postseason saw him continue that fourth-quarter trajectory. He scored five goals and eight points in 13 spring contests. The burst in production coincided with the Stars sliding him beside Tyler Seguin and Alex Radulov. Which shouldn't be considered a negative. Not only did his play elevate while being surrounded by more talent, but Seguin and Radulov played at their best paces in the final quarter with Hintz as their primary left-winger.
Many people are sliding Hintz onto the second line beside Joe Pavelski – which would be just fine for a potential 40-plus point season. However, I feel the Stars are going to look long and hard at keeping Hintz up on the top line while meshing Pavelski with Jamie Benn. Now all of a sudden a one-line team has some depth.
Hintz won't be peeling off top power-play deployment anytime soon, which will inevitably keep the boom from being spectacular. But this is a player who could realistically challenge the 50-point mark in 2019-20 while chipping in some shots, blocks and hits in the process.
**
Yesterday, Mike Clifford dropped some very realistic yet bold predictions. It inspired me to drop one of my own.
Svechnikov played a full season as an 18-year-old and scored 20 goals. Somehow that fell way under the radar. Looking at his season-long metrics paint the picture of a kid who played outside of the top six at evens and stole about a minute on the second power-play unit. However, diving deeper, we see that during his first two quarters, he was given some decent looks beside Sebastian Aho. It was then that he produced the most goals and points, but also the most shots on net.
During the back half of the season, the 2018 second overall pick played fewer offensive minutes. His shot rates dipped. However, despite this, he still managed to produce some points, while finishing chances at a higher rate.
The postseason welcomed him into the top six and a spot on the team's top unit. His 0.57 points-per-game last spring represents just a glimmer of what is to come. The Hurricanes will soon be utilizing his release from the top of the circle as a key weapon in the umbrella. Up to this point, they've used him in the bumper spot or down in the paint. He can be an effective finisher from that area, but it's his ability to finish from the outside that sets him apart.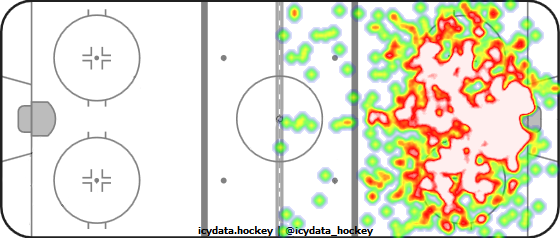 Despite taking the majority of his shots from the bumper/slot area, half of his goals came from outside the dots on the deep right. Give some more space in the middle of the ice on the man-advantage and watch the net fill.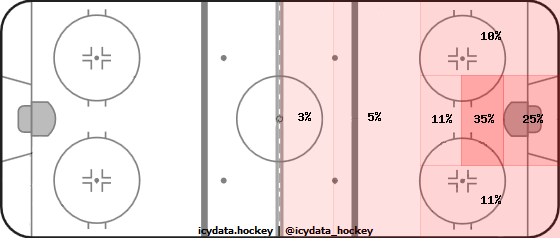 Look for the 19-year-old to take a firm grip on the top left-wing gig beside Aho and across from Teuvo Teravainen. Add in what should be at least 2:30 on the top unit and he should see substantial production. While the rest of the world trips over themselves to select the green bananas in Hughes and Kakko, you will be smart enough to skip the wait time and grab the sophomore heading towards stardom.
Viz courtesy IcyData
**
I wonder if we ever see former first-rounder, Nicklas Jensen give the NHL another go around? The now 26-year-old failed to secure a big-league job with the Canucks or Rangers before departing for Jokerit of the KHL in 2017-18. Since then, he's become one of the better offensive players in Russia.
The 6'3 forward is capable of playing either side of the rink and has matured into a confident two-way player. His goal-scoring ability has never been in doubt (outside of the NHL) and he has the pedigree that GMs often trip over themselves for. Jensen will be 27 at the end of the season and should be free to explore NHL options for 2020-21. There is an option on his current deal, but it is unclear if it's a team or player option.
Just something that popped into my head when I saw he scored a couple in a preseason game this week.
**
Follow me on Twitter @Hockey_Robinson