Ramblings: H2H playoffs; IIHF cancellations; Kubalik for Calder; Zacha; Tatar – March 3
Michael Clifford
2020-03-03
Well, we've reached that time of year: head-to-head playoffs. Some may have already started, some may have yet to start, but March, in the fantasy hockey world is H2H month.
Just wanted to see one thing: I thoroughly enjoy H2H leagues. I know sometimes they get downplayed outside of fantasy football due to the randomness, but that randomness is why we keep watching sports. Things like Vegas's Cup run, Columbus's sweep of Tampa, that Game 7 between the Sharks and Golden Knights, and so on. Same goes for H2H fantasy.
It's not often we see an 8-seed upset a 1-seed in fantasy hockey, but it does happen. We rarely see a 7-seed win a title, but it does happen. Those kinds of things might drive some players nuts, but I think it's just embracing the sport we care about. It always sucks to be on the losing end of a playoff matchup regardless of seeding, but to be on the winning end of an upset or two is such a great feeling. It doesn't happen often, but when it does, it's memorable.
Anyway, nothing long-winded here. I just enjoy all types of leagues and the appeal of H2H is never going away, curmudgeons be damned. Good luck to the 8-seeds out there.
*
Not fantasy-related for now, but it's worth noting the IIHF has cancelled several U-18 and World Championship tournaments, both men's and women's, for fears over the spread of COVID-19. That covers tournaments in March with no announcements yet for tournaments in April or May.
It seems inevitable that COVID-19 impacts the NHL in some way; Rick Westhead of TSN tweeted about this on Monday. Whether that be postponing games, cancelling non-essential games at the end of the year, playing with empty arenas, or some other preventative measure, remains to be seen. The safety of fans and players should be paramount, so it'll be interesting to see what the league decides to do in the coming months.
*
It seems as though Dallas defenceman Stephen Johns is nearing a return to the lineup. He had been out with an upper-body injury unrelated to his previous concussion issues.
*
Columbus announced winger Josh Anderson underwent shoulder surgery and will need 4-6 months for recovery. That means he should be fine for training camps in September.
*
Both John Marino and Brian Dumoulin are getting ready to return to the Pittsburgh lineup, possibly as soon as Tuesday. That'll be a big boost for the blue line.
*
Kailer Yamamoto returned from his injury on Monday night, and Jack Michaels – their PxP announcer –  thinks that both Oscar Klefbom and James Neal could return later on this road trip, which would mean Tuesday night in Dallas or Thursday night in Chicago.
*
Good teams can lose three-dozen games in a year and the vast majority of them feel normal. What happened to Nashville on Monday night sure felt different.
Hosting Edmonton, the Predators had held things to a 3-3 tie after the second period following a first period that saw them down 2-0.
And then everything fell apart.
Edmonton scored five goals in 5:13, with Leon Draisaitl finishing his hat trick and adding a fourth for good measure, Connor McDavid scoring his 32nd of the year, and Zack Kassian chipping in for good measure. In a span of five minutes, Nashville went from a 3-3 playoff-type game against Edmonton to an absolute slaughter. Let's run the tally:
Leon Draisaitl – Four goals, one assist, seven shots,
Connor McDavid – One goal, four assists, plus-3
Josh Archibald – One goal, one assist, two shots, one hit
Ryan Nugent-Hopkins – Three assists, one shot, one hit
Kailer Yamamoto – One goal, one assist, two shots, one block
Darnell Nurse – Three assists, two shots, four blocks
Pekka Rinne was left in for all eight goals. They mercifully pulled him after the eighth, though I suppose that's little consolation for H2H fantasy owners in playoffs this week.
*
Something to monitor: Mikhail Sergachev was running the top PP unit for Tampa in practice on Monday with Victor Hedman on the second unit.
*
Ottawa called up goalie Filip Gustavsson as Marcus Hogberg returned to Sweden for family reasons. For anyone in desperate need of a goalie, well…
*
I think I'm about to pull the plug on hoping Pavel Zacha will end up being A Thing in the fantasy game. He had shown promise in his teens, which is why he ended up the sixth overall pick five years ago, but hasn't done anything in his NHL career. We like to talk about fourth-year breakouts around here, and with a month remaining in his fourth year, he has eight goals, 30 points, and 94 shots. Regardless of the team he's playing for, that's not going to cut it when you're playing 16 minutes a night.
There just hasn't been much improvement, and if anything, there have been some declines: his shot impacts, which were just slightly below average earlier in his career, have just gotten worse over the last couple years, and his individual shot and expected goals rates have both declined from a couple years ago, where they weren't good to begin with. Top line or third line, Hall or no Hall, rebuilding or playoff-bound, it hasn't really mattered for Zacha. He just hasn't improved.
I hate giving up on a player completely because sometimes they do figure it out later in their careers (Valeri Nichushkin says hi). But as for Zacha having much fantasy relevance, I just don't see it. He hasn't been able to do anything outside of small spurts like his two-goal game on Sunday night. Combine that with New Jersey having started another rebuild now, and even if Zacha does figure it out, will he be surrounded by talent to help him reach his fantasy ceiling, whatever that is? I doubt it. I just don't see this breakout coming, and I'm not even sure how much longer he'll be in the league, frankly.
*
Hughes or Makar? That's been the debate around the Calder Trophy basically since Victor Olofsson got injured in January. I would like to submit another name for consideration: Dominik Kubalik.
Dobber has been pumping Kubalik's tires for months now, so readers will be very familiar with his talent level. I would like to talk about what he's done this year.
On the season, Kubalik has 29 goals. He is just the ninth rookie since 2010 to reach the 29-goal mark. The others are: Jeff Skinner, Logan Couture, Michael Grabner, Artemi Panarin, Patrik Laine, Auston Matthews, Brock Boeser, and Kyle Connor. That's a good start.
Kubalik is on pace for 37 tallies. If he can get to 35, he'll be just the fifth rookie since the 2005 lockout to reach that mark. The others are Laine, Matthews, Sidney Crosby, and Alex Ovechkin. When we're talking about great production, it seems like that's a good list to be on.
Then we can talk about where Kubalik ranks league-wide this year in general. In terms of points per 60 minutes at 5-on-5, Kubalik ranks 12th out of 214 forwards with at least 700 minutes played. The two guys directly above him are Nathan MacKinnon and Connor McDavid, with Mika Zibanejad and Jonathan Toews just below him. He's doing that, mind you, with a secondary assist rate that is the lowest among the top-35 forwards by points/60. In other words, goals and primary assists are driving the high point rate. When looking solely at primary points (goals and first assists) per 60 minutes at 5-on-5 (from Evolving Hockey), this is where Kubalik ranks league-wide: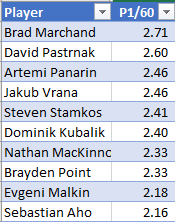 That seems good. Is that good?
Points aren't everything, though. We need to consider defensive impact, the production brought on special teams, as well as penalty differentials. Again, from Evolving Hockey, there is a wins above replacement measure to help measure everything a player brings to the table. (The guys at EH explained their WAR model here. Feel free to read up on it.) Among the three Calder candidates, this is where they rank per 60 minutes:

Of course, we need to talk about Kubalik's impact beyond just comparing him to Hughes and Makar, so this is where Kubalik ranks among all players in WAR/60 this year (minimum 700 even-strength minutes):

All this is to show that I'm not just trying to be contrarian or stir the pot. There is a lot evidence to show that not only is Kubalik having a good rookie season, he's having a great season in general, and in some regards, there are good arguments to show he's been the best rookie in the league this year.
I'm very well aware this is all for naught. The media narrative has been Hughes vs. Makar basically since October and once Olofsson was injured, it was deemed a two-horse race. Kubalik will get some votes, I'm sure, and may even finish third place. I understand that it's hard to compare across positions (or age, for that matter), and Kubalik is not on a playoff team (which shouldn't matter in the slightest for Rookie of the Year, but I digress), but he's been legitimately great this year, and not just among first-year players. Regardless of what happens with the Calder, Kubalik's dynasty owners are going to be happy for years to come, I think.
*
When I was looking up Kubalik's stats on the year, something stood out to me: Tomas Tatar leads all forwards in secondary assists per 60 minutes. For his career, he's never posted a secondary assist rate higher than 0.55 per 60 minutes. This year, it's an even 1.00, or ~80 percent higher than his previous career-best. In fact, he has as many second assists at 5-on-5 this year (15) as he did over the prior two seasons combined. It's a big reason why he's already blown past (33) his previous career high in even-strength assists (29), and why he's cracked the 60-point mark for the first time in his career.
This is just a fair warning for players who might look to acquire him in keeper/dynasty leagues this summer. Tatar is a trade candidate by the Habs, so he could find himself somewhere with a great PP unit, but be aware of the impending regression. Any gains made on the PP – which could be negligible considering he's just five PPPs off his career-high anyway – could easily be offset by a drop in secondary assists. Something to be aware of heading into 2020-21.